The Dakar Rally is famous for its obscene length, dangerous routes and off-road cargo trucks racing each other across ridiculous terrain. We usually see these things leaping majestically in slow-motion, but not here. This seven-second clip feels like a much more realistic version of what big truck racing's really like.

Ouch. Ouch.
If you've spent any time in the off-road racing scene, you might have heard people joking that the "rougher" cars, like little VW Beetles and these big cargo vehicles, are tough on the kidneys. And if you've been to a Dakar paddock, as I have, you might have heard firsthand accounts of just how jacked up your body can get after a ride in these things.
And now that you've seen this clip, you'd believe the worst of these tales of woe, right?
This clip was shared by Serge Bruynkens, a Belgian racer who's got quite a few Dakar miles under his belt. Bruynkens was a co-driver in a TGA MAN 4x4 truck for the Astana Dakar Team this year (the race went down in January) and it looks like he's still working there, prepping for the 2018 event.
The Astana No. 512 truck finished the 2017 event in 26th out of 40 competitors in its class.
In case you're further intrigued—this is Dakar truck racing, who isn't?—Astana is not a tobacco product, energy drink or flavor of gasoline. It's the capital city of Kazakhstan. This Dakar team appears to be a state-sanctioned venture. Specifically, the team represents the Astana Presidential Club which "combines the best Kazakhstan sports teams" as The Astana Times reports.
G/O Media may get a commission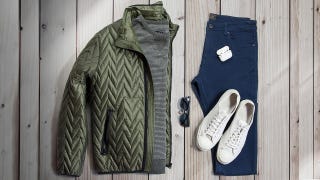 60% off
Jachs NY Fall Sale 60% Off
This consortium includes Kazakhstan's national bicycling team, basketball team, football clubs, hockey team, boxers, water polo, regular polo, wrestling and figure skating as of 2013. They all run cyan-and-yellow livery matching the country's flag.
I'm not sure I've ever heard of an equivalent national all-sports organization from another country...or a city as the title sponsor of a Dakar vehicle before. Though there are hundreds of entries, even though Red Bull hogs the spotlight every year.