Austin Dillon wanted to celebrate his first-ever NASCAR Cup Series win after tonight's Coke 600, but he won by stretching his fuel out over the race's final laps. Sadly, fuel mileage gambles just don't leave enough in the tank for a proper burnout. Behold: the happiest driver doing the saddest burnout.

"He spun the tires for about 20 feet," said retired racer/commentator Jeff Gordon of the world's least impressive post-race burnout. Man, Fernando Alonso's busted IndyCar engine made more smoke than those tires.

Dillon only had enough gas to spin the tires a little before the car completely ran out of fuel. It had to be pushed back in afterwards.
Here's the insane ending that led up to Dillon not doing a proper burnout. A few drivers opted not to pit before the end of the race, hoping that the saved time would allow them to stay ahead of everyone who pitted for fuel.

This was a risky gamble as seven-time Cup Series champion Jimmie Johnson found out. Johnson ran out of fuel in the Coke 600's final moments, allowing Dillon to whiz past for the lead.

But even Dillon was cutting it close. He ultimately stretched his final tank of fuel an incredible 70 laps, per NBC Sports. Dillon didn't just run out of gas doing a burnout after the race—he said that his fuel cut out at the finish line as well.

In addition to this being Dillon's first Cup Series win, it was his first race with a new crew chief, Justin Alexander, who replaced Slugger Labbe.

G/O Media may get a commission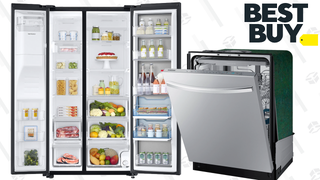 Up to 50% off
Best Buy - Samsung Major Appliance Sale
It was also the first win in a No. 3 Chevrolet since Dale Earnhardt Sr. won at Talladega in October 2000. Richard Childress Racing said they would only let the No. 3 be run by family following Earnhardt's death. However, this apparently extended to the Childress family. When Richard Childress' own grandson Austin Dillon got into the Cup Series after using the No. 3 in lower-level series, the team let Dillon run it.

Tonight's race had just under 1 hour and 40 minutes of red-flagged downtime for thunderstorms in the area, dragging the grueling final race of this Sunday out past 12:30 a.m. ET on Monday.

Martin Truex Jr. led an incredible 233 laps of tonight's Coke 600, but didn't win the race. Meanwhile, Dillon only led two—the last two.