Since everyone is talking about the new Ford Mustang today, I figured it'd be a good opportunity to jump in on the pony car action and talk about one of my favorites–the 2000 SVT Cobra R. I think it's the ultimate modern 'Stang. Here's why.
The guys at Ford were in a bit of a predicament back in 1999–that year's Cobra was a bit of a dog and had to be recalled after the press recorded some pretty poor performance numbers. For 2000 they decided not to release the standard Cobra, and only the limited edition Cobra R.
It had to be good and thankfully for them, it was. In fact, it was great.
Ford made just 300 SVT Cobra R's in 2000 and all of them were red. It cost $54,995, which made it $33,790 more than a base GT Coupe and just $10k shy of a 911 Carrera. That price seems a bit shocking until you know just what the guys at SVT stuck in the Cobra R.
It had a 5.4 Liter 32-Valve V8 that made 385 horsepower and 385 ft/lbs. of torque, a beefed up Tremec gearbox, Borla exhaust, Recaro seats, big Brembo brakes and independent rear suspension. Yes, you read that right–independent rear suspension.
G/O Media may get a commission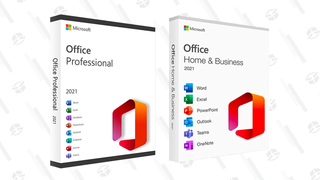 89% off
Microsoft Office Professional 2021 Lifetime License
Ford also added that sexy rear wing and threw out the radio, the A/C and the back seats. Clearly the Cobra R was designed to be a monster on the track, not unlike a certain other pony car that's debuted recently.
All of that work meant that the Cobra R was a bit of an animal: Motor Trend tested one and found that it could hit 60 in 4.4 seconds, run the 1/4 mile in 12.9 at 110.8, stop from 60 in 109 ft and pull 1.01 g around the skidpad. Let me just remind you that this was 15 years ago. Holy crap. That's better than the R&T's numbers for the 2015 GT and on par with the outgoing Boss 302!
Expensive? Sure, but well worth it.
I've lusted after this car for as long as I can remember. When I was in second grade my Grandfather gave me back issues of Motor Trend and I can remember this car vividly from those days. Before I knew about any other cars, I knew about the Mustang Cobra R.
I didn't understand when my father said we couldn't have one, citing the fact that all 300 of them were sold out and even still it would be too expensive.
There's a certain timelessness to the Cobra R that not a lot of modern Mustangs have. Its "new edge" design has aged much better than the retro one that replaced in in '05 and it's performance is still noteworthy today. Sure the interior was crap, but who cares? Even Mercedes interiors were crap then.
Someday this will be an auction queen in a way that other modern Mustangs won't be. Just you wait and see.
Photo Credits: Ford