Though the 2015 Ford Mustang (Have you guys heard of that car yet?) made its official debut in December, and it's being exposed to the masses for the first time ever at the Detroit Auto Show, one thing we haven't seen is a shot of an engine under its hood. Until today!
The folks at StangTV have snapped a photo of a 2015 Mustang GT with its hood up, exposing the almighty 5.0-liter Coyote V8 engine that lies underneath. Based on the color of the car and that familiar-looking backdrop, this may be the car that's on the stand at Detroit, but I can't be sure.
Since they're Mustang experts, they've pointed out a few differences between this motor and the one in the outgoing pony car. You can see them in this diagram below.
No word yet on power specs for any of the cars in the 2015 Mustang family, but since the old 5.0 had 420 horses, we can expect at least that for the new car.
G/O Media may get a commission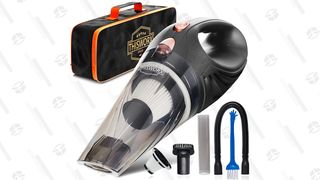 Save 50%
ThisWorx Car Vacuum Cleaner
Check out StangTV for more pics of the new car's engine bay, and let us know if you see anything new too.