The almost decade long saga of picking a replacement for the venerable but ultra antiquated Humvee for many roles has come to a close. In the final phase of competition, Lockheed Martin, AM General and Oshkosh Defense put forward 22 prototypes apiece to be rigorously tested. After over a year of poking, prodding, speeding, skidding, sliding and exploding, Oshkosh has been selected as the winner of the Joint Light Tactical Vehicle (JLTV) contract.
The contenders: AM General, Oshkosh Defense and Lockheed Martin JLTV designs

As the winner of what could very well be tens of billions of dollars in orders spread out of decades, Oshkosh Defense will start low-rate initial production (LRIP) of 17,000 vehicles in 2016. The price of this initial production run will be $6.7 billion dollars, but that is just the start. In all, the JLTV program is estimated to be worth $30 billion dollars through the coming decades, with an estimated 54,600 vehicles being produced in total. As of now this tentative number is broken down to 5,500 for the USMC and the 49,100 for the Army, although many more could follow, with production likely extending into the middle of the century.

The Oshkosh's JLTV competitor brings together the blast absorbing capability of the lumbering Mine Resistant Ambush Protected (MRAP) vehicles that became staples of the wars in Iraq and Afghanistan, and the agility of a high performance off-road combat truck that can be easily adapted to different missions. Additionaly, the JLTV has to be transportable to the forward edges of the battlefield via the cargo hold of a C-130 or underslung beneath a CH-47 or CH-53. They also have to be easily serviced once there.

G/O Media may get a commission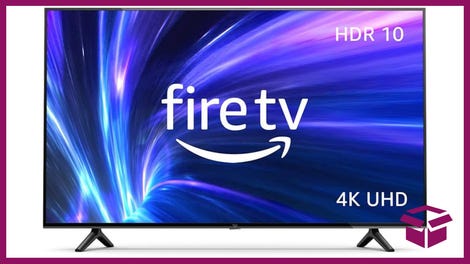 42% Off
Amazon Fire TV 50" 4K Smart TV
John Urias, president of Oshkosh Defense, said described the vehicle in a following statement to the Washington Post:
"Our JLTV has been extensively tested and is proven to provide the ballistic protection of a light tank, the underbody protection of an MRAP-class vehicle, and the off-road mobility of a Baja racer."

The Army's JLTV decision will almost certainly be formally protested by Lockheed Martin and AM General which could drag the program's timeline down in the near term. Still, the decision today marks a final departure from the Humvee, of which some 280,000 have been built since going into production in 1984.

You can read all about the Oshkosh's JLTV in this brochure or at their site.
Photos via Oshkosh Defense, composite photo via US Army.
Contact the author Tyler@Jalopnik.com