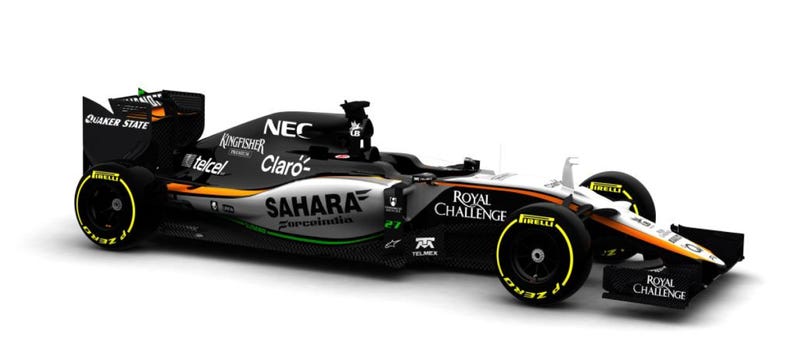 If this Formula One car looks familiar, well, it sure looks a lot like the leaked render we saw ten days ago. Regardless, it's official this time: this is the new Force India VJM08 race car. Force India is the only team who hasn't gotten test time in their new car for 2015, and now they will be late with it to Barcelona, too.
Sky Sports reports that the struggling team will arrive on the second day of the last Barcelona test, thanks to both issues with suppliers as well as a switch to using a new wind tunnel. Force India was at the first Barcelona test this weekend using their 2014 car and letting Mercedes reserve driver Pascal Wehrlein get some seat time. According to the team, they also used the opportunity to test out and get used to the 2015 tires.
The new car isn't even arriving to Barcelona until Friday morning, according to Force India Chief Operating Officer Otmar Szafnauer.
"The VJM08 will arrive in Barcelona on Friday morning and the final set up will take place in the garage at the track," Szafnauer wrote in a Q&A for Force India. "We are aiming to get out on Friday and the new car will run as much as possible over the weekend."
Szafnauer claims that the car has been "fired up at the factory," so hopefully, the shortened test time means that Force India's car works well right out of the box.
Photo credit: Force India