Welcome to Sunday Matinee, where we highlight classic car reviews or other longer videos I find on YouTube. Kick back and enjoy this blast from the past.
The first Fast and the Furious movie, in case you're forgetting, and how could you, it was so good, there is no reason to block it out of your mind forever and ever and ever, revolved around the Man trying to infiltrate a street racing community on the West Coast. It was kinda hokey and ridiculous, sure, but cops really do try to infiltrate and bust up street racing all over the world.
The city of Kent, Washington near Seattle is a hotbed for street racing in the Pacific Northwest, and the local police force is tasked with stopping it. This excellent documentary from NatGeo shows just how they do that. It's one part Cops, one part Brian Spilner, and really that's all you need to know before you start watching.
There's cars, racing, cops chasing drunk dudes with compound ankle fractures, and even a dog or two – pretty much everything you could want on a Sunday evening.
Oh, and the best part is when one of the racers says that the reason they race illegally, putting both their lives and the lives of other motorists in jeopardy, is because they have "nowhere to race."
G/O Media may get a commission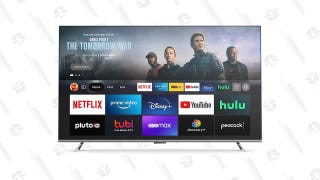 Save 46%
Fire TV 55" Omni Series 4K UHD Smart TV
HEY. GUY. CHECK IT OUT. PACIFIC RACEWAYS, LOCATED (SHOCKINGLY) RIGHT THERE IN KENT, WASHINGTON.
Funny that.