You see this here neon green 1972 Datsun 240Z? You see how it has bronze wheels? Fender flares? I would drive the shit out of this thing. I would do unspeakable things to own it.

The green Datsun popped up for sale on Bring A Trailer (because of course it did) with approximately 89,000 miles on the clock, true mileage unknown. It was painted this green just this past January and also has a modified suspension and aftermarket wheels.
It's powered by a 2.4-liter inline-six via a four-speed manual. The stock front bumper has been removed and replaced with a new grille—which I am still learning to like. But! The rest of the car is awesome enough that I can see past it (and how it makes the car sorta look like Chick Hicks from Cars.)
Anyway.
Inside, the seats were reupholstered in May and the A/C, heater and radio do not work. That's fine. I can always move to a place where I wouldn't need either. I can just wear a big coat while I drive.
G/O Media may get a commission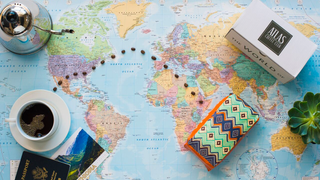 First Bag Free
Atlas Coffee Club - Free Coffee
Explore global coffee
With each bag, Atlas includes details on the coffee's tasting notes and a postcard about the region and its coffee history. And when you subscribe, you have options to tailor frequency, grind size, and roast preference of your beans, so you'll always be brewing the perfect cup.
At the time of this writing, the current bid is at $1,972. Stop climbing, please!