"It's stupid," CJ Wilson Racing driver and part-time lumberjack Danny Burkett told Jalopnik of his recently purchased 1986 Porsche 944 Turbo. "The most stupid decision I've ever made, but the best."

When cranked up to 20 pounds of boost using the in-car boost adjuster, Burkett's 1986 944 Turbo can put out 525 horsepower at the rear wheels. At full boost, that number becomes 550 HP. Best of all, it was a total time capsule when he got it, with only 2,000 miles on the freshly built engine.

"Like an old-school Lamborghini that wants to kill you at all times," he told me.
This particular 944 sat for about seven years after being modified for a Porsche collector for track use. The collector had 17 or 18 cars but downsized his collection when he moved to "only" an eight-car garage.
G/O Media may get a commission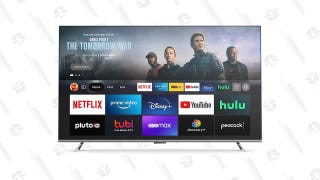 Save 46%
Fire TV 55" Omni Series 4K UHD Smart TV
The 944 was chosen as the perfect track day warrior, as they're common, and parts are surprisingly reasonable. The 944 nuts at Lindsey Racing completely re-worked the engine, with an upgraded turbo, intercooler, exhaust and a host of internals. The exterior received a fresh gold paint job. At the end of the build, over $50,000 Canadian went into the car.
The collector took the 944 out once, then got scared—it was just too much car. So, it sat on top of a three-car stacker for years as a barely-run new build. The engine only had 2,000 miles on it. That is, until Burkett dropped into a Porsche Club of America meeting and mentioned that he was looking at buying a 944.
The collector chimed in and said that he had just the perfect 944, as he'd been waiting for a responsible buyer who wouldn't immediately wrap all the work that's been put into it around a tree.

Burkett bought the car for a fraction of the cost that went into it, and brought it back to life.

When Burkett spoke with Jalopnik about this bonkers car, he described his recent acquisition as a "street car with a race car engine in it." With delightfully period-correct 225-width tires, it spins its wheels pretty much on command—even if you just look at the throttle funny. He usually only runs 8 lbs of boost on the street, and it's still a handful.

He's tracked it, but it's not a full track build. There are better seats inside, but still stock three-point belts. There is no roll cage.

Burkett kept the car mostly as-is, but the most noticeable change is to the car's exterior. He's still breaking in the fresh engine.

Burkett opted to protect the still-fresh paint underneath with a wrap in the same Andy Blackmore-designed livery as his CJ Wilson Racing car. The wrap was tweaked for the 944's shape and some elements, such as the race car's numberplate, were darkened a bit to work better on a street car.
Hilariously, Burkett was super nervous the first time he took the car out with the wrap installed. A highway closure forced him to go into the dirt, and he was cringing every time he heard rocks fling up at the car. He mentioned that he even considered putting a wrap on top of the wrap to protect it, but now, he's learned to live with the occasional ding.

As for the car, he says that it's still difficult to drive on track and the street. It really wants bigger wheels to handle more of the power.

Of course, it's still an old Porsche 944. Burkett said he quit taking the car on dates after it wouldn't start a couple times, which is always embarrassing. After running into issues with the battery interrupter on the positive terminal, he took that off, but that ended up killing the battery. There's a wiring gremlin that drains it of power, so in the worst case scenario that he can't figure it out, he says he'll just drive it more.