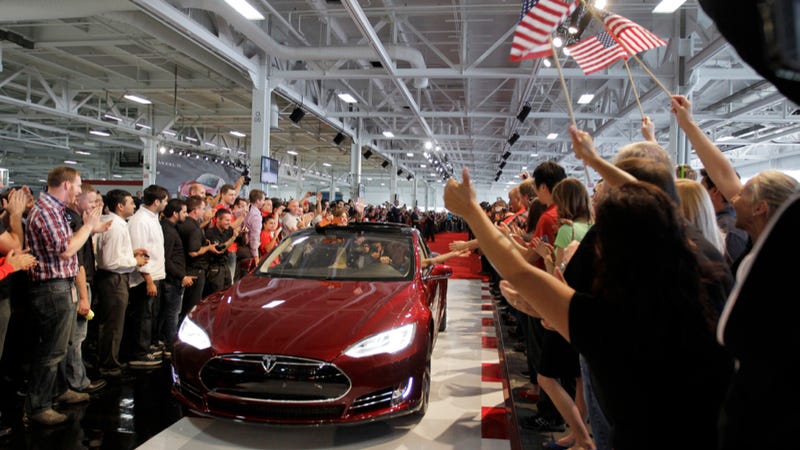 Welcome to Must Read, where we single out the best stories from around the automotive universe and beyond. Today we've got reports from Business Insider, The Truth About Cars, Hemmings, and The New Yorker.
This hedge fund presentation comes via Business Insider, who explains all the hype around Tesla in the face of so many shorts (people betting on the stock price to drop).
Last week, electronic car maker Tesla announced a bunch of changes to its service and warranty policy that will make it easier for customers to take care of their Model S cars. Since then, the stock is up 5.73%, and it's at new 52-week highs. This is a headache for a ton of people on Wall Street as Tesla is a really popular short. And as the bears are heading into their caves, the bulls are coming out to explain their side of the story.
It's here I'd like to post something a reader pointed out from the Motor Trend archives that's kind of hilarious in modern context:
But perhaps the ultimate irony is it's General Motors, long the Silicon Valley poster-child for all that's wrong with the auto industry, that's poised to launch a car that may be more significant than anything Tesla is ever likely to build. The Chevy Volt is a thoughtful, innovative, technically advanced vehicle; the prototypes we've driven confirm it cleverly combines the best attributes of an electric motor and the gasoline internal combustion engine. Disruptive technology? Sorry Elon, there's more at GM than Tesla.
That's from then Editor-in-Chief Angus McKenzie in 2010. Obviously, they've changed their tune aggressively.
This isn't to poke fun at McKenzie, but to point out how quickly conventional wisdom (and no one is more conventional than Motor Trend) can shift. In that era, we obviously said similar things about the Model S potentially being "vaporware," although nothing quite as bad as this (I hope).
I'm not 100% sure I buy the Apple argument, either, as the next big hurdle is making something remotely affordable for regular people (they, probably smartly, declined to make the promised $50K Tesla Model S). Despite all they offer Apple is still a volume company. We'll see what happens, but it's been fun to watch.
Another great installment from TTAC's ongoing cop-in-a-cop-car series.
Like all good myths, the myth of the invincible old police car is rooted in truth. I was once told by a veteran beat cop that back in the old days when you were alone at night in an alley, trying to avoid taking a beating yourself while handing out "wood shampoos" to unruly drunks and screaming for help on one of the original 10- lb Motorola portables that could be counted on to work 25- 30% of the time, you didn't listen for approaching sirens coming to your aid because the sirens weren't worth a damn and you couldn't hear them half of the time anyway. Instead you listened for the roar of the secondaries opening up as your backup thundered down the final straight leading to your last known location. That's how you knew the cavalry had arrived.
Another bit of the Old GM likely to get sold off and destroyed.
Built on land owned by Henry Ford to crank out B-24 Liberator bombers in 1941, the Albert Kahn-designed plant became the largest single industrial building under one roof, encompassing about 3.5 million square feet. One it ramped up to full production in late 1943, the so-called "Grand Canyon of the mechanized world" would produce a bomber per hour, along with a number of wood-bodied gliders. After the war, Ford declined its option to buy the massive plant from the federal government, so the government – through the Reconstruction Finance Corporation and the War Assets Administration – ended up leasing, and eventually selling, Willow Run to the newly formed Kaiser-Frazer.
This is another cutting New Yorker meta book review on the serious implications of drone warfare on our policy and our soul.
Obama's enthusiasm for drones—which he believes minimizes the risk to American forces and non-combatants on the ground—is unnervingly reminiscent of Eisenhower's enthusiasm for poisoning schemes and coup plots. (The President's foreign-policy advisers periodically cite Eisenhower as an inspiration.) Drone strikes are also defended on the ground that they have killed terrorists in Pakistan and Yemen before those terrorists could kill Americans in Times Square or on the Mall, in Washington. There is no way to assess these claims: the official secrecy surrounding the program makes it impossible to judge the results.
Photo Credit: Getty Images, AP, GM, TTAC