Anybody who tells you that you have to enlist a pricey automotive shop to restore a basket-case car is a fool. Casey Madrick picked up one of the most beloved driver's cars of all time—a 1976 BMW 2002—and restored it himself at home using everything from old Volvo parts to a tree stump in the process. It's a car too good to give up on, so it's worth getting creative to fix it.

It is no secret that we love vintage BMWs here. The less the new ones feel like the "ultimate driving machines" of yore, the more we all want to find a lighter, less complicated, three-pedal older Bimmer to entertain us instead. The 2002 truly solidified the reputation BMW had for building fun to drive cars that you could still use everyday, and it remains one of BMW's greatest hits.
Like many of these stories, Casey's begins with a Craigslist purchase.

"I was just browsing Craigslist for BMWs one day as one that likes to buy cars does," Casey said. There it was: a decent looking, running 2002.
G/O Media may get a commission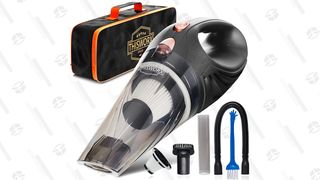 Save 50%
ThisWorx Car Vacuum Cleaner
Casey thought his BMW 2002 would take only about six months to get back on the road when he bought it back in April 2016, but that's just not how this works, is it?
As with many classic cars up north, the biggest issue Casey found as he was taking the car apart to fully inspect his new purchase was rust. Thankfully, instead of patching it up with more bondo to create a structurally questionable Play-Doh For Grown-Ups car, Casey decided that it was time to strip the 2002 down completely and fix this car right.
Casey didn't have a specialized shop or anything, but he did have the family home which was built in 1948 by his great-grandfather. That's as good of a place as any to start a major restoration.
Over time, the car earned the nickname "Clausewitz VonStruggle," as the crew struggled to put it back together however they could, using the tools either available to Casey at home or easily build-able out of whatever was lying around.
The car was stripped down entirely in Casey's home garage, revealing dents that had been covered up by body filler, and even more rust that needed fixing. Even the delightful exclamation point sticker that came on the rear of the car had to come off.

They built a wooden tipping rig to get to every possible point on the car's body to check for rust—right in the middle of Madrick's driveway.

The floors were toast and needed to be replaced, so they used dry ice to remove the insulation and undercoating from the floor of the car. This is a neat trick that anyone stripping down a car should know, as all the rubbery gunk stuck on the body of a car rarely wants to let go. First, use the dry ice to freeze the insulation that you want to remove, then simply hit it with a hammer. It usually cracks off pretty cleanly, leaving you with the bare metal underneath.

(Naturally, I learned about this particular wrenching lifehack after spending days hand-scraping off the stubborn insulation junk in my Porsche's floor. Such is life. Hence the recommendation.)

Casey and his friends spent somewhere between three and four months re-doing the 2002's bodywork, which meant that a lot of time was spent straightening out dents with hammers, dollies and whatever else they could find to use as an improvised metalworking tool. Fresh metal was welded in to replace parts that had formerly resembled rotting Swiss cheese.
This is where my favorite tool of his entire series comes in: a tree stump.

A hole in the center of the stump was roughly the same shape as part of the car's floor, so sure enough, they hammered away at this stump from Casey's yard to get a new piece of metal for the bottom of the car just right.
After the car was back in the right shape, it was time to paint everything. Most homes don't come with a paint booth, though, so Casey made one in the corner of his carport by cordoning off an area in plastic, installing 5K lighting and putting in the proper exhaust and intake fans to make sure it was well ventilated.

Yas Marina Blue—a BMW color available on later M-cars—was chosen as Clausewitz's new exterior color after an M4 caught Casey's eye.
A Zender rear deck spoiler now crowns the edge of said trunk, and black stripes were added down the sides to match after filming. Casey also installed 2002 Turbo fender flares, which just look cool.

Then it was time to get the car's original M10 engine in and out for a refresh: New rubber, new seals, new gaskets—the whole nine yards. The car's body was so light that the crew could simply lift it up over the engine using floor jacks and pull the engine out from underneath. On top of the refreshed engine went Weber 38/38 downdraft carburetors.

Now Clausewitz has perhaps the most sparkly clean old German engine I've seen in years, and I have the sudden urge to power-wash my Volkswagen's oil-covered trunk accordingly.

The only thing in the whole build that Casey actually farmed out to a shop was some machine work—which, honestly, I'd probably do the same as that can be a bit of a dark art in its own right to do well.
The rest was done at Casey's home, using tools accumulated through four generations of his family who'd lived there and improvised tools, like the Volvo 122 arm that just happened to fit perfectly when it came to pushing in the bushings in the BMW's front suspension.

The suspension also got a laundry list of new components, including shocks, arms and bushings. Other components in the car were sandblasted clean with the use of a home-built sandblasting box that lives next to Casey's impromptu paint booth.

The same story carried over to the interior, where the fresh camo-print door cards were sewn using a 1920s Singer industrial sewing machine that Casey's aunt's mother got when the local Regal bag factory closed down.

Looking at the car itself, it doesn't particularly look like something that was put together using whatever was available in a home garage, and that's why we love it so much.

You shouldn't be afraid to get a little dirty and try to fix new and interesting things on your cars—even if there's a good chance that you don't have the specialized tools that tend to be recommended for things. If you have a fairly popular enthusiast car, someone likely figured out a workaround for not having those prized manufacturer-specific tools anyway.

Madrick hadn't weighed his newer, lighter, better BMW, but he estimated that it was only about 2,100 pounds, given the rear seat delete and other non-essential items that had been left out. That original M10 inline-four engine cranked out just under 100 horsepower when new, which is really all a simple, featherweight car like this needs.
Lest you thought project cars ever truly end, a center console is coming up next for the interior of Madrick's 2002, maybe even with a radio. Casey's friend Joseph Guzman now has yet another 2002 in the "StruggleWorks Garage," sitting on a new home-built metal stand.
You can keep up with both of those cars on Instagram here.
---
We're featuring the coolest project cars from across the internet on Build of the Week! What insane build have you been wrenching on lately? Seen any good build threads we should know about? Drop me a line at stef dot schrader at jalopnik dot com with "Build of the Week" somewhere in the subject line if you'd like to be featured here.