Were you really expecting out-of-the-blue, well-funded Chinese startup Faraday Future to shock the world with the next great Tesla-fighter like it claimed it would? Not so fast. Apparently this goofy two-seat supercar thing really is the car Faraday Future is debuting at CES in Las Vegas, but the show car doesn't even drive.
It's also not even a preview for a production model that will be sold to consumers, according to insiders who reportedly spoke to International Business Times UK.
A reliable source familiar with Faraday Future's plans told IBTimes UK that, although the car will be shown off at CES, it is not functional and does not drive. This is often the case for such extreme concept cars, which are built as a demonstration of what a company is capable of; design cues from this car may well appear in FF's production cars, but this one will not be sold to consumers.

Agreeing with this statement, the source said the car will "probably not" be built in its current form or "arrangement" – referring to the layout of driver sat in front of passenger, like in the cockpit of a fighter jet. The source added that "maybe a shorter, more aerodynamic two-seat version for Pikes Peak" could be built, referring to the annual 12.4-mile hill-climb race which takes place on Pikes Peak in Colorado.
Now, it's not at all uncommon for concept cars and auto show cars to be design studies or undriveable rolling shells; most of them are, even from the big established automakers.
But after Faraday Future was hyped to death with a slick marketing campaign as the next great Tesla fighter—one worthy of $335 million in state incentives from Nevada for a factory—this hilariously unrealistic supercar design is somewhere between massive letdown and some extremely hard-to-swallow Silicon Valley bullshit. Especially if it doesn't drive and won't even be put into production in this form.
G/O Media may get a commission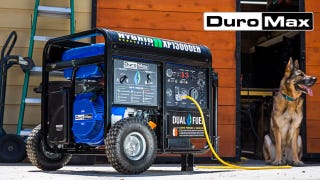 Black Friday Sale
DuroMax Generator Sale
Also, this tidbit, which we alluded to in today's Morning Shift:
The source added that FF's claims of the car producing a Bugatti Veyron-rivalling 1,000hp are "theoretically" possible, "but now even more challenging now that Porter Harris has left." Harris, the company's chief battery architect, left FF just before CES, according to his LinkedIn profile. He previously worked at Elon Musk's SpaceX and in the aerospace industry.
Faraday Future wants to launch six cars in the coming years, each available on-demand, autonomous, and electric. I'll believe it when I see it.
The company's reveal at CES is tonight, and maybe we'll see more from Faraday Future besides this concept then.
Update: Here's video from Faraday Future's app that shows more of the car.
---
Contact the author at patrick@jalopnik.com.