Euro-NATO's Joint Jet Pilot Training is conducted by the 80th Flying Training Wing primarily located at Sheppard AFB, in Wichita Falls, TX. This joint operation is co-funded and staffed with instructors from participating NATO nations, and is known to build the best multi-national fighter pilots in the world.
The class lasts some 55 weeks, and students will fly both the T-6C Texan II and the T-38C Talon before moving on to their perspective fighter aircraft assignments. According to the USAF, this is how ENJJPT is organized and why it is so effective:
Officers from all 13 participating nations fill subordinate leadership positions throughout the wing. Five nations — Germany, Italy, The Netherlands, Norway and the United States — provide instructor pilots based on their number of student pilots. Canada, Greece, Portugal, Spain and Turkey do not have student pilots in training, but do provide one instructor pilot. As an example of this totally integrated structure, an American student pilot may have a Belgian instructor pilot, a Dutch flight commander, a Turkish section commander, an Italian operations office, and a German squadron commander.

ENJJPT is also unique with its four distinct training programs. In addition to Undergraduate Pilot Training, ENJJPT also provides for its own Pilot Instructor Training (a program that teaches pilots to be instructor pilots), Introduction to Fighter Fundamentals, and IFF Upgrade Instructor Pilot training. About 200 student pilots earn their wings at ENJJPT annually after a 55-week, three-phased training regimen. About 80 new instructor pilots are trained annually and up to 150 pilots transition through IFF each year. All this training is supported by a staff of more than 1,300 military, civilian and contract personnel employing 242 T-6A, T-37B and T-38C training aircraft. Of that total, 59 T-37B aircraft will be retired from service this year as ENJJPT completes the transition to the T-6A.

The benefits of the ENJJPT Program are many — lower cost, better training environment, enhanced standardization and interoperability, to name a few. Another important aspect of ENJJPT is the bond of friendship and respect developed among all participants in the 80th FTW. The student pilots and staff instructors of today will be the leaders of NATO's air forces of tomorrow. Having trained together, they will be much better prepared to fight and win together, when the need ever arises.
An incredible amount of stressful work, and a bit of luck, goes into becoming a fighter pilot. Making it to the end of the training syllabus and getting assigned your future mount is an incredibly exciting honor that still only a relatively small contingent of people have experience in history. This is especially true for smaller nations who only have a handful of fighter aircraft. Being a pilot there is being part of an incredibly small group of high-profile warriors.
So here's to you ENJJPT class 14-7, congrats on a job well done and good luck on your future fighter assignments. Your service, and NATO's importance, has not been as important for a quarter century than it is now.
G/O Media may get a commission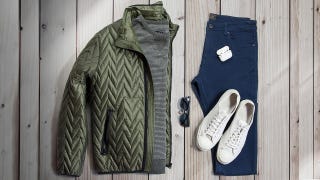 60% off
Jachs NY Fall Sale 60% Off
Tyler Rogoway is a defense journalist and photographer who maintains the website Foxtrot Alpha for Jalopnik.com You can reach Tyler with story ideas or direct comments regarding this or any other defense topic via the email address Tyler@Jalopnik.com