Assembled from the boxy oddness of the Series 2 Fiat 127 supermini comes the greatest beach car design ever. Looking a bit like a cross between an old Fiat Jolly and a Volkswagen Thing, this Moretti Midimaxi was built purely to provide its owner joy. Just look at the ugly duckling styling and try to imagine the unimpeded perfect open air motoring experience that being behind the wheel with the top off and the windshield folded down would provide. Equally at home puttering around the French Riviera and the Santa Cruz Boardwalk, this car would be happy so long as it's in the vicinity of a large body of water. You can see more photos and information on the car's Bring a Trailer listing.
While Moretti retained the drivetrain and base chassis of the Fiat, the bodywork has all been replaced by custom angular components and a modular top system. It appears to retain the Fiat's hood, grille, bumpers, and lights. Included with this car is a thin cloth bimini top, as well as an incredible hard top with hinged hatches on three sides, giving this car incredible utility, even when the top is in place. Even the windows are pop-in hard mounted to the door, and can be removed frame and all.
As with most Fiats of the era, simplicity is the name of the game with this car. Using a Fiat 903cc overhead valve engine with a single barrel downdraft carb and a 4 speed manual gearbox, this drivetrain is nothing exotic, and parts should be reasonably available in today's online economy. If you feel confident that you can keep up any car from 1979, this one should cause no more issues than any other, really.

G/O Media may get a commission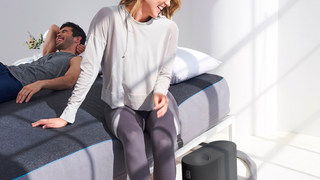 Eight Sleep Pod Cover
This particular example was retained by Moretti for a few years after it was built for demonstration purposes, and was ultimately sold to a customer in 1982. After being driven about 40,000 miles, the car was placed in long-term storage in the late 80s. This car is allegedly in near-mint condition, and the many photographs don't appear indicative of anything to the contrary.
Only just over 200 of these little runabouts were built (not to be confused with the Fiat 500-based Moretti Minimaxi), so If you've got a beach house and you're looking for something to motor around in that you're unlikely to ever see another example of, you might need to pick up this rad little car on Bring A Trailer. And even though it's a 1979, we'd make an exception for anyone who wants to bring this to a Radwood show.