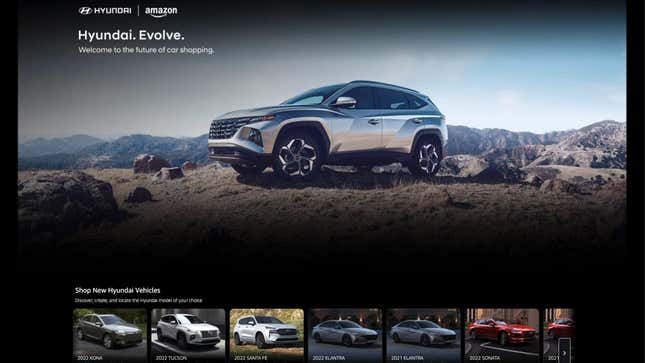 Hyundai and Amazon have announced a new partnership that will allow you to begin buying a vehicle online through a digital showroom called Hyundai Evolve.

The partnership between Hyundai and Amazon Ads will not only allow customers to view vehicles, but they will also be able to see real time inventory as well as payment estimates and loan terms. Inventory tracking is only available through dealers that participate, however.

Hyundai's president José Muñoz seems to be reading the room with how COVID changed the car buying experience and wants the company to be able to cater to those customers who prefer buying things online. He said:

Our mission is to be the leader in a seamless, digital and transparent retail experience in partnership with our dealer body. The events of the last 18 months have made it clear that many consumers want a car buying process that aligns with how they purchase nearly everything else in their life. Amazon is a leading retailer and we're excited to continue collaborating with them on digital retail experiences.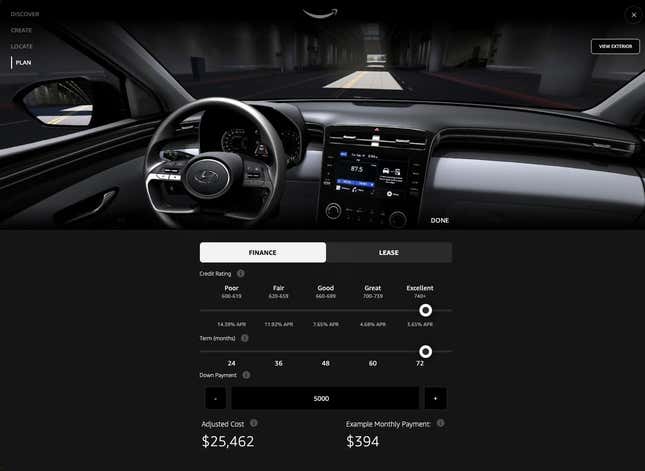 To start, you simply choose your vehicle from Hyundai's lineup, choose your color and trim, locate the one you spec'd from local inventory, estimate your payments, and contact the dealer. Simple and streamlined. At least until you get in contact with the dealer.

This isn't the first time Hyundai and Amazon have done something like this. The new online experience is the expansion of Hyundai's original online showroom created under a partnership with Amazon back in 2018. Through Amazon Vehicles, that site allowed customers to do things like compare pricing and book test drives through participating dealers.

Knowing how the dealership experience is at some Hyundai/Kia dealers, I reached out to the company to see if this new service would be expanding to the Kia or Genesis brands. A spokesperson said that, right now, that's not the plan; Amazon will just stick with Hyundai.