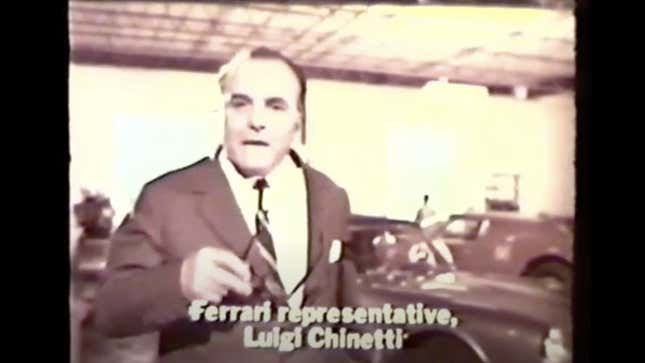 There's one man we can thank for the prominence of Ferraris in the United States: Luigi Chinetti. The icon was born 120 years ago today.
(Welcome to Today in History, the series where we dive into important historical events that have had a significant impact on the automotive or racing world. If you have something you'd like to see that falls on an upcoming weekend, let me know at eblackstock [at] jalopnik [dot] com.)
Chinetti was born on July 17, 1901 in Jerago con Orago, Italy, and with a father who worked as a gunsmith, Chinetti was lathe certified by age 12, and he went on to become a mechanic at age 14. Two years later, he was working for Alfa Romeo, and it was there that he met a fellow young man named Enzo Ferrari.
Unfortunately, Chinetti's stay in Italy was soon cut short. He moved to Paris to work as an Alfa Romeo salesman when Benito Mussolini's National Fascist Party began rising to power — but it proved to be a solid career move for the young man. He began competing in endurance racing events, his favorite being the 24 Hours of Le Mans; he competed in every event from 1932 through 1953.
When World War II broke out, he headed to America as part of Lucy O'Reilly Schell's Écurie Blue racing team, which included driver René Dreyfus. Once again, it proved to be a promising career move, because Chinetti stayed there to become a naturalized citizen.
But Chinetti saw opportunity in America. After the war, he returned to Europe and met with Enzo Ferrari in the latter man's Modena office. During a Christmas Eve meeting in 1949, Chinetti managed to convince Ferrari to start selling his road cars in America, which could help pay for his racing endeavors. Of course, Chinetti would be the man to do the selling. He opened the first Ferrari dealership in America, which, for a long time, was the only Ferrari dealership in America.
His love of racing never dissipated, which saw Chinetti forming the North American Racing Team and consistently recommending drivers like Graham Hill to Ferrari for F1 racing. Chinetti played a huge role in the global growth of the coveted Ferrari brand.