Welcome to Little Car in the Big City, where I highlight fascinating cars I found walking around a town that is known for being bigger than everything else, but where every car is fighting to stand out: New York, New York.
Well, I suppose you'd hope it was better than the Chevrolet Advance Design series, which was Chevy's primary post-World War II pickup, as this Chevy Apache came as part of the next series, the Chevrolet Task Force.
Now, don't get me wrong, I know a lot of people love the styling of the Advance Design trucks. Hell, a lot of people in GM loved the Advance Design series that they basically recreated them, aesthetically at least, in the much (and perhaps unfairly)-maligned Chevy HHR and SSR.
But I like the Task Force series much more, especially the Apache.
G/O Media may get a commission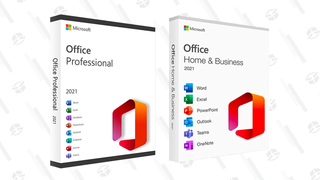 95% off
Cyber Monday - Lowest Price Ever - Microsoft Office Lifetime License
It's all very much like the Advance Design series, except everything is pulled a little bit tighter, a little bit tauter, and everything's all a bit more muscular.
That's not to say Chevy pickups of this era, or really very many cars of this era, were actually incredibly muscular by today's standards of turbocharged aluminum trucks, which are synonymous with the devil to a 1950s person. The Task Force series started with a basic six-cylinder engine that had 123 net horses and 210 pound-feet of torque, and topped out in 1959 with a not-too-shabby 230 horses.
But in this day and age, these trucks are used more for style than anything else. And style they've got in spades, what with their trademark wraparound windshield and crazy fender flares.
And there's nothing wrong with that.