Having a car designated as a sleeper is no new thing. In fact, there are plenty of factory-made cars that fit the bill, even more so with a quick de-badging. However, the real sleepers out there, the cars you would never expect to be powerful, are some of the most interesting automotive marvels in the world. Here's possibly the most insane one I've ever seen.
(Welcome back to Build of the Week, where we highlight your project cars. If you'd like a chance to be in the Build of the Week drawing, send an email to my Jalopnik email address and I'll make sure that it'll get seen by at least one of my good eyes.)
This week's submission comes to us from Johnathan, who came across a build so damn ridiculous that it took all my willpower not to go on Craigslist and build a doppelgänger immediately.

Chronicled by Zack on TheChicagoGarage.com, this build features a 1993 Lincoln Town Car that was all but forgotten by society and time and a Mustang-less owner with the need to put a Cobra V8 powertrain in a forgotten car.
Here's an excerpt from the first post:
A little over a year ago, I sold the Cobra as a roller. The car was not for me (because it was missing two doors and just plain difficult to work on.)

Shortly after I said goodbye to the Mustang, I went looking for a 90's Town Car. I had previously owned 2 of them and loved them.

Luckily, a Florida Town Car presented itself in the local Craigslist. After a weeks work of $$ negotiations, It came home.
G/O Media may get a commission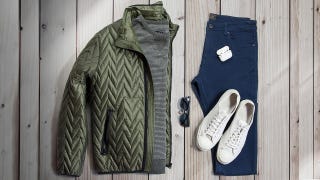 60% off
Jachs NY Fall Sale 60% Off
Fast forward to October 2014, when I finally decided to mate the Cobra powerplant to the 93 Town Car.(Less TH400, Built 4R70W for this)

I knew I would be using a Marauder wiring harness to complete the job...I wasn't going to spend 900 bucks on a stand alone harness. So I found a barrage of helpful items, all scored on ebay. I now had the tools to dive in.

I knew I would need headers, but no company made them for a 4V in this platform. So I had Stainless Works tack 4V flanges on the 2V Headers designed for this platform.....fit like a glove!
I undercoated the entire underside too....
After fabricating a half-custom, half-junkyard solution for the radiator and electric radiator fan, running new fuel lines and upgrading the fuel pump, Zack thought it fitting to install something a bit less subtle to give the Town Car more power at the wheels than a brand new Dodge Challenger Hellcat.
He installed a Whipple 2.9-liter supercharger which, if you're counting, has more displacement than a WRX STI's entire engine does.
In my opinion, a car project should ultimately be about passion. It can defy convention and it should always, if done right, garner a fair amount of fascination from third parties. This car seems to get everything right, while maintaining a sense of humor that's only apparent when you have disposable income on something so outlandish, loud, and fast.
I mean, just listen to the thing as it makes a 600 wheel horsepower dyno run, on the way to its final 700 horsepower figure on E85. Brutal isn't the word—it sounds more like a clown massacre—pure anger and mental instability.
I'd urge you to take a good hard look at Zack's entire build thread and understand that cool cars don't have to be released to you by manufacturers, they are made in the garages of the crazy ones who throw caution to the wind and live life by the phrase "watch this".
If you'd like me to write a few nice or not so nice words about the money-sucking hunk of steel that is your project car, you can comment here or email me with any of your suggestions. Be descriptive and send lots of pictures. Make sure to write "Build of the Week" in the subject, or else I'll start a Kickstarter to help Kanye West get out of debt, and no one wants that.
(Photo Credit: Zack, TheChicagoGarage.com)
---
Tavarish is the founder of APiDA Online and writes and makes videos about buying and selling cool cars on the internet. You can also follow him on Twitter and Facebook. He won't mind.