Want to own one of the strangest car designs of the past three decades? Meet the Italdesign Aztec: it's possibly the strangest Audi ever made and it's yours for three quarters of a million bucks.
It's hard to know where to start with the '88 Aztec. You could point to the five-cylinder Audi engine mounted in the middle of the car and driving a Lancia all-wheel drive system. You could note the dummy second steering wheel for the passenger that does not actually steer the car. You could look at the styling, which Italdesign itself calls "sculpted" and others might call "challenging."
The standout for me is the control panel mounted to the outside of the car.
Plug in different codes (printed right on the body) and you can access and analyze different systems on the car.
There is, as far as my feeble mind can tell, no good reason whatsoever for this kind of external access area. But then I am not a genius, and this car's designer was. The great Giorgetto Giugiaro penned the Aztec and it's still as brain-blowing as ever.
G/O Media may get a commission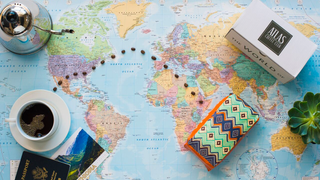 First Bag Free
Atlas Coffee Club - Free Coffee
Explore global coffee
With each bag, Atlas includes details on the coffee's tasting notes and a postcard about the region and its coffee history. And when you subscribe, you have options to tailor frequency, grind size, and roast preference of your beans, so you'll always be brewing the perfect cup.
Petrolicious has a more in-depth discussion of this machine right here, and I encourage you to check it out. They seem to have made some sense of the second steering wheel that I still can't manage.
According to two Jalopnik readers, an Aztec like this (production numbers are unknown, but they probably barely break into the double digits) has been sitting pretty at a Las Vegas museum/showroom for some time now.
And you can go buy this very Aztec, however, can be found on eBay right here. The seller claims it's the very first one ever made and once fetched a price of $2 million.
Bidding is at $500,000 and buy-it-now is at $750k.
Photo Credits: Italdesign