It might be a beautiful V8 German fastback coupe with a BMW on the hood and two kidneys in the grill, but it's not a BMW.
Well, ok, it is a BMW. But it's not a BMW. It's a Glas.
Glas was a little German carmaker known for making the adorable Goggomobil, which is difficult to spell correctly. You always want to spell it 'holy crap this tiny postwar German microcar is adorable.' I know that's hard to get right, but you get the hang of it.
In the early 1960s, Glas made the charming four-cylinder Glas GT, which is rather handsome car in person.
Later in the decade, Glas decided that their little inline four and six cylinder engines weren't quite hitting the spot, so they decided to make something bigger.
G/O Media may get a commission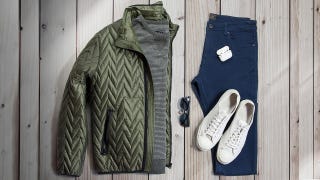 60% off
Jachs NY Fall Sale 60% Off
And by bigger, I mean they joined two 1.3 liter inline fours from the GT at the hip. The resulting 2600 V8 even had two timing belts.
The resulting Italian-styled car was dubbed the 'Glaserati,' so much did it look like a pint-sized Maser.
In any case, that 2.6 l V8 eventually got bored out to 3.0 liters, which was sometime around the moment when BMW bought out the whole Glas company and started slapping their blue and white roundel on the old Glas models.
The Glaserati was the only Glas that BMW sold that didn't get a new kidney grill. Well, except for this exact car, a one-off by Glas' favorite coachbuilder, Pietro Frua.
It's called the BMW/Glas 3000 V8 Fastbackcoupé, it debuted in 1967, the same year as the Guigiaro-penned Maserati Ghibli.
So there you have it. Quite possibly the prettiest BMW ever made wasn't really a BMW, but a rebadged, redesigned Italian-German.
Read more about the car and find more pictures at Carstyling.ru