This seems like one of those once-in-a-lifetime bargains that you'll regret passing on if you don't pick it up right now. This old-school racer is ready to deliver you an on-track driving experience that you just can't get from anything modern. And it's only $12,500!
With a top-level race engine weighing in at a whopping 948 ccs, you know you'll have to wring every rpm out of it that you can, but because the car weighs about as much as a thimble, it can be shoved into the corner and maintain that momentum.
Being a pure race car, much of the car's original bodywork appears to be gone, but it's replaced with a fiberglass facsimile to keep the vintage look alive. The original Spridget chassis is still there underneath it all, so you can really feel what it's like to race on those old-school lever-arm shocks and massive Hoosier slicks. Boy, what a dream this thing must be.
When I saw this listing I had a quick chat with a friend who vintage races this car's sibling, the MG Midget out on the west coast. He was quick to comment that this looks like a great car, and that the engine alone is a 15-20 thousand dollar expense to build from scratch! He also mentioned that it would take someone who really knows these machines to set it up right and keep it happy on track. It's not the kind of racer that you just jump into as an amateur. That said, I'm two or three drinks away from thinking I'm the right guy for this car. It's such a deal!
G/O Media may get a commission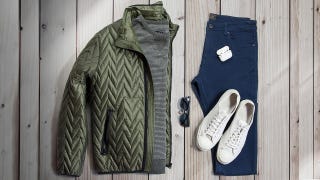 60% off
Jachs NY Fall Sale 60% Off
I recognize what I just said, and I understand that this is becoming more of an oddball race car every day that passes, but I can't help but think what kind of fun this monster would be. Even better, what if you stuck some lights and signals on it and took it for a rip on your favorite driving road a few times a year? Tell me that doesn't sound compelling.
If this bugeye seems like your cup of tea, go check out some more photos and information over on eBay.
Here's what the seller had to say about it in the listing:
'59 Bugeye with extensive race history with SCCA log books from current annual tech dating back to 1979. Car has been in runoffs from coast to coast. I bought it a few months ago planning to keep but with three other race cars I don't have the time, energy or storage space to keep it. I have not raced it but but have driven it on track and it runs and handles great.Strong running 948 full race engine, 110 race fuel, Harland Sharp roller rockers, ARP studs, Electromotive crank fired ignition., headers, down the tunnel exhaust, Tilton twin disk clutch, Tilton pedals, aluminum radiator, 4 wheel disk brakes, new ATL fuel cell, one piece fiberglass front end, 2 sets Minilite wheels, 1 set english BBS "style" wheels, aluminum race seat, ESS fire system.Spares: Complete 948 engine, complete, 93 octane, 1 transmission, 6 spare differentials (various ratios and condition), complete rear axle with rear drum brakes, 6 crates of spare parts including starters, clutch, brake rotors, distributors, crankshafts, camshafts, SU carburetor parts and other misc items. Many of the spares necessary to convert to vintage racing. Car passed SCCA Annual Tech on 2/25/2022.