Thirty one-year-old Andrew Koretz just emailed me about his new company, "Garage Time," which apparently allows anyone to rent out unused garage space to people who just need a place to wrench. It actually sounds like a great idea.
Andrew told me over the phone that he's a car enthusiast who, for the longest time, found himself wrenching on his 2002 Porsche 996 in his friends' garages in Chicago. He had just traded his Toyota 4Runner SR5 for the sports car and was keen to keep it well maintained. But his apartment in the city—and the cold weather—made taking care of even the basics like serpentine belts and fluids a real chore. While friends let him use their space, Andrew always threw them a few bucks to "reduce the friction."
It was this experience, Andrew says, that led him to start "Garage Time" after growing tired of his old job working in financial services. Having opened just two weeks ago, the "online marketplace" aims to allow people to rent out their garages (or even just a slab of concrete) at whatever rate they want to folks who just need a place to work on cars, motorcycles or other projects for a few hours or a few days; there's no time limit. The company makes money by taking 10 percent of what the wrencher pays to the garage owner.
There really aren't very many listings on the site yet; Andrew told me that only a "couple of dozen" transactions have taken place thus far. But Andrew—who's from Oakland, California originally but now lives in Denver—plans to solve that by getting the word out.
Marketing, along with proving out the concept and refining the user experience—especially in Denver—is Andrew's top priority for now. From there, he hopes to focus on expanding in other major cities like San Francisco, Chicago and New York.
Obviously liability seems like it may be a big issue, here, since we're dealing with heavy machinery. Andrew—the sole founder and financier of the company—admits this, and says there isn't a solution in place yet, though he's apparently working with insurance carriers to establish a policy that mimics that of Airbnb. In other words, he wants his company to be able to pay any accidental damages that occur during someone's wrenching.
G/O Media may get a commission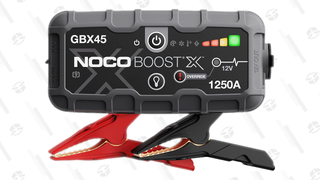 13% Off
Noco Boost X GBX75 Jump Starter
While there really isn't a lot to choose from on the website now, the screengrab above shows the general concept. A guy named Jacob H is offering his ordinary, run-of-the-mill two-car garage to wrenchers at a rate of $20 per hour (Andrew guesses that $20 to $35 an hour will be the average price).
There's a map on the right side, and under the pictures of the garage, Jacob has written a short description of the space, as well as stipulations on the type of work that can be done there. Below that is a list of tools available for use in the garage, including work lights and a "standard tool set."
Today, you can find a number of self-serve garages like this one in Michigan that tend to be cheap ($12 per hour!) ways to snag a warm, dry spot to rent some tools and wrench on a car. But such shops aren't exactly on every street corner (obviously, neither is Garage Time yet), and they don't really allow regular folks to rent out and make some money on their underutilized space. Andrew claims his company is the first "garage peer to peer marketplace."
It's an interesting idea that appears to be quite early in its stages of development, as there's no insurance policy, no way to prevent someone from building a random burner account to sidestep a poor review, no phone app, and Andrew admits there's no way to stop anyone else from building essentially the same business.
But he says on his website that his goal is to "[help] motor enthusiasts find DIY vehicle workspace and helps garage owners get paid to share their space," and—on the face of it—that sounds like a great idea.
The marketplace is currently live here, and anyone in the U.S. can now list their garage (or concrete slab) for rent at any rate they desire. It's probably worth mentioning that I only just learned about this company via a random email, and though I did speak with Andrew for a half an hour on the topic, I'd say it's probably wise to proceed with whatever caution you normally assume when dealing with a new business with no real reviews yet.
Still, the idea sounds awesome. What I wouldn't have given for such a thing back when I lived in a tiny studio apartment in downtown Detroit. It would have spared me quite a few weird looks from the security guards patrolling the FCA parking lots. And also some frostbite.