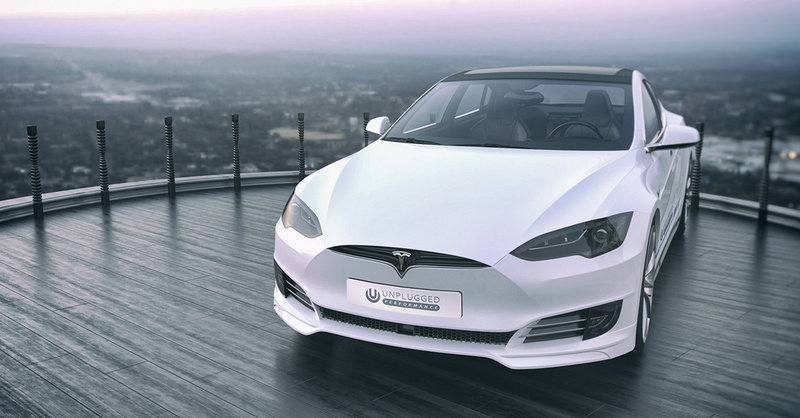 If you've got an older Tesla Model S, and you don't want your neighbors scoffing at you for not having the latest and greatest, there's a company in California selling the new 2016 fascias for a cool three large. Now you can drive slowly down your block and show off your "new" (but totally not new) ride. Your life is a total lie anyway, so why not keep up the trend?

Earlier this year, Tesla announced a mid-cycle refresh for its Model S, bringing the front fascia more in line with their Model X and the more recent Model 3. The new grille-less design looks gorgeous, even if it's not a huge departure from the look of the previous model year.
If you own a Model S from early 2016 and back, and you want in on that gorgeous refreshed front fascia, Unplugged Performance, a tuning company catering exclusively to the Model S, has developed an aftermarket "refresh fascia" that not only looks like a stock new Model S fascia, but allegedly also performs like one.
What do I mean by "performs?" How does a fascia "perform?"
Well, Unplugged Performance says the new system provides similar airflow to heat exchangers as a stock fascia, works with AutoPilot hardware and the Park Assist System, and allows for a "jump start" in case the 12 volt battery loses all its juice (the new fascia does cover the old "jump start" location, the nose cone, but the company has added new "jump start" provisions.)
The refreshed Model S fascias come unpainted and without the Tesla badge (for legal reasons), and take three hours to install. They're on sale now for $2,495 plus shipping, so if you add the cost of paint and shipping, this will probably be at least a five grand affair.
But it's worth it to keep your neighbors from looking down their noses as you, right?
h/t: Motor Trend