Sometimes this sad, sad world doesn't give us the cars we really want. And while most people just sit there and cry to the unjust car gods, one man decided to break out the welder and become a car god himself.
That man's name is James. And according to his Craigslist listing for the "1991 Jeep Cheromanche," he built the fantastic Cherokee-Comanche hybrid you see in the pictures in 2016 using a long-bed Comanche pickup and a standard four-door Cherokee.
The two mashed together Jeeps result in something that looks pretty damn janky, but amazingly, the thing works. Even the rear doors—which, the owner says in his post, are Cherokee doors welded to Comanche doors ("so the door jams still line up")—open and close just fine. On top of that, James says all four windows, cruise control, and air conditioning function flawlessly, which is amazing for any Jeep Cherokee.

G/O Media may get a commission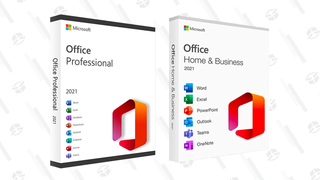 95% off
Cyber Monday - Lowest Price Ever - Microsoft Office Lifetime License
The engine—almost certainly a 4.0-liter inline six—apparently runs like a champ, and the five-speed AX-15 trans shifts like a dream. The cooling system has been recently revamped, and the resulting Jeep pickup hack-job, the seller says, is so reliable, it drove from Colorado to his current location (likely Michigan based on the area code) with no issues. As James says in his post, "This truck looks hoopty but she gets the job done and is reliable."

Hoopty is right. Just look at these welds:
But the aesthetically-challenged truck isn't quite mechanically perfect, as the seller says the added metal made the suspension "a little rough as all the weight is up front now." Perhaps some stiffer V8 Grand Cherokee springs might offset that added girth a bit? Who knows.
What we do know is that, according to James (who I sadly couldn't reach by phone), this truck—in all of his hideous glory—is a head turner. He makes that clear in his listing when he writes:
This is the truck to have if your trying to impress the ladies when you show up to the track with 3 bikes and your boys in the comfy extended cab
I don't know about all that, but I will say that I find his build fascinating. Hacking up two cars, blending them together, and having all the right driveshafts, fuel lines and exhaust parts made to make it all work takes some serious dedication.
This guy wanted a four-door Jeep pickup, so he went out and built his own. Like a true Jalop.
h/t: Eric Boldenow