I've always liked the rational, humble, and only slightly bonkers (for a French car) Renault 5, which we knew briefly in the US as the Le Car. Surprisingly, this little Gallic econobox has been raced at Dakar a few times, but only once in this truly mad hexapod version. Let's talk about that one.
This 6x6 Renault 5 was the result of automotive experimenter Christian Leotard, who essentially had the car built on a lark. Here's his explanation as to why he built it, poorly translated by Google's beret-wearing robots:
"Stroll now driving a Ferrari, a Porsche Turbo or a white Rolls convertible, nobody notices you, better, you figure Playboy on return. However, with R5 six-wheeled, all heads turn around."
G/O Media may get a commission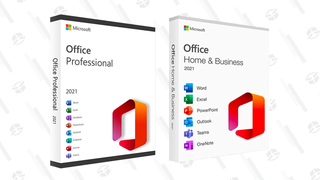 89% off
Microsoft Office Professional 2021 Lifetime License
I'm pretty sure he's not wrong. A six-wheeled R5 does get some heads swiveling.
To build the car, Leotard went to Tissier, a man known for his extreme 6-wheel conversions of French cars. Along with the extra rear wheels, the R5 had an extensively reinforced frame with square-section tubing, a lot of custom bodywork aft of the B-pillar, including all those windows, and a Hydrostatic transmission similar to what would be found on a tracked vehicle.
All six wheels are driven, there's a half-dozen disc brakes, and the car was good to haul almost 1600 lbs. Leotard entered the car in the Dakar rally in 1980, and while I haven't been able to find exactly how it did just yet, it appears to have at least finished the rally.
Leotard must have felt the need for more power, because he later created another six-wheeled R5, this one from the Turbo version. As you know the Turbo R5 was a mid-engined very, very hot hatch, though Leotard didn't find it hot enough: he kept the standard front engine as well, making a twin-engined, 6-wheeled beast.
The original 6-wheeled R5 is currently (well, at least as of 2007) slowly rusting away in the basement of the Mougins Museum, which, strangely, appears to be a museum of classical art. I'm not saying this six-wheeled Renault isn't art, but I can't help but wonder if it might not be better served in a more automotive-centric collection.
Hopefully, the 6-wheeled Renault will get the restoration it deserves, and get back out there in the world, tearing ass across deserts and reminding everyone of the aching beauty of something truly bonkers.
(some images from here.)