This 270,000-mile 2004 Mazda MPV has led a tough life towing a camper, hauling around a family, and braving salty Illinois and Michigan winters. And yet, after having had a chance to drive this tired silver minivan, I found that it wasn't tired at all. In fact, the thing drives like it's brand new.

(High Mileage Heroes is a new series that I just made up that will take a close look at the wonderful cars in this world that simply refuse to die. Like this 2004 Mazda MPV, whose owner, Jamie Anton—BlueManual6wagon in Kinja—let me behind the wheel.)
I met Jamie at his house near Ann Arbor, Michigan. He seemed excited to let me drive his vehicle-baby, a van that he purchased in April of 2012 from a sketchy used car lot in Chicago for all of $6,200. If I'm honest, I was equally as thrilled to oblige.
It was a car Jamie knew he wanted when he began his car search over six years ago. "[An] '04-'06 MPV ES was the target," he told me. "Silver with grey interior was my number one choice. Tan interiors are banned in our house. Sunroof mandatory. Rare spoiler in the back was desired. Got it all with this one."
G/O Media may get a commission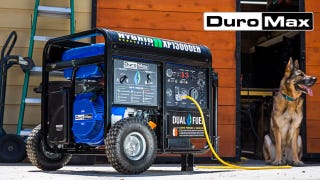 Black Friday Sale
DuroMax Generator Sale
And so Jamie's family's journey with the MPV began. At the time, it already had 126,050 miles on the clock. They've been on loads of camping trips:
Between towing the camper and filling that MPV to the brim, Jamie and his family have been putting the minivan through a brutal mechanical beatdown. Just look at how much stuff is in the back of this people-mover:
But despite the long road trips with the heavy camper and all that cargo, the Mazda has just kept on going:
And going:

And going:

What's incredible is how few mechanical repairs Jamie has had to do to this machine in the roughly 140,000 miles he's had it. "[I have never touched] ANYTHING related to suspension or driveline," he me.

"Struts/shocks/axles/axle boots/axle seals/ball joints/swaybar links/wheel bearings/etc... I've never touched," he continued, before saying that, other than the sway bar link boots being cracked, the rest of the car is in "like-new shape."
And after driving this amazing high-mileage MPV, I can say: Jamie's statement is no exaggeration. The machine is incredible. The engine—the 200 horsepower, 200 lb-ft Duratec V6—is so quiet, I literally couldn't tell it was even on. The transmission shifted beautifully through all five gears, and when Jamie told me to "floor it," the acceleration actually felt more lively than I expected.
Though I didn't throw it into any turns at high speeds, my time behind the wheel had me thinking that this thing was meant to be more of a cruiser than a canyon carver. With its front MacPherson struts and rear torsion beam, the MPV's ride quality was great, and equally as plush were the wonderful leather seats.
I don't have much to say about the brakes or the steering, as I didn't exactly take this thing on a track, but they were good. (I know bad brakes when I use them, going back to my various sketchy Jeeps brought back from the brink.) The MPV felt brand new. Truly. Which is remarkable, since Jamie says he thinks the engine and trans are original.
In case you're wondering about this 3.0-liter engine that's managed 140,000 of its 270,000 miles without anything more than a timing cover seal and a some new timing chains, which Jamie says were preventative maintenance; the old chains were still fine. A product of the days when Ford and Mazda were operating together, it's the same V6 engine found in the first-generation Ford Escape and in the third generation Ford Taurus/Ford Five Hundred.
This thing was partially designed by Porsche, according to a number of sources. It's an all-aluminum 60 degree V6 that succeeded the Ford Essex V6, and it came with multi-port fuel injection, cast iron cylinder liners, chain-driven dual overhead cams on four valves per cylinder, and an electronically controlled Intake Manifold Runner Control valve.
To many, it's considered a highly under-appreciated engine.
Of course, the Mazda has gotten to where it is thanks to some solid maintenance on Jamie's part. He changes the oil every 5,000 miles. Though he does use cheap Walmart-brand Supertech 5W-20 and a Motorcraft filter.

That cheap oil has clearly been working well enough for Jamie. I mean, it's easy to argue that what matters more than what brand of API-certified oil goes into the engine is the regularity with which that oil is changed. And as you can see by Jamie's maintenance log above, he has that on lock down.
He's also made some smart modifications to handle the towing, including—and I quote—"the biggest trans cooler I could buy," as well as a digital transmission temperature gauge. Look at how nicely integrated that is just to the left of the steering wheel:
He also threw in some rear air bag helper springs:

The van also just looks great for its age, though if we're entirely honest, that's just because Jamie has been making repairs (some of them not exactly "by the book," either). Take the rust on the rear tailgate. It looks pretty crusty here:

But after a bit of sanding, spot-filler putty, and some more sanding, it started to look better, and even the family got in on the fun:

After some priming and paint, the thing now looks as good as new as long as you don't look too closely:
That's just one example of many cosmetic repairs. Here's a look at a hole in the rocker panel caused by dirt and salt buildup:
Jamie ground down the rust, and welded in new metal:
After a bit of bondo and some bondo, voila!:
There's also quite a bit of rust over the wheel wells—so much, in fact, that Jamie decided that instead of trying to fix it and weld in new metal, he'd hide it:

Jamie sanded and cut the rust away, slapped on a fender flare from a Pontiac Vibe, and painted it to match. The result is wonderful:

Another look:
Jamie's MPV has been his wife's daily driver for six years now, so it's always on the move. That's why he's had to do quick fixes like the ones above. "This thing is runs and drives far too nice to look like a total shitbox," he told me.
For the most part, Jamie's been doing his best to manage the rust, cutting out as much as he can, treating it so it doesn't continue spreading.
Jamie hopes to keep the MPV forever. "I can't fathom ever not wanting a minivan in the family, so I may as well keep the one I love," he told me.
And I can't blame him. There's a lot to love, here. From the way the mechanically-perfect van drives, to the comfortable leather interior, to the cool flip-back rear bench, to the sunroof, to the power sliding doors, to the TV screens Jamie installed in the seat-backs for his two children.
He says the MPV has everything he can want in a minivan, I can totally see why. It's reliable. It's comfortable. It feels modern.

It is a high mileage hero.
If you have a high mileage car, and live in the Detroit, LA, or New York area, email tips@jalopnik.com!