Autonomous racing series Roborace finally showed off its first racing car—the appropriately named Robocar—at the Mobile World Congress in Barcelona. We've seen the design in renders before, but they finally built a working car to behold. It's looks a bit sharper all around than the renders and—dare I say it—much cooler in a proper racing livery.

The Robocar is still based on that original design by Daniel Simon, an automotive designer perhaps most famous for creating movie vehicles like the Tron lightcycle. It weighs a mere 2,149 pounds despite packing four 300 kW motors and a 540 kW battery. Much of the car is made out of carbon fiber, and the lightweight but powerful car is capable of speeds over 199 mph, according to Roborace's claims.
Roborace wants to become the ultimate platform for engineers to test out and advance autonomous technology software used in the cars that will propel That Person Who You'd Rather Not See Drive to the shops and back.

As such, this car is laden with aids to help its programming see what's going on around it: six AI cameras, five LIDAR arrays, two radar arrays, 18 ultrasonic sensors, two optical speed sensors and GNSS positioning. An Nvidia Drive PX2 acts as the car's brain, which will be programmed by each team's engineers and allow up to 24 trillion A.I. operations per second.

G/O Media may get a commission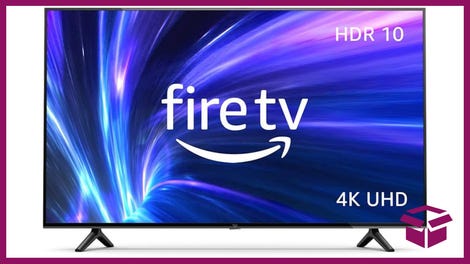 42% Off
Amazon Fire TV 50" 4K Smart TV
The Roborace team says that the Nvidia brain is able to process a 360-degree view of what's going around the car, which I can't say for your 82-year-old Uncle Bob who "totally used to drag race down Lamar at night."

While part of me remains skeptical as to how racing programs designed for a car with no human space will transfer over to road cars, the car's footprint is at least close, measuring 15.7 feet long and 6.6 feet wide. Additionally, the car will ride on Michelin road tires—not slicks—much like the series it supports, Formula E.
While I'm not sure I buy Roborace's claim as "the car of the future" as anything more than off-putting techno-smug at this point, they're moving right along with this. Simon told The Verge that he expects the very car they displayed in Barcelona to run in a few weeks.
They've been refreshingly open with every step of their development, too, even going so far as to post a video update on their Devbot Maldonado-ing itself right into a wall in Argentina. Even I'm starting to warm up a little to what they're doing.

It's happening, guys. Autonomous race cars are really happening. (You're still going to have to pry my Porsche 944 from my cold, dead hands.)