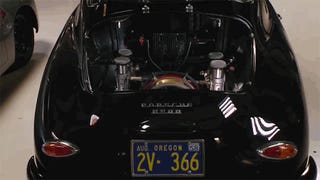 Light, fast and nimble, yet perfectly engineered and reliable. If you thought Magnus Walker coined the term 'Outlaw' Porsche, it's time to meet the Emory family at Jay Leno's Garage.
Rod Emory's grandfather starter the hot rod business back in the forties, and his children kept the flame alight by becoming the masters of Porsche 356 customization, coming up with the whole Outlow style way before it became a respected way of doing Porsches.
Donor 356s that might have cost $45,000 back in the day now cost north of seventy grand, but that's okay because this garage isn't looking for matching numbers hardware. Instead, they cut and change everything delicately so that you can't even point out what was changed until you open up the hood and start asking questions.
Instead of the 1600 cc pushrod original, Emory Motorsports uses a stroked 2.-liter four cylinder created by shortening the 911's 3.6-liter flat-six. The motor uses genuine 911 parts with more oil and air circulating in those pipes to give it around 185 horsepower with some fat carburetors.
With good brakes, the 911's rear suspension and a short-stroke 5-speed, that's ain't bad for something that weighs 1,950 pounds.
There's no reason not to want one of these. None. Whatever you can come up with against them: plain wrong.
---
Contact the author at mate@jalopnik.com.