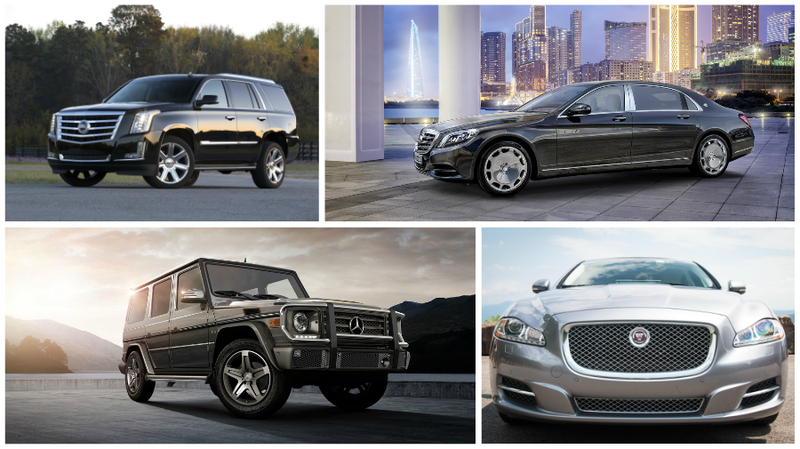 If you value comfort and opulence over driving excitement, you'll want to be driven in cars like the Mercedes S-Class, Cadillac Escalade, and the rest of the vehicles on this list of ostentatious-mobiles.
Maybe you're a burgeoning hip-hop sensation wanting to show all the haters how much dough you've raked in. Or perhaps you're a pharma-bro pretending to be one of those hip-hop sensations. You could also be a Russian diplomat scoffing at starving plebeians, or on your way to your high school reunion. Whatever the case, you're going to need a car that's flashy and extravagant. Something that says "I've made it, and I'm better than you."
The cars that send that message best are big, luxurious and all about excess. They've got enormous engines, but they're not using them to set lap times. Who needs a 6.0-liter V12 to putter around Wall Street at 20 miles an hour? Nobody, really, but that's the whole point.
These status-mobiles are basically luxury lounges on wheels. Cars you want to be driven in. Here are nine luxury sedans and SUVs—along with their Buyer's Guides—that make it clear to the world that you've made it.
This list isn't in any particular order, but the Mercedes S-Class sits at the top because it's the first car that comes to many people's minds when thinking of cars that communicate success.
And it makes sense; the "S" in S-Class actually means "special," so if you're looking to tell the world how unique and wealthy you are, there's no better vehicle.
The interior, especially the back seat, is absurdly spacious and cushy, and you're greeted with features like: adaptive suspension, Night View Assist, adaptive cruise control, Surround View System, vented, heated and massaging seats, 4-zone climate control and heaps of other safety and tech gadgetry.
It's the king of luxury sedans for a reason.
[Mercedes S-Class Ultimate Buyer's Guide]
If you took an S-Class and morphed it into an agrarian SUV from the 1970s, you'd wind up with the G-Class.
It's not good on the track, it's not great off-road unless you swap out the wheels and tires, and its available with a 621 horsepower 6.0-liter V12. By all means, it doesn't make much sense as a vehicle, but it's big and imposing: the two key ingredients needed for world-class show-offsmanship.
[Mercedes G-Class Ultimate Buyer's Guide]
The Cadillac Escalade is the staple car in rap music videos for a reason. It's huge, the grille could swallow three deer without the driver ever noticing, and the enormous wheels and low-profile tires look like gongs with rubber bands tied around them. Slap on a mountain of chrome trim, and you've got the quintessential showoff-truck.
But the inside is where the Escalade wins our praise. The seats are Grampa's Old Sofa -comfy, Magnetic Ride Control makes the ride feel like a hovercraft, and the wood grain interior trim looks top-notch.
It might seem like a Suburban with a nice interior and a giant grille, but it treats its occupants like royalty.
[Cadillac Escalade Ultimate Buyer's Guide]
If you're looking to show the world how rich you are, but you also enjoy occasionally driving, the 7 Series might be a decent option, as you'll get a huge head-up display, Gesture control, powerful engine options and a reasonably lightweight chassis.
But if you want to relax, and you feel like dropping 10 grand on the Rear Executive Lounge Seating Package, you can sit in the cavernous back seat and bask in the glory that is 4-zone climate control, active air suspension, 16-speaker Harman Kardon audio system, electric reclining rear seats and footrests, massaging vented rear seats and 7-inch rear tablets.

It's Bavaria's finest, fanciest sedan, and once you've slaved away long enough behind your desk, you can go ahead and turn in that leased 5 Series and enjoy true German luxury.
[BMW 7 Series Ultimate Buyer's Guide]
In our buyer's guide, we call the Range Rover the best SUV in the world.
Yes, we went there, but for good reason. The Range Rover is not only unstoppable off-road–with its air suspension, locking center and rear diffs, and great approach/departure angles— but it's also incredibly plush inside.
It's a rugged 5,000 pound, big luxury SUV that can be optioned with a 550 horsepower 5.0-liter V8. It's as big a status symbol as any car on this list, which is why it's the go-to choice for bratty hollywood celebrities.
[Land Rover Range Rover Ultimate Buyer's Guide]
The Audi A8L is a bit more subtle than the others on this list, but with that giant grille and those huge wheels, it'll still get you noticed.
It's gorgeous, but in a very German, restrained sort of way, and it comes with a very reasonable 333 horsepower 3.0-liter supercharged V6. That's not a lot of power for a 4,400 pound car, but this isn't a car for the track. This is a German executive sedan.
While the A8 doesn't get the credit that the 7 Series and S Class garner, it still offers some incredible luxury and safety tech like a top-view camera, massaging and vented rear seats, Active Lane Assist, adaptive cruise control and plenty more.
Oh, and there's also a 520 horsepower 6.3-liter W12 available.
So it's not a BMW or a Mercedes, but it's Ingolstadt's finest, and that means a lot these days.
Maserati—that name itself means a lot in highfalutin zip codes. Its sex appeal has a lot to do with Maserati's knack for flamboyant exterior styling and blaringly loud, but melodic exhaust notes.
The Quattroporte, like others with the trident badge, is all about soul. It's about Italian flair that the Germans couldn't replicate if they tried. Engine options range from a powerful 404 horsepower turbo V6 to a fire-breathing 523 horsepower V8.
[Maserati Quattroporte Buyer's Guide]
But the Maserati may actually have some competition in the "soul" department thanks to the Jaguar XJ. We said in our buyer's guide that the XJ is simply much cooler than German rivals like the S-Class, A8 and 7 Series:
If the Germans wore suits to work, the Jaguar would don a slick leather jacket — one with band patches sewed into the back of it. The Jag's got a unique character the conservative Germans would rather not associate themselves with. The XJ's the kind of car that turns the music up to 11 when we all know ten is plenty loud. It's distinctly cool.

Despite having an only ho-hum interior, there's no denying that the XJ is Steve McQueen levels of cool, especially if you get the long-wheelbase model.
[Jaguar XJ Ultimate Buyer's Guide]
The venerable Toyota Land Cruiser a very snazzy luxury off-roader, but Lexus turned the luxury up to 11 with their version of the Land Cruiser called the LX.
The LX, unlike it's brother, isn't about off-road capability. It's about coddling your precious butt cheeks with the finest leather money can buy, offering a ride that shrugs off potholes like a boss., and looking rich thanks to that huge chrome grille.
The thing comes decked-out, though for over 88 grand, you'd expect that. Standard features include: Active Height Control and Crawl Control with Turn Assist, a 12.3-inch LCD display with Navigation, Pre-Collision System with Pedestrian Detection, Dynamic Radar Cruise Control, high-beam assist, Panoramic View and Multi-Terrain Monitors, Leather-trimmed interior with memory seats, four-zone automatic climate control, 20-inch alloy wheels and way, way more.
Top Photo Credit: Mercedes, Cadillac, Mike Roselli