How much bang for your buck can you get on a new bike in 2015? We finally squeezed the EPA hard enough to get the official power figures for the bikes going on sale in 2015, and the list contains a few surprises, a few new faces, and a lot of familiar names. Let's take a look.
To begin, there are a few notable exceptions. First, the Kawasaki Ninja H2R isn't on the list since that 300-hp testament to power madness over life preservation isn't allowed on the road. Also missing is the new Yamaha R1, the Ducati 1299 Panigale, and the Aprilia RSV4 RR, all of which probably couldn't make it to the testing on time. Instead, the old 1199 Panigale is still listed (despite being pulled from the Ducati site), and the same goes for the revamped BMW S1000RR and RSV4 R, which should get certification early next year.
Also, a note about that certification: The figures listed are what the manufacturers supply using the EPA's rigorous testing methods. Interestingly, that means certain numbers are off from what the makers state in their materials. For example, the new Ninja H2 is claimed to make 197 HP and it's dead on. But it's big brother, the ZX-14R, which supposedly puts out the same amount, hits 208 HP on the EPA's scoresheet. The rest of the discrepancies are far smaller – a few HP or fractions thereof.
Anyway, enough of that. To the list!
---
Kawasaki Ninja ZX-14R
G/O Media may get a commission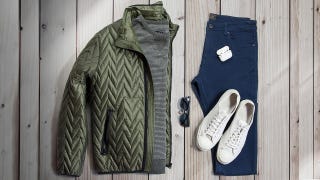 60% off
Jachs NY Fall Sale 60% Off
1,441cc
$14,995
Yes, this beast is still around and still topping the list. Nothing's changed with the engine, but it still runs 9s in the 1/4-mile all day long.
---
Yamaha V-Max
197.40 HP
1,679cc
$17,990
Remember the V-Max? I almost forgot Yamaha still sold it because it's lumped in with its Star line-up.
---
Ninja H2
197.13 HP
998cc
$25,000
The new kid, with a supercharged four-banger and enough torque to chunk off bits of pavement and fling it at unsuspecting wildlife.
---
MV Augusta F4 RR
197.13 HP
998cc
$24,998
Another one that's still around, although there's a new F4 in the works that should top 200 HP.
---
Suzuki GSXR 1300 R Hayabusa
194.45 HP
1,340cc
$14,599
No list would be complete without a 'Busa. But man, is that thing not aging gracefully.
---
BMW HP4
190.43 HP
999cc
$20,300
The new S1000RR means the HP4 is due for an upgrade soon, and 200 HP should be within spitting distance.
---
Suzuki GSX-R 1000
182.38 HP
999cc
$13,899
A mainstay of the liter-bike world, no one questions the Gixxer's cred and that's unchanged for 2015.
---
Ducati 1199 Panigale/Panigale R
181.04 HP
1,198cc
$24,495
With the 1299 on the way, we're left scratching our heads why the 1199 is still on the EPA's list. Then again, there might be a trove of unsold Panigales collecting dust at dealers as soon as people found out that it's replacement was on the way.
---
Aprilia RSV4 Factory/R
181.04 HP
999cc
$15,499
Aprilia has an RR variant waiting in the wings with 201 HP. Because 181 just ain't enough.
---
Motus MST-R/MSTR-4
179.70 HP
1,650cc
$30,975
Wow. Motus. Totally forgot about them. Then I saw the price and remembered why.
---
Kawasaki Ninja ZX-10R
177.01 HP
998cc
$14,299
Amazingly, this thing has been around for a decade now, but Kawasaki keeps on iterating, and a 30th anniversary is coming to celebrate the original GPZ900R. Considering Yamaha has been rolling out a new version every 10 years, maybe it's time to retire and hand the reigns to the H2.
---
EBR 1190RX/SX
171.65 HP
1,191cc
$18,995
EBR isn't in the top 10, but it undoubtedly deserves a mention. The naked SX is hot, but the forthcoming ADV version – the 1190 AX – will be one to beat next year.
---
Honda CBR1000RR
167.63 HP
1,000cc
$13,999
Not much has changed for 2015, but if you want to live out your Marquez fantasies, Honda is offering this SP version with fully adjustable Öhlins and Diablo Supercorsa Pirellis.
---
Aprilia Tuono V4 R
167.63 HP
999cc
$14,499
This is the cool stuff you make when you're unencumbered by racing restrictions. Although that's not gonna last long.