In 2011, Ferrari unveiled a Formula One car that they decided to call the F150. Ferrari didn't seem to realize that Ford sells a quite popular truck that is known as the F150.
A whole bruhaha erupted and the car was renamed the F150° Italia to appease the lawyers. But now, Ferrari seems to have forgotten the lesson they learned just one year ago and are making it sound like they're calling its Enzo-replacing hypercar the F, wait for it, 150 instead of the Ferrari F70 like we all expected.
Whaaaaa?
Here's the page on the Ferrari site (via Axis of Oversteer) that has us wondering:
The F150 will be powered by a development of the 740 CV 6.3-litre V12 introduced in the new F12berlinetta, along with the latest evolution of Ferrari's HY-KERS electric hybrid system unveiled at the Geneva Show in 2010.
G/O Media may get a commission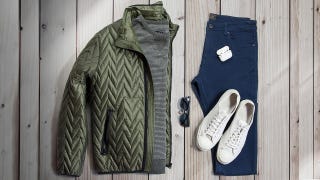 60% off
Jachs NY Fall Sale 60% Off
Mistranslation? Internal code? Simple mistake? We've reached out to Ferrari to find out.
Other than the name, the F150 doesn't sound stupid at all. Ferrari's GT and F1 divisions have been working hand in hand on the car, and the carbon fiber monocoque will be built by the F1 team's composites department. The car is also small, about the same size as a 458 Italia.
The seat will not be adjustable, and instead will be built for the driver as racing seats are. That means if you sell the car to a really fat guy and you're a skinny girl, he'll either have to get a new seat or get on the South Beach Diet.
Ferrari has also confirmed that the F150 will have a developed version of the F12berlinetta's 740 horsepower V12 which will be combined with a KERS system. That power is supposed to shave about 10 percent off the Enzo's 9.5 second 0-125 MPH time.
Ferrari hasn't confirmed towing specifications for the King Ranch model or when a special Harley Davidson edition of the F150 will hit the roads.
(Post-Christmas hangover hat tip to DasWauto!)

Photo Credit: Ferrari