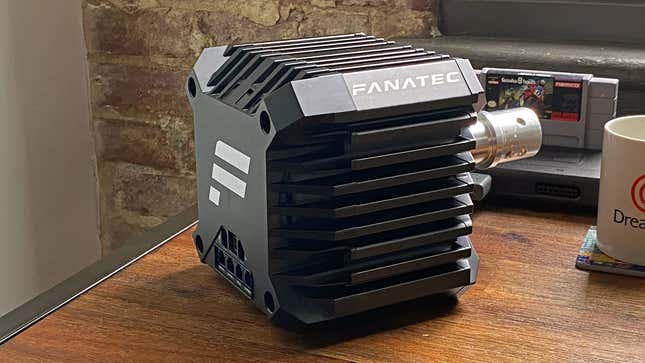 In this fast-paced online economy, deals are a dime a dozen. I typically don't pay attention to them. I just don't have enough money for all the deals, all right? But every so often, there's a deal that's too good not to share, that even I consider for myself. Today, that deal is everything you need to go sim racing with a direct drive kit from Fanatec for $150 off.

The Fanatec CSL DD is my go-to recommendation for sim racing wheel bases these days, because it's direct drive — which means it's super smooth, accurate, and natural feeling — and it's also decently powerful for its compact footprint. The CSL DD normally costs $350, or $500 in tandem with the Boost Kit 180 power supply, which bumps torque from 5 Nm to 8 Nm. Those 3 Nm make a big difference; I recommend them.
Since June, Fanatec has had a promotion going where the CSL DD itself costs just $200 (or $300 with the Boost Kit) if you also buy it alongside a steering wheel and pedals. This is a reasonable proposition, as a steering wheel and pedals are arguably important for sim racing. However, until this week the promotion locked buyers into a certain rim and pedal combination. Not so anymore — customers are free to mix and match all of Fanatec's gear to assemble their dream rig and still get those savings.
You can configure your own setup on Fanatec's website, which unfortunately is about as speedy to navigate as your healthcare provider's automated phone system. In the interest of efficiency, here's the entry-level CSL DD kit for PC with the standard CSL steering wheel for $400 before tax and shipping. The 8 Nm version with the Boost Kit is $500. If you want to pair that base with a fancier formula-type wheel or a bolt-on load cell kit for the brake pedal, you can do that as well; you'll still get the discount.
There's one disappointing catch with this promotion, and you may have already noticed it. The CSL DD only supports PC out of the box. It can support Xbox, but only if you pair the base with an Xbox-licensed steering wheel like the McLaren GT3 V2, which will likely add at least $80 to the cost. Additionally, if you prefer to do your sim racing on PlayStation, maybe in Gran Turismo 7, the price will be considerably higher. (Cue the sour sim dads scoffing at the mention of GT7 and "sim racing" in the same sentence.)
See, for that you'll need the Gran Turismo CSL DD Pro set, which starts at $700 and does not qualify for the $150 discount. Shame, that. Still, the PC gang or those eagerly anticipating the new Forza Motorsport will be in luck. Here's to making an expensive hobby a little less so.
Clarification July 24, 2023, 11 a.m. ET: This story has been updated to reflect that the CSL DD wheel base requires an Xbox-licensed steering wheel to work on Xbox.