You could see the 2018 Toyota C-HR as another useless crossover without an all-wheel-drive option. Or you could see it as a little hatchback with a funky name and rad styling. Wait, wasn't that what the Toyota Matrix was?
My colleague Stef Schrader already did a thorough analysis of this vehicle during her first drive. So I'll do my best to not simply regurgitate her words in a different manner. She questioned if millennials would bite onto Toyota's all-new young-person bait car. I'll admit, the C-HR misses the mark on important elements but I believe it'll still be a hit with the kids. Here's why.

(Full disclosure: Toyota Canada wanted me to drive the C-HR so badly, it lent me one clean with a full tank of gas for a week.)
What Is It?
G/O Media may get a commission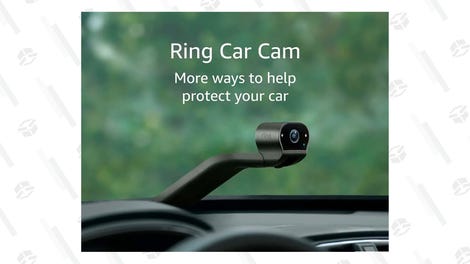 The C-HR, the name of which conveniently reminds us of Honda's HR-V, has got to be one of the most inevitable vehicles to come out this year. The subcompact crossover trend is not only booming, it's become a massive cash cow for carmakers.
The C-HR is here to secure consumers inside a Toyota dealership after they've cross-shopped a Honda HR-V, Jeep Renegade, Mazda CX-3, Chevrolet Trax, Fiat 500X, Ford EcoSport, or Nissan Rogue Sport (called Qashqai in Canada) / Juke. It's a crowded segment.
Except, the C-HR, which was originally supposed to be a Scion, does not offer all-wheel drive capability nor a lifted ride height. It makes up for this with manga robot styling, flared wheel arches and color-contrasting roof and mirrors. And, to fair, it actually looks not bad!
Underneath the busy sheetmetal things are somewhat conventional, and frankly kind of boring. At least, compared to its exterior styling. The only engine available is a decade-old 2.0-liter naturally-aspirated four-cylinder. Toyota says the C-HR churns out 144 horsepower and 139 lb-ft of torque and will sprint to 60 mph from a standstill in a gentle 11 seconds. I didn't know cars could still be that slow in this day and age.
Front-wheel-drive is the only way to go in the C-HR, and yes, a snoozing CVT is the single gearbox we get.
Why Does It Matter?
Toyota needed a tiny utility vehicle to hop onto the profit bandwagon, but also needed something to hit nemesis Honda in the teeth of its HR-V.
Remember, Toyota's number one rival remains that other Japanese car brand: Honda. This presumably explains why the C-HR was named the way it was. Although Toyota says the name actually stands for "Coupe High Rider" ...Not sure if that's any better, it sounds more like the title to a poorly translated Japanese motorcycle ninja flick.
But more importantly, the C-HR represents a desire to deliver something cool and fun in a segment that's typically boring and mostly seen as a necessity rather than an emotional desire, which is why this thing might be a tad more desirable than its rivals.
Styling That Works, Until It Doesn't
Each time I lay eyes on one of them weird looking coupe-like crossover things, I instantly get this prejudice that the vehicle will suck at what it was meant to do.

Personally, I've always felt that an SUV that can't carry any gear or won't plow its way through a snowbank has no reason to exist, which is why I despise vehicles like the BMW X6 and Infiniti QX30 so much. If your crossover has less cargo space than a Golf, consider yourself punk'd.
But the C-HR, which isn't really a crossover, but qualifies as one in Toyota's lineup, actually works in the real world, which is why I can't exactly hate it. It's spacious inside, but just enough.
I'll get back on that later.
The rear seat, which feels like a prison cell due to its high doors and tiny side windows actually offers decent leg and head clearance.
There's also a cup holder inside each rear door. That's quite clever.
Unfortunately, there are some elements of the C-HR's cabin that have been a victim of the "look at me" styling. Check out the center console, and how oddly spaced the cup holders are. There's one ahead of the shifter, and one behind the shifter.
These ridiculous holes, which are deeper than the bowels of hell, make small cups nearly impossible to retrieve, and the entire idea of them being so spread out is confusing for when comes time to decide where you'd prefer your lava-hot Timmies coffee to leak.
They also lead to an important ergonomic problem.
If you've placed a tall water bottle in that front one, it'll obstruct the deep cavity that was unconventionally put there to store some junk, like your phone. You'll also have a hard time accessing the USB and audio jacks, which are hidden way down underneath the dashboard where nobody can see them.
Disappointments
Stef already said this, but I'll repeat it just to make sure it sinks in: the C-HR is slow. Very slow. That's really the largest disappointment, because the vehicle looks fast and has a decent chassis underneath it. Which sucks.
In fact, the entire drivetrain disappoints. Not only is it desperately low on power, the CVT transmission takes away any kind of soul the vehicle could have had. It drones, and doesn't seem to cope well with the engine's non-existent low-end torque and rev happy character, as if the the transmission has all the load on its shoulders.
Why can't the front-wheel-drive C-HR be had with a manual gearbox again? FYI: the Matrix had one.
The C-HR's infotainment system feels like a half-ass effort, lacking important options like Apple Carplay/Android Auto, navigation and satellite radio.
But I was particularly let down by the tiny back-up camera located in the rearview mirror. It's never displayed in the larger screen, so you rely solely on a minuscule corner of the mirror to see what's happening back there.
Who at Toyota thought a half-inch square would be better than a 7-inch LCD screen?
Casual Driving
The C-HR drives fine, as in, it's comfortable, quiet and rides smoot without beating you up too hard over the hard stuff.
And, again, even if its exterior resembles Tokyo 2049, it's business as usual inside, with ample lateral and rearview visibility, comfortable front seats and honest-to-goodness Toyota plainness and functionality which is slightly augmented by a sprinkle of quirky design elements.
Cargo space is of course slightly compromised due to the way the C-HR's roof is shaped. But not so much so to completely ruin its promised practicality.
You can still throw big things back there. Default trunk space is claimed at 19 cubic feet, five cubes less than the Honda HR-V, but still neck to neck with a Jeep Renegade or Chevy Trax.
Sadly, things start falling apart when folding down the rear seats. You'll only be left with 36 cubic feet of room, making the C-HR the least-spacious of the mini crossover bunch.
I guess the only area where the Toyota C-HR stands out for daily driving is in fuel economy. I'd hang around the 30-ish mpg combined while I had it. That's more than decent. But then, the Honda HR-V pulls exact same numbers with all-wheel-drive.
So the Toyota C-HR can be a good daily driver, but as far as doing normal crossover things, it's only mid-pack at best.
Hard Driving
It handles really well! Which is why I have absolutely no idea why Toyota stuffed such an anemic engine under its hood and a shitty CVT between that engine and the wheels. Stef already explained how the entire suspension and brakes have been engineered for "performance", and how the car was actually tested at the Nürburgring. The front discs are ventilated, like what you get on a sports car. Why?
It almost feels as though Toyota has plans to eventually offer a more powerful version of the C-HR. Yes. Please?
The C-HR is at least fun to throw around. The steering is dead numb, but you can definitely build up momentum in this thing and simply flog it hard and fast on an offramp, feeling a bit like an underpowered litttle hatchback like a Yaris or a Nissan Micra.
So yes, you can drive the C-HR hard, and it will be fun as hell. But only in the twisties, because it's painfully sluggish off the line.
Value
Toyota will sell you a pretty well equipped C-HR XLE for $22,500 ($26,974 CAN). All C-HR's come standard with adaptive cruise control, rear cross traffic alert, lane-departure warning, lane-keeping assist, projector-beam headlights, and dual-zone automatic climate control.
There's only one top-tier trim level. Toyota calls it XLE Premium. It sells for $24,350 ($28,574). It adds illumination for the visor vanity mirrors, blind-spot monitoring, heated cloth seats, a proximity key, fog lights, and lights in the side-view mirrors that project the C-HR logo on the ground - honestly rather pointless.
But here's the problem: the C-HR sells for the same price as a leather-appointed, quicker off the line, and more spacious HR-V, which also comes with all-wheel-drive and the latest connectivity features, satellite radio and navigation. So no, as far as getting a lot of crossover for your dollar, the C-HR is not a good value.
Verdict
I live in an apartment building where younger-than-me skaters and surfers that wear manbuns and hipster glasses share an apartment and an old Toyota Matrix.
When I had this C-HR tester, I asked them what they thought of it, and they unanimously told me they loved the way it looked, and found that in many ways, it felt like the spiritual successor to their vehicle.
When interrogated on why they loved their Matrix so much, they told me they found it practical, fuel efficient and immensely reliable. None of them cared about power. And none of them really gave a shit about all-wheel-drive.
When asked if they would buy a C-HR over the HR-V, they all said: "hell yes, this one looks so much cooler, and I can fit my surfboard out the back!"
And that's precisely why I believe the C-HR will still do well attracting younger buyers. It looks absolutely bitchin', is still practical enough for the needs of the modern urban human, it's great on gas and it's actually fun to drive.
Sure, the 2018 Toyota C-HR lacks a bit of tech, and could use a bit more oomph to pair up with its hot hatchback looks. But Toyota reliability and a futuristic design may be all the C-HR needs for the kids to take notice.
---
William Clavey is an automotive journalist from Montréal, Québec, Canada. He runs claveyscorner.com

2018 Toyota C-HR XLE FWD (SE) Specs
Engine type
Regular Unleaded I-4
Transmission/Drive
CVT w/OD