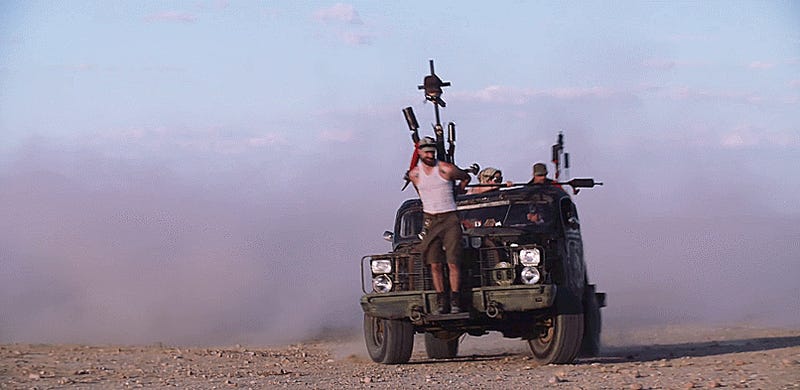 "Wasteland Weekend" is a Mad Max-style ComicCon that goes down in the desert. You know, for realism. Our man Sweet Lips here got into Wastelanding with pirate-themed bitchin' Camaro, then upgraded to a damn sand-sunken Exxon Valdez.

Sweet Lips (real name Mike Orr) explains that Wasteland Weekend is the ultimate opportunity for self-expression. At least, for those those who like to build post-apocalypticly themed vehicles and kick dust up for a few days.
With a mermaid figurehead he stole out of a fish tank at his day job, Sweet Lips's Camaro is fully (ironically?) ocean-themed with a harpoon cannon and salt-stain "paint."
The mock oil tanker, bought for $1 (seriously) out of whatever Hollywood basement the last remaining Waterworld props were rotting, was the next step in the natural progression of his fleet.
"I would like to say that all of the stuff we make at Wasteland is a group effort. I am but a cog in the machine," Lips said in a comment on the video posted by MEL Films.
Off-roadified muscle cars sure are hot right now, huh?
I might be a little too intimidated to join the flame-throwing revelry at Wasteland Weekend but they sure are building some hysterical and awesome props.