It's been a busy hurricane season so far, but I wouldn't blame you for not being aware of that fact because most of the stronger storms have avoided landfall in the United States (with the exception of Isaac). Alas, another system lurks in the Caribbean ready to attack the East Coast with the fury of an angry God. Or not. It's way far out there.
Can you start fear-mongering for a storm early enough? Let's find out. Tropical Depression Eighteen is poised to be come Tropical Storm Sandy (yes, we're up to the esses this year) within the next 24-48 hours. Big whoop, right?
Here's where it gets interesting. Because it's so late in the season and the water is so cold, the system will likely become a subtropical hybrid storm with characteristics of both a regular low pressure system and a tropical system. Here's what the National Hurricane Center says:
AFTER 48 HOURS...VERTICAL SHEAR IS EXPECTED TO INCREASE SUBSTANTIALLY...AND NEARLY ALL THE GLOBAL MODELS SUGGEST THAT THE CYCLONE WILL TAKE ON MORE HYBRID CHARACTERISTICS...SUCH AS AN EXPANDING WIND FIELD TO THE NORTH AND
ITS INTERACTION WITH A MID- TO UPPER-LEVEL LOW. THE OFFICIAL FORECAST THEREFORE SHOWS THE CYCLONE BECOMING A SUBTROPICAL STORM BY DAY 5.
That could be a bad thing. While subtropical storms don't usually reach the focused intensity of their warmer counterparts, they tend to spread that intensity over a much larger area.
G/O Media may get a commission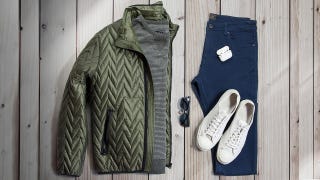 60% off
Jachs NY Fall Sale 60% Off
Could it hit the East Coast? Maybe. The European model (EMCWF) shows it slamming into Virginia/Maryland around Halloween just as cold air moves in. This could mean damaging rain/wind for the Mid-Atlantic and a terrible snowy time for New England. Of course, other models (namely the GFS) show the storm heading out to sea.
This is 8-9 days away so don't freak out yet.
Or, if you want to freak out, read this, which tackles the worst-case-scenario before pointing out that, of course, this is only one possibility and it's way too far out to know what's going to happen.