The Morning Shift
All your daily car news in one convenient place. Isn't your time more important?
This is the Morning Shift, our one-stop daily roundup of all the auto news that's actually important — all in one place at 9:00 AM. Or, you could spend all day waiting for other sites to parcel it out to you one story at a time. Isn't your time more important?
---
1st Gear: Is Aston Martin For Sale, Or Not?
The BBC says that the Kuwaitis who own Aston Martin deny that they're trying to sell a 50 percent stake in the ultra-luxury carmaker, even though lots of news reports say they are. Over the weekend, the European press resounded with stories of an exciting bidding war between Italian private equity fund Investindustrial, and India's Mahindra and Mahindra. The Italians reportedly bid $400 million for the stake, and Mahindra came back with a higher offer. BUT, Investment Dar of Kuwait, part of a consortium that owns Aston Martin, says there's nothing to it. The brand turns 100 years old next year, and of course is back on the radar again because of Skyfall, the latest James Bond movie.
---
G/O Media may get a commission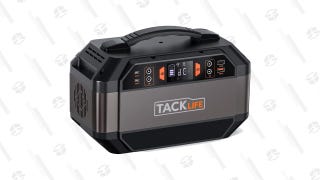 Tacklife Portable Solar Generator
2nd Gear: Tesla Model S Price Hike Is Coming
Forbes reports that Tesla will be raising the price of the Model S soon, even though lots of buyers are still waiting for their cars. Tesla has confirmed that it's planning to implement a price hike on the $50,000 car (minus federal tax break) for people who place orders in the future, and says information will be coming in the next two to three weeks. It says the increase won't affect people who have already placed orders and who finalize them in a "fair, predetermined time frame." According to Forbes, a reservation requires a $5,000 deposit, but it's refundable until confirmed when options and specs are finalized. Analysts say Tesla Model S reservations exceed 13,000. So, the company might actually be safe in implementing a modest price hike.
---
3rd Gear: More Foreign Cars Will No Longer Be Foreign
The Detroit Free Press reports that over the next few years, Toyota, Honda, Nissan, Mercedes, Mazda and Audi are planning to build vehicles in North America that they produce overseas. It says at least 10 models are headed from other parts of the world to North American plants, with Mexico winning its share of the new production. The soon to be not-foreign cars range from the Nissan Leaf to the Audi A4 and the Mercedes C-class. Honda, Nissan and Mazda are all planning to open new plants in Mexico in 2013 and 2014, while Toyota has teamed up with Mazda to produce a subcompact there.
That doesn't mean the U.S. will lose out. VW is widely expected to expand production in Chattanooga, Tenn., if it can make a case for new sport utility there. Mercedes is adding a mystery car in Vance, Alabama, along with the C-class, and the Leaf is coming to Smyrna, Tenn. Meanwhile, foreign car companies are using their American plants as export sites to the rest of the world, as we told you recently. The Free Press says this will mean lots of competition in North American manufacturing as Europe and Japan stagnate.
---
4th Gear: Lang Lang Signs Up To Ride with VW
USA Today reports Chinese-born pianist Lang Lang is the new brand ambassador for Volkswagen. It's a savvy move, for a bunch of reasons. First of all, Lang Lang (pronounced "lahng lahng") is a terrific artist, and one of the best known classical musicians in the world. You might remember the gorgeous piano music in the movie, "The Painted Veil," which he played (that soundtrack kept me calm on loooong flights to Tokyo and back). Second, Lang Lang is a huge deal in China, which is a fundamental piece of the VW beigekrieg. He's credited with convincing 40 million kids in China to take piano lessons. According to USA TODAY, Lang Lang will be chauffeured to his concerts around the world in VW products. Given his legion of fans, those Volkswagens are going to get a lot of exposure outside the world's concert halls as people wait for autographs and to pose for photos with him.
---
Reverse: Round Up The Usual Suspects
On this day in 1942, Casablanca premiered in New York City. It went on to become the greatest American movie of all time, and also used cars extensively in its plot. Who can forget the drive that Rick and Ilsa take in Paris (clearly against a backdrop) that sets the stage for their romance? Or the moment when Major Strasser races up to the airport as Ilsa and Victor Laszlo are getting set to use the exit visas? And of course, one of the leading characters — Captain Renault. If you've never seen Casablanca, skip school or take the afternoon off and find a copy. [History]
Neutral
In keeping with our new discussion system, here's a place for you to own the floor. We're asking each day what you think about an issue that comes up in TMS.
Today, tell us what you think of the Tesla Model S price increase. Too soon, or justified? Are you still waiting for a car? Remember there's no right answer or wrong answer. It's Neutral.
Show us your tips!
Got tips for our editors? Want to anonymously dish some dirt on a competitor? Know something about a secret car? Email us at tips@jalopnik.com.
Lost in our new layout?
Click here for the Opposite Lock or Tips forums. Want a more "blog-like" look? Click the button up top next to "Top Stories."
Get more Jalopnik!
Want even more Jalopnik? Want to know which of your friends read us? "Like" us on Facebook, follow us on Twitter, and subscribe to our newsletter.