The current state of the automobile frankly sucks. It's hardly the age of yore, when cars weren't shaped like marshmallows and heavy as meteors. But that's precisely why it's the best time ever to be a car nut.
We all remember how we got hooked in the first place. Whether countless hours in the garage, euphonic symphony of finely-tuned racing engines or that bodywork that made your pants feel funny, we all had the first high and have chased it ever since. When the future seems a downward spiral and the glory days are long past, these tales are more important than ever. And through our own memorable experiences, others will be inspired and create new, better ones for the next era.
I'm far from the greasiest gearhead you'll ever meet, and an automotive journalist only when the opportunity arises. But I've had my share of unforgettable experiences with cars because I sniff out opportunities to be around them. I have drunkenly argued with Dallara officials for at least three unique chassis designs in the Indy Racing League, scribbling terribly inaccurate aerodynamic napkin charts. I hung around ALMS teams for hours during a press event, and eventually was asked to help steer an LMP2 car into the trailer (
beginning at 0:49). During a clothing line launch hosted by Al Unser Jr. and Graham Rahal, I managed to slip in a racing question that set Little Al off on a tangent, tales of racing against the elder Rahal that were new to Graham, Ryan Hunter-Reay and myself, the only people still in the Macy's manager office. The first time I applied to cover the Grand Prix of Long Beach for my student newspaper, I was declined. So I snuck through a hole in the fence and covered all three days anyway. Wouldn't you?
Last November, in a random stroke of cocktail party luck, I befriended the owner of a Tesla Roadster S. He motioned me over to the car and he tossed me the keys. A few quick minutes, up and down the street, my new B.F.F. riding shotgun. Maybe it isn't for the old-school purist - it makes nary a whisper and, obviously, no manual - but find yourself some open space, check your rearview for patrol lights, throttle up and: ìWhooooo-hoo-hoo-hoo-hoo-hooooo!î Instant torque is a glorious thing.
The sensation was short lived and only reached 60 mph. But here's what I came away with: Who cares if every car produced from now is automatic? What's important is that we never lose the sense of sheer excitement; of helpless infatuation. The emotion is what's important – whether or not your vehicle has drum brakes or pedestrian-avoiding technology is moot when your adrenaline is boiling.
G/O Media may get a commission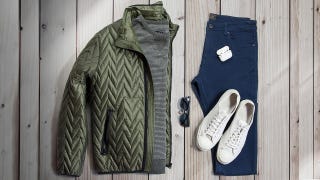 60% off
Jachs NY Fall Sale 60% Off
Through my experiences and those of others far more qualified, I've concluded that the moments that matter most are the ones that are nearly impossible to be expressed in words. My favorite question to ask drivers has never gotten a straight answer: "What exactly does it feel like to drive an uncompromising machine to the limit of its ability?" I've never received a response that could live up to the wild expectations I have of the sensation of achieving optimum performance. Maybe some things are simply too difficult to explain. While I'll never truly know that feeling, I've experienced moments in racing or car culture that comparatively come pretty damn close.
I used to attend weekly Saturday morning auto shows in Newport Beach, an unofficial first-come first-serve supercar bonanza in a parking lot lined right up alongside the Pacific Ocean. It was easy to get lured into drooling over the Enzos, McLaren F1s, Bugattis and countless other modern hypercars lined up side-to-side. Once I'd tasted the aphrodisiac of twin singing Carrera GT's or the hilarity of two Saleen S7 Twin-Turbos with matching parking tickets, there was no going back. I soaked up the flash and regretfully overlooked a lot of the substance. But the one moment that I'll always carry with me occurred when I stood watching a 74-year old Dan Gurney lower his 6-foot-3 frame into the roof-cutter door of a spankin' new Ford GT (photo attached), just as he must have thirty-eight years earlier, as the gun sounded at the 1967 24 Heures du Mans in which Gurney and A.J. Foyt would use a GT-40 Mk IV to spank Ferrari and enter immortality. This was a shade of that man but it was still, unmistakably, that man. Watching him enter the GT was like transporting back to that day in the forests of France, and my goosebumps and I subconsciously bridged nearly 40 years of history in one glorious moment. Then he sped off as if Andretti were in pursuit.
That's the moment that I'll cherish more than any of the Lamborghini processions or Ferrari progeny photo-ops that came from the show in those years. I'll always treasure it, preserve it, share it with anyone willing to listen. One day my story will reach the ear of the person who will feel what I did and create something great from it. If we can keep small romances like that alive, there will always be a beautiful future on the automotive horizon.
There have always been boring cars. If the boring cars will now burn cleaner and crash safer, that's probably a good thing. For those who've listened intently as a racing hero describes his past glories, for those who've gone to great lengths for a sweet moment of hooning or still randomly flash back to the most autotopian memories of their youth, the econobox is not an option anyway. Just as there have always been boring cars, there will always be desire for thrilling performance machines. And as long as we can take our own past glories and treasured memories, preserve them, pass them on and help others create new ones, there are great days ahead for the automotive industry. This is not a time to mourn but to reminisce, and then create.
This piece was written and submitted by a Jalopnik reader and may not express views held by Jalopnik or its staff. But maybe they will become our views. It all depends on whether or not this person wins by whit of your eyeballs in our reality show, "Who Wants to be America's Next Top Car Blogger?"