My friend Mike went to Legoland this week, and he proceeded to send me a bunch of excellent photographs of the expertly crafted brick recreations of actual real cars. The brick experts at Legoland have earned their place in car society, as they have chosen some pretty awesome models to design and build, and the end result is quite impressive.
The Tahoe on the corner is my favorite of this scene, but the Prius and Crown Vic taxis are pretty great. The woodgrain Wagoneer certainly maximizes the rad.
The RVs here are masterfully done. The 90s splash liveries are so incredibly recreated.
G/O Media may get a commission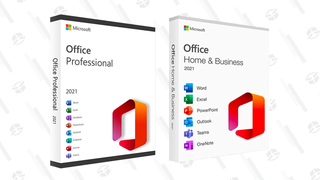 89% off
Microsoft Office Professional 2021 Lifetime License
In front of the Vegas-style hotel is a nice stretch limo, but the red thing in the background is most certainly a Ford GT40.
Even SoCal minifigs like to fool themselves into thinking they'll take a Ford Raptor out for desert fun, but then end up using it as a city commuter anyway.
This dually square bodied F250 is pretty exact. The rear fender flare looks perfect, and the lights at the front of the cab are spot on.
The FJ Cruiser is instantly recognizable. The 9C1 Caprice cop car is the true scene stealer of this photo, however. An icon of the era, to be sure.
Just behind that is a Prius, a Jeep XJ, and possibly (?) a Dodge Journey.
Is there a vehicle more suited to being constructed from Lego than Mercedes' iconic Gelandewagen?
There is a David Tracy minifig underneath this Jeep, trying to keep it running.
This armored truck is great, but even better is the "Bricks" name, rather than Brinks, obviously.
The white 911 on the bottom of this one might be my favorite, as it certainly looks more convincing than the super expensive Lego GT3 RS you can actually buy.

The red car across the street has been causing something of a debate between Mike and I. He says it's a Porsche Panamera, but I think the hood is too long and the rear is too short for that, dubbing it a Ferrari FF myself.
For that matter, what are the two little convertibles here? Miatas, or BMW Z3s?
That's a unique color for a Hummer H2.
A couple Mustang fools trying to hit the apex? The heckblende of the black car in the back gives it away as a Nissan Cube.

A 348 GTS street parked? I'm a huge fan of the cheese grater side strakes on this car.
I can't make out the truck. Maybe a four-door 90s truck like a Ford Ranger or a GM S10? The Land Rover with the rock on its hood made me chuckle a bit.
More Jeep Cherokee good times.
If this van is rockin' don't come knockin'.
Legoland seems to know that it's Van Time. I hope that Dodge Caravan is a turbocharged 5-speed model. Front wheel drive boosted-brick-burnouts for days!
After poking around his photos for a few hours, I'm satisfied that there must be a few truly serious car folks working at Legoland as brick scientists, because they've got some unique and obscure cars in their park. Thank you, whoever you are. You've given me reason to smile today.
And thanks to Mike for sending these pictures over for us to all enjoy. He's a totally rad dude with a totally rad E36 BMW. Go check his exploits out via Instagram at @michael_sleven.