The idea behind Scion was to offer affordable cars to the youths and lower Toyota's average buyer age to something below 85, all while getting said youths hooked on Toyotas as they grow up. It hasn't really worked out.
With the exception of the FR-S, Scion has suffered from a dearth of truly strong, competitive products for years. And Reuters reported last year that according to vehicle registrations, their average buyer age is 49. Oops.
It's no wonder that Toyota North America CEO Jim Lentz has a different plan in mind for Scion: becoming a "small premium" brand with cars more upscale than what they offer now. Here's what Lentz told Ward's Auto:
"I still personally believe small-premium is the direction we should be going," he tellsWardsAuto in a recent interview here during a Toyota press event. "I think that (the) Toyota channel, itself, with vehicles like Yaris and other small, B-platform cars, can handle the lower end of the market. I think that C-platform premium small cars are probably the best place for Scion to be."

The positioning also makes sense as Toyota's Lexus luxury brand has said it won't sell a model below $30,000, bucking the trend of other premium automakers offering models below that price point (Mercedes-Benz CLA, Audi A3).
That last category is an extremely hot one at the moment. Both the aforementioned CLA and new A3 sedan are strong sellers in the U.S., and it's a segment BMW and possibly even Cadillac hope to join soon.
It's an intriguing idea to reposition Scion, but I would argue that the reason those cars are working out so well is they offer affordable-ish entry into an established premium brand and all the aura of luxury and prestige that comes with it. Nobody buys a CLA250 because it's an amazing car (it isn't), they buy it because it's a Mercedes.
G/O Media may get a commission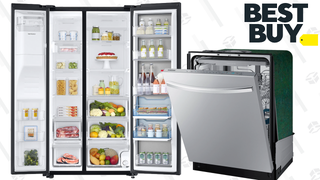 Up to 50% off
Best Buy - Samsung Major Appliance Sale
I still think Scion could work out as youth brand if they just had more cars on offer. It's kind of absurd to think that they don't have a small crossover in their lineup, considering the insane growth and demand in that segment. The recently-unveiled Scion iM is a step in the right direction, but they need to do more than that.
Scion needs to sell 100,000 cars in the U.S. annually to be profitable, but they only sold about 50,000 through October, down nearly 10,000 cars during the same time last year. Asked about the success of the Kia Soul — a segment they effectively pioneered with the original Scion xB and then completely dropped with the lackluster second-generation xB — Scion Vice President Doug Murtha had this to say to Ward's:
When asked if he's surprised by how successful Kia has been with the xB competitor Soul, Murtha says the Korean brand is targeting a different buyer than Scion's xB, and applying a lot more marketing muscle, too. "They're clearly investing in it in a big way," he says. "They've positioned it competitively, to their credit. It's a pretty good value in the market."
Emphasis mine, because that's marketing speak for "Yeah, the Koreans kind of kicked our asses on that one."