Limousines aren't necessarily known for their subtlety, but there's always going to be someone out there who looks at a ridiculous car and wonder, "how can I make this even more absurd?" That man was Jay Ohrberg.

If you don't recognized Ohrberg's name, you might recognize his cars. This is the man responsible for the General Lee, the Ford Gran Torino of Starsky and Hutch fame, and Batmobiles for multiple films in the 1970s as well as Tim Burton's Batman Returns. He's also an avid car collector and has nabbed everything from the DeLorean and Herbie to Mad Max replica cars and KITT from the Knight Rider series. If you're curious, there's a whole video dedicated to the wildest things he's had his hands on:
This is a man who loves cars and has a soft spot for the wacky and memorable. So it makes sense that he'd be the one to wonder exactly how extra he could make a limousine, and it follows that he'd choose to name it the American Dream.
The design for the American dream was based on the 1970 Cadillac Eldorado limos, and Ohrberg started drafting it up in the late 1980s with his dreams coming to fruition in 1992. Clocking in at 100 feet long, it's no surprise that this bad boy earned the Guinness World Record for longest vehicle.
To get this super-stretch on the road, it needed 26 wheels (six in front, the rest in the back), two engines, and two drivers (no single person was assumed to be capable of trying to reverse 100 feet of car) to function. If you're cringing just wondering how this thing is supposed to take a turn, then never fear: it's hinged in the middle like long city buses to make navigating an intersection a little bit easier!
G/O Media may get a commission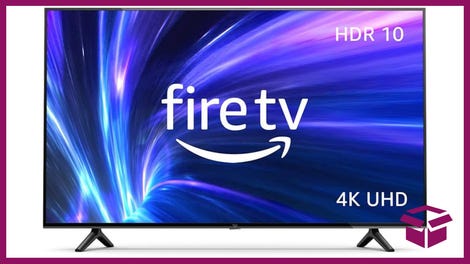 42% Off
Amazon Fire TV 50" 4K Smart TV
And what's the point of having a massive limo if it's not also massively extravagant? Jay Ohrberg factored this into his design. The American Dream basically checks all the boxes that any Hollywood star could need. A pool with a diving board? Yep. A Jacuzzi? Yeah. A king-sized water bed? Oh yeah. A putting green? Of course. Multiple rooms? Absolutely. A freakin' helipad? Damn right. It kinda makes sense why it'd need so many wheels and engines just to make it move.
You're probably thinking, "this thing sounds totally undriveable". You, my friend, would be correct. There aren't many accounts of people attempting to take the American Dream for a spin, but a quick Google images search brings up plenty of images of the car being hauled around in sections. I can only imagine how frustrating it would be trying to coordinate two drivers on just about any surface—and that's even before you start thinking about how everyone else on the road would feel about sharing pavement with this beast.
So it kind of makes sense that Ohrberg's limousine was left in a parking lot. By 2014, it was missing wheels and windows and interior, left to the elements and rusting away. This video really shows the impact of the damage:

But don't worry! The American Dream isn't dead yet! As Autotrader reports, the Autoseum in Mineola, New York reported that it was stepping in to "save" the limo, who are committed to teaching people to work on cars. There hasn't been much word since then, but I know that I'm kind of hoping they'll get things up and running again. How many other opportunities would you have to take a swim in a limousine.