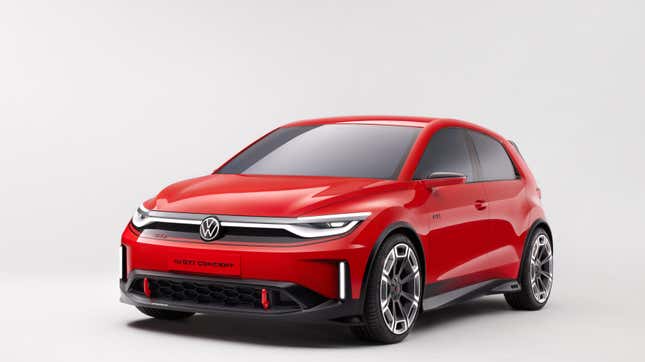 VW is pressing forward with its plans to become one of if not the top EV manufacturer in the world. The brand plans to launch seven all new EVs in the next three to four years. That means everything is going electric, even performance cars as we recently saw previewed with the VW ID.GTI concept.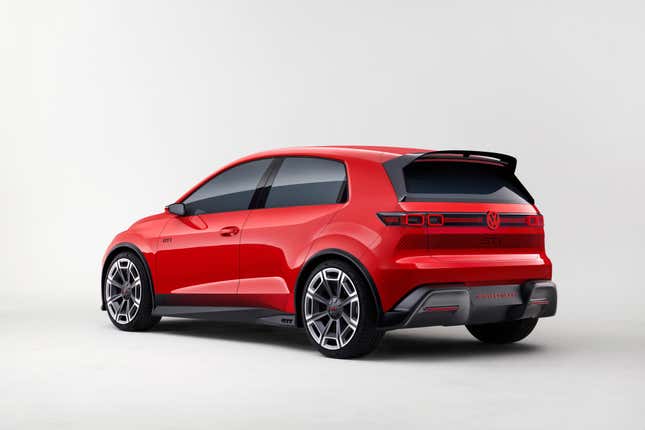 The concept wears a GTI badge, and looks to be a performance model based on the ID.2all concept we saw in March.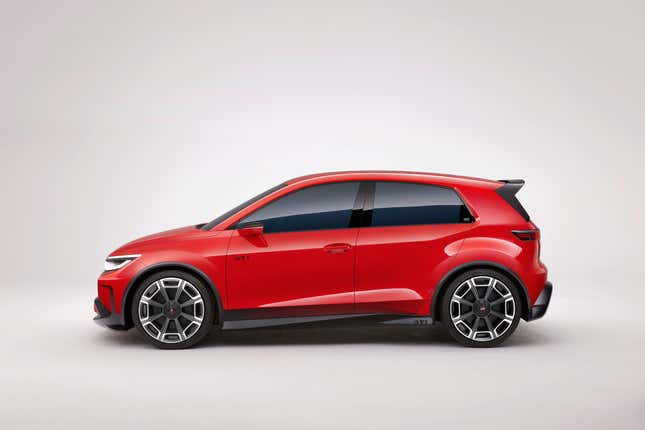 That GTI badge is everywhere on this thing, both literally and in the design sense. VW says the concept is a "reinterpretation of the legendary DNA" of the GTI. To VW designers that meant having a "sharp design" combined with "state-of-the-art" tech. Outside, the ID.GTI gets what VW calls "GTI proportions". Viewed from the side, the proportions are clearly ID.2all in nature. But at 161.6-inches long, it's smaller (7.2 inches) than the current GTI and much longer (11.2 inches) than the original. Its compact dimensions are emphasized by big 20-inch wheels with 245/35 performance tires and its short overhangs and its just under five foot height. Up front there are a small grille opening with a red surround, IQ.LIGHT LED matrix headlights, a GTI logo and an illuminated VW badge.

Out back is a black roof spoiler an LED light strip that runs the width of the car and doubles as a brake light, a two piece rear diffuser and an LED tail light cluster with 3D elements.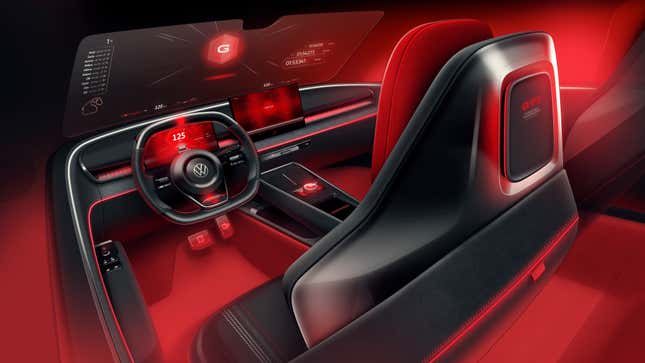 VW didn't show any actual photos of the interior, just sketches and what look to be renderings. The beloved plaid seating is there, along with a three spoke steering wheel with an illuminated 12 o'clock position. There are configurable digital displays in the form of a 10.9-inch display for the driver, an augmented reality heads up display and another 12.9-inch center touchscreen display.

The driver display can be reconfigured to show the gauges of historic GTI models in Vintage mode. There's also a GTI mode, which turns all the gauges and lighting red and can display vital performance information onto the windshield. Other touches are a bit...much. Like the stop and play symbols on the brake and gas peddles, the random, illuminated GTI badging in the interior— one that's even inside of a heart, and the starter button that says "Power Up". Some designer's son must've had a hand in these choices.

The ID.2all is set to go on sale in Europe in 2025 with the ID.GTI following a short time later. It's not known whether or not VW plans to offer either of these EVs here.
 
Update: It looks as if VW boses are considering brining the ID.GTI to the U.S. Car and Driver spoke with VW Group of America CEO Pablo Di Si who said he's bheind a push to bring the ID.GTI to the U.S.
"Everybody wants the car in the U.S. It's a concept car, but we're working very closely with the team in Germany in terms of the design and the specs . . . I think it could be a great car for the U.S. We just need to make sure that the touch and feel is going to be what the American consumer wants, and you achieve that by working with engineering from the beginning of the project."