Now is a pretty good time to buy a wagon in America, but unfortunately, many of the really cool ones are going to require some serious car payments. But if you're shopping for a longroof on a tighter budget, you may not know that used Volkswagen Golf Sportwagen and Alltrack models are now getting hit with some sweet, sweet depreciation.
The Volkswagen Golf Sportwagen and its lifted cousin the Alltrack offer everything great about the compact VW Golf, with just more cargo area. Of course VW has been selling the Sportwagen for a while, including under the Jetta banner, but it only recently realized that if you actually want to sell wagons in America you have to do what Subaru does and add some ride height and cladding so it's more of a "crossover." The good news is that the Alltrack still drives like a wagon.

Yet unlike its Subaru competitor that doesn't seem to lose value, the VW gets hit hard with depreciation, which is good news for those of you shopping for something pre-owned.

Unless you have a hankering for a TDI diesel, in which case the last model year was 2015 because... reasons, I would recommend focusing on the 2016 and forward model year cars. That's when the infotainment system was updated with Apple Carplay and Android Auto.
G/O Media may get a commission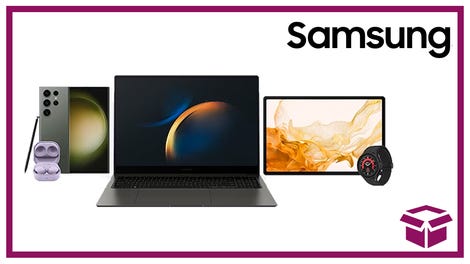 24 hour deals
Discover Samsung - Daily Deal
But you can score a nice one with a certified warranty and low miles for around $17,000 or less. Not bad for a German wagon with a turbo motor.


Or if you prefer something a bit fancier with the all-wheel drive, one-year-old Alltracks can easily be had under the $25,000 mark, like this SEL model that originally retailed for about $35,000.

One of the great things about the Sportwagen and Alltrack is the fact that it was available with a manual transmission. The Sportwagen got a five-speed gearbox when mated to the 1.8T turbo or a six-speed when paired with the with the diesel. The downside, of course, is you could only get the gas powered Sportwagen with a stick on the base model.
However, if you bumped up to the Alltrack, you could get the nicely equipped SE with a six-speed manual and all-wheel-drive, but you are searching for a three-pedal version the inventory will be much smaller. And there's also VW's reputation for less than stellar reliability to consider here too. This has gotten better in recent years, but historically it's much more of a roll of the dice than something from the Japanese automakers. A recent long-term Car and Driver test yielded no issues, though.

Some folks wished that the Sportwagen/Alltrack had a bit more "sport" to it, but there are numerous aftermarket improvement that can bump the power and re-tune the handling without having to spend a fortune. Just be aware that aftermarket parts, even at "tuner-friendly" dealerships, may put your warranty at risk.