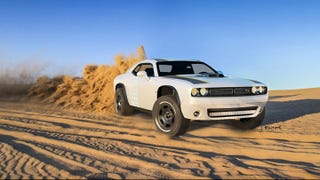 Dodge Challengers are great at destroying tires, but I'm of the philosophy that all cars are made cooler when you turn them into rally machines. Joey Ruiter obviously agrees with me and while this Challenger Untamed A/T is just a concept, he would like to build one for any customer who has the cash.
Ruiter would modify the existing Challenger platform with body armor, modified suspension with front long travel arms and rear trailing arm with links. Also included are fender flares, a front skid plate, a re-positioned exhaust, spare tire truck mount, off-road tools an integrated lower light bar, various safety equipment and of course knobby 0ff-road tires. In addition to the off-road bits, Ruiter adds: wheel well trimming, graphic twin striping, and A/T logo badge.
Sadly what is not included is a Hemi V8 engine, in an interview with Autoblog, Ruiter said he prefers a tuned V6 for weight and packaging purposes. Now this is where Ruiter and I differ...I say if you are going to have a heavy, RWD, off-road muscle car, shove in the most powerful V8 you can.
Regardless of powertrain, I would love to see a dune-smashing showdown between an Challenger A/T Untamed and a Rally Fighter.
If you have a question, a tip, or something you would like to to share about car-buying, drop me a line at AutomatchConsulting@gmail.com and be sure to include your Kinja handle.