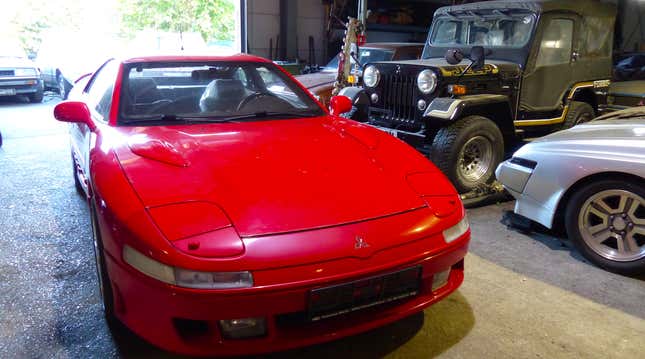 When German Jalopnik reader Andreas (TheSafetyEngineer) told me he knew a guy near Nuernberg who hoarded Mitsubishis, I figured he was talking about someone who was in over his head with maybe five or six Lancers pouring out of his driveway. Boy, was I wrong. It turns out the ultimate Mitsubishi stash isn't in Japan, but Germany.
The 2023 Ford F-150 Raptor R Is Here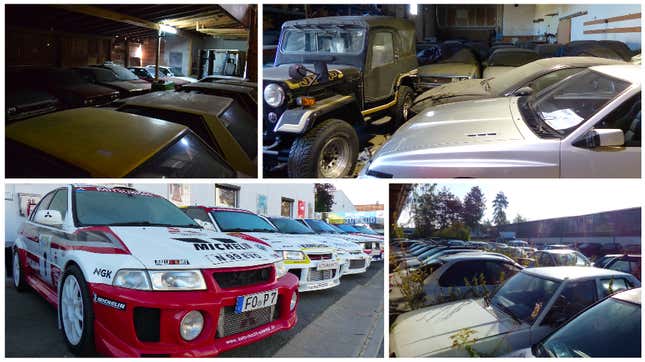 Tilo Macht and his wife Anja, owners of Autohaus Macht—a small shop in Eckental, Bavaria that specializes in fixing Subarus, Mitsubishis, Suzukis and Saabs—are legitimately obsessed with old Mitsubishis. Like, Someone Should Have Staged An Intervention Decades Ago-obsessed.
But it's too late. After growing up in a household that sold Mitsubishi, Tilo now owns well over 100 of the cars, ranging from standard little Colts to extremely rare FTOs.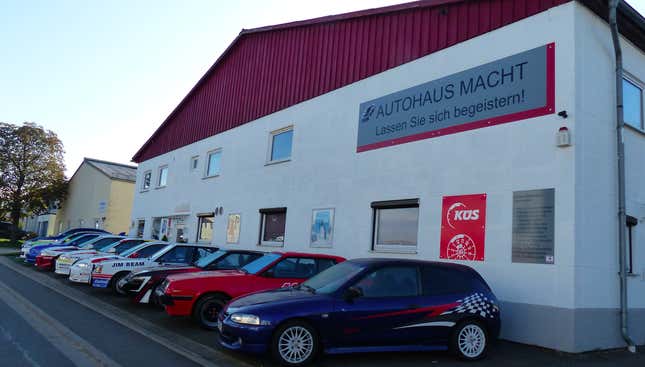 The duo get their cars from everywhere, including German car buying websites, car museums (one actually came from the Mitsubishi Museum in Japan), and U.S. army bases. Others are either driven or shipped from Japan, England, Australia, the Netherlands—all over the place. The Machts' need to satiate their Mitsubishi love knows no geographical bounds.
Why so many Mitsubishis, and why that brand? Tilo told me he's the son of a Mitsubishi dealer and just loves the cars. Plus, he considers them as an advertising tool and a long-term investment.
I don't know about that last part, but you can't doubt their enthusiasm. Tilo and Anja own 12 old Lancer Turbos—12 of the same car! And they have eight Sapporos! We get to benefit from their almost-clinical addition by feasting our eyes on droves of gorgeous Mitsubishis.
Out Front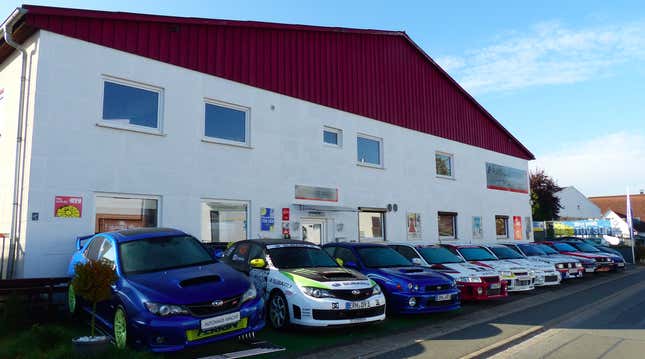 As soon as I got to the workshop, I was greeted by a huge line of modified Mitsubishis and Subarus, many of which Tilo and his team modded themselves.
Though they look neatly placed in front of the shop, they're not garage queens: Tilo actually drives these things. He told me about a time he drove to a local rally in one of his own Rally-liveried cars shown below, and was actually waved in to the pits by the race staff! And even though he didn't take them up on their offer, he does run these things in "Old School Rallies" just like god intended.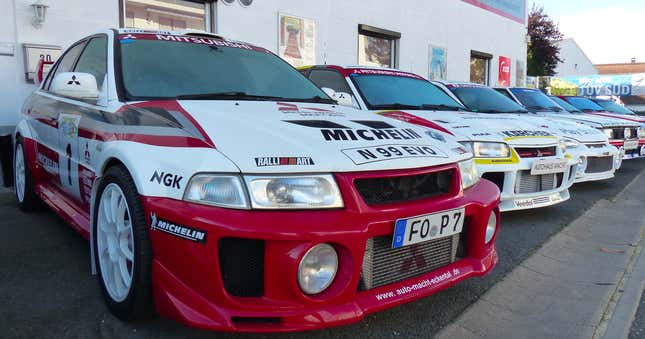 One of the coolest cars out front was this old Lancer from Hungary, which has an EVO III engine and an R34 GT-R turbo and intake.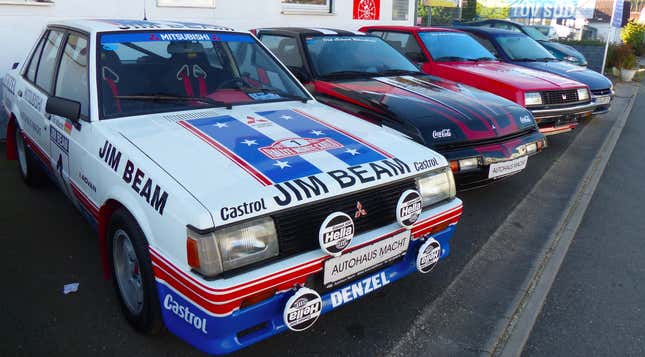 Let's have a gander at that monster: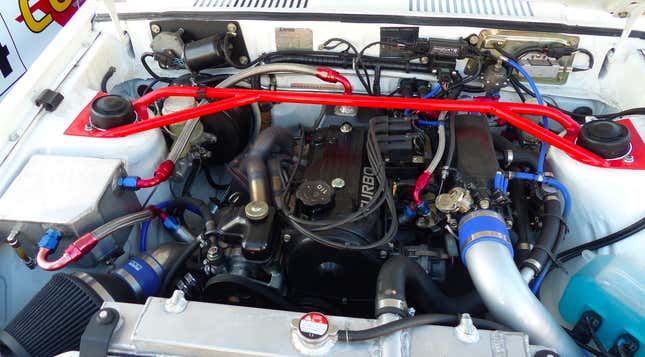 And because it would be ridiculous not to show the R34 turbo: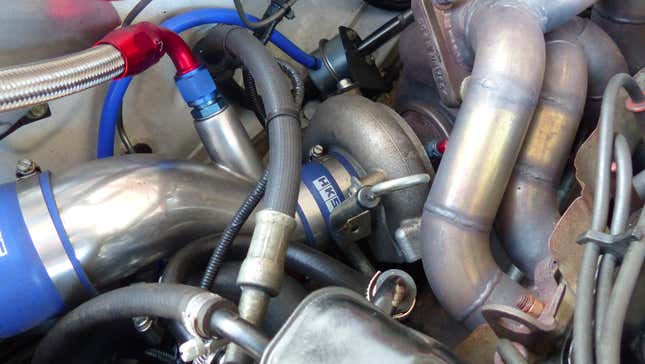 Here's a charred spot on the wall out front (apparently one of the cars shoots flames):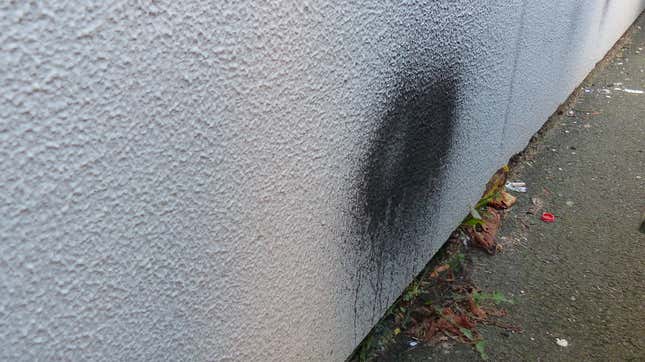 Here are some more pictures of the cars out front. A Mitsubishi Sapporo turbo: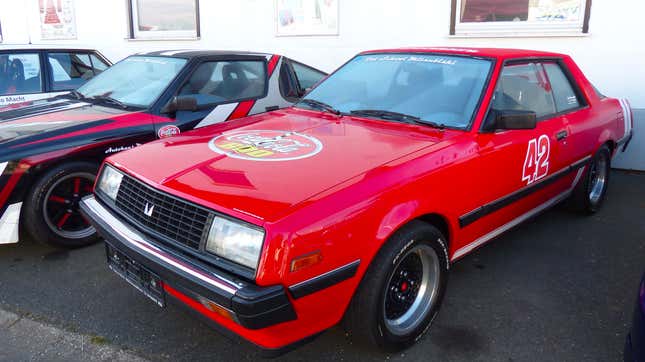 Lancers and Colts: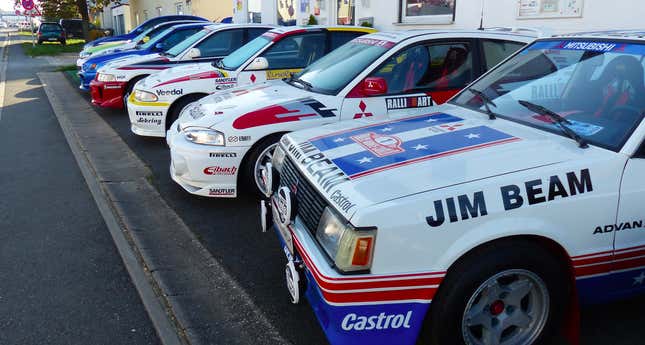 Mitsubishi Starion: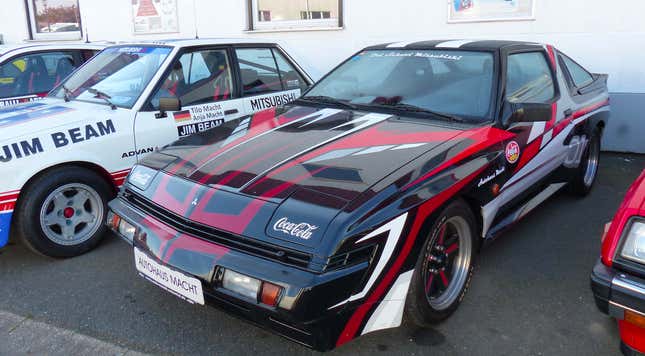 Around The Side
And then around the side, I had even more to take in.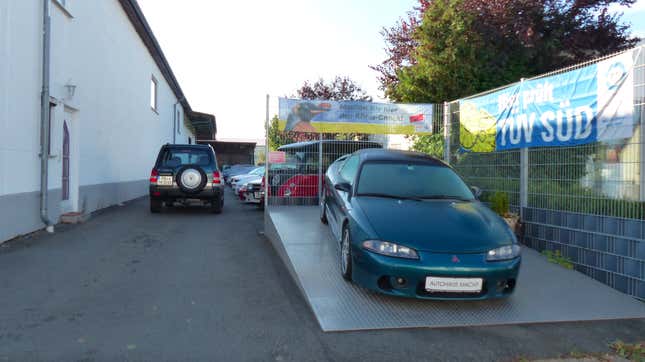 That was when things got weird. Check out this Subaru Sambar Kei-car with a Bus body conversion (no, it's not a Mitsubishi, but it's still awesome):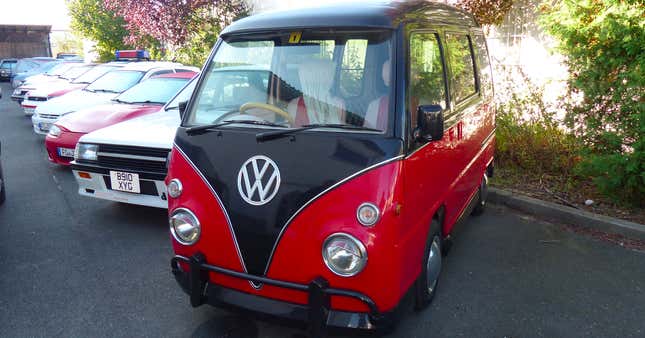 Then there's this ridiculously low-mileage, extremely rare Lancer 1800 Turbo imported from the Mitsubishi Museum in Japan. It's in immaculate condition.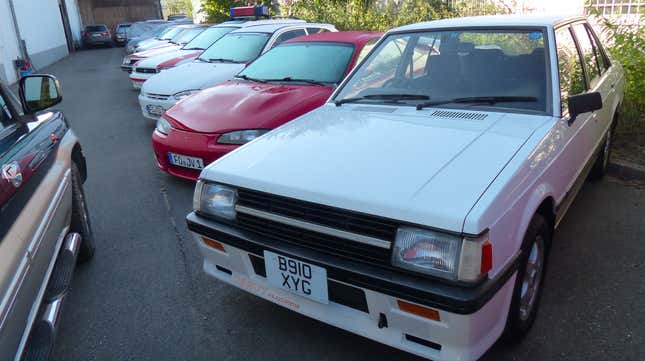 Behind it is an Eclipse and a Mitsubishi Colt. But even if the Eclipse looks more badass than the little white hatchback, it's the Colt that deserves your attention. That's because it has been the recipient of an FTO engine swap, meaning it makes 200 horsepower from a 2.0-liter V6, and on top of all that, it's got EVO III suspension and brake systems.
There's also another Colt in the garage that's going to have a Galant's 2.5-liter V6 shoved in its engine bay, and will also get a wide-body kit that's been sitting in the back of the shop.
Yeah, Tilo is crazy.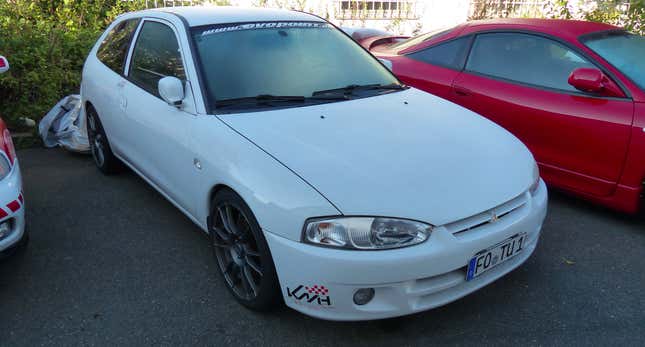 Here's the rest of the lineup on the right side of the building, starting with a convertible Mitsubishi Sapporo (one of only 300 in Europe, I'm told— Tilo has two in his collection), and a rare Lancer GTI. And a Carisma!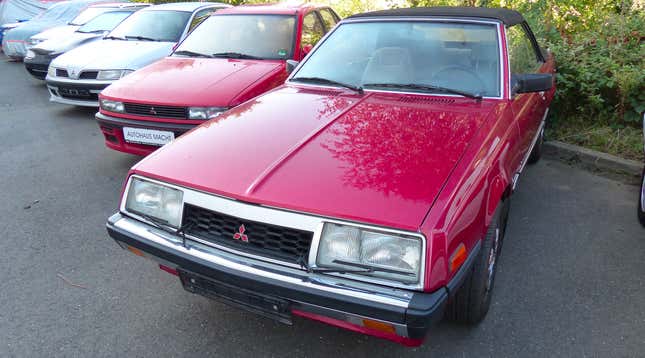 And finally finishing up with an Eclipse and an old Lancer Ralliant: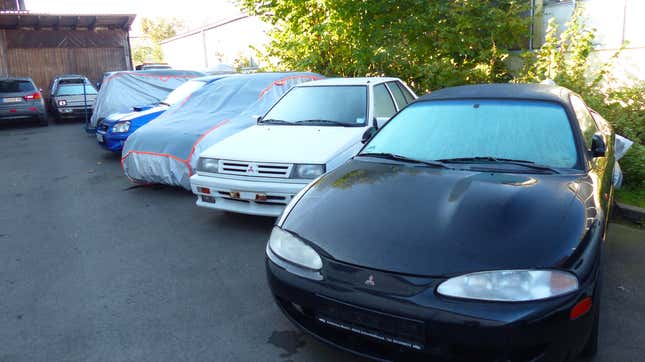 Front Room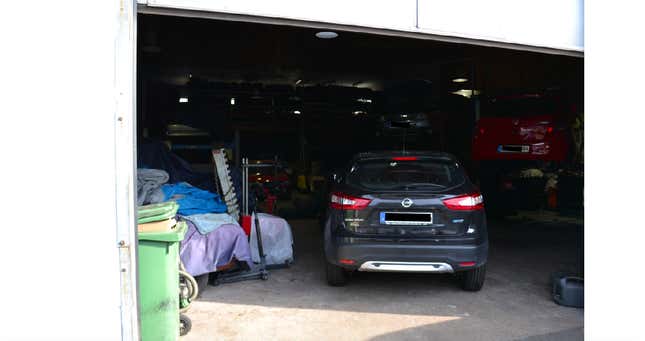 As you keep walking along the right side of the building, at the end of the row of cars on the left is the big garage door above. And as soon as you walk in, you turn to your left, and see this: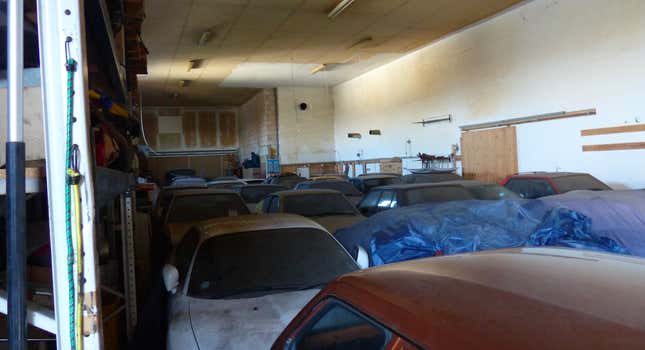 It's an ocean of classic Mitsubishis. And smack-dab in the front is a 1977 Lancer Kombi—one of apparently just two in all of Germany. And right next to it is a Mitsubishi Pajero, basically Mitsubishi's version of the CJ-3B.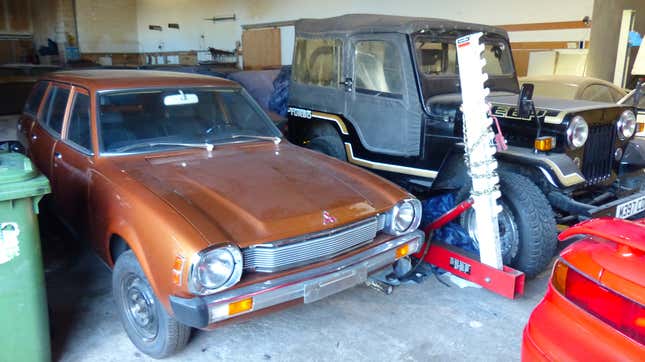 But forget all of that, because right behind the sexy gold Kombi is an FTO! These things were only built for the Japanese Market, and came with a 2.0-liter V6 making about 200 horsepower. More importantly, it's just gorgeous: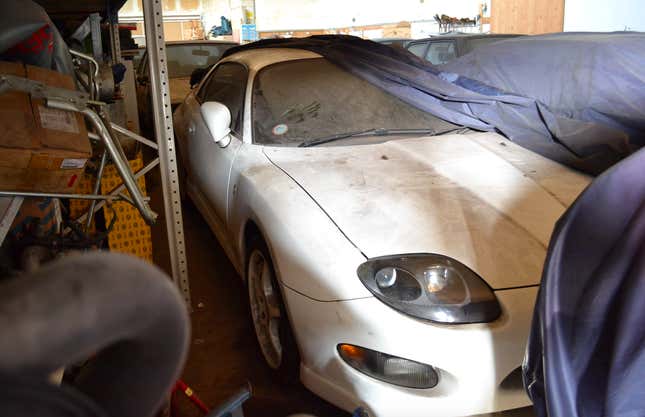 And FTOs have the finest ass of any car in the history of automobiledom: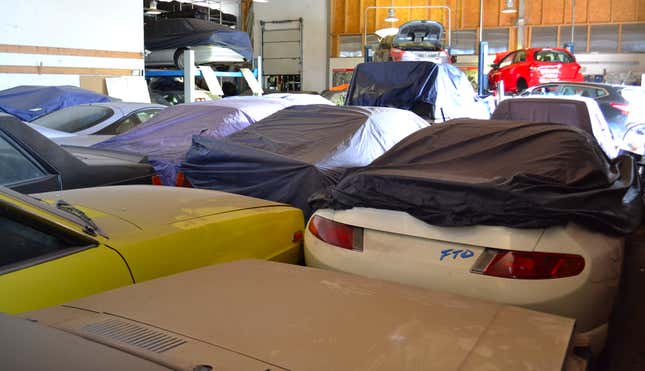 Here's a yellow Mitsubishi Celeste, which received a Pajero 2.3-liter diesel engine swap from the Netherlands (apparently only about 1,000 Celestes got such a treatment).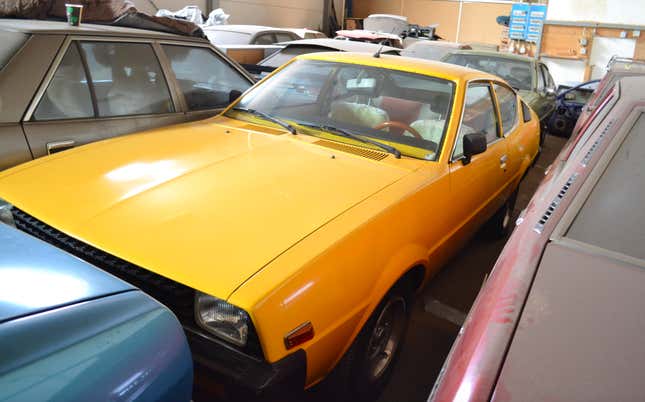 Here's the butt: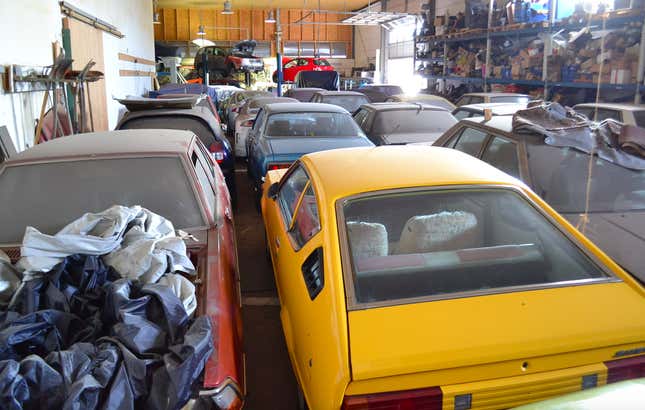 And in front of it is a Galant Coupe, the only one in all of Europe: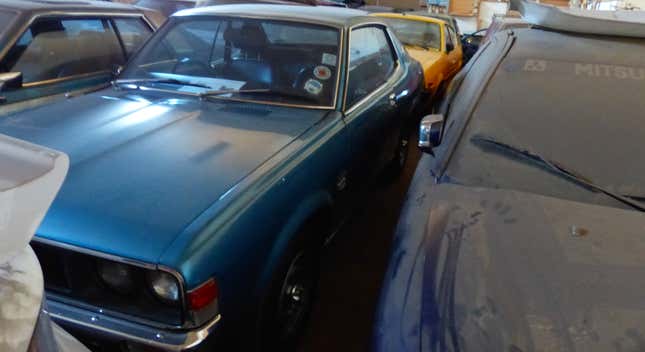 The rear: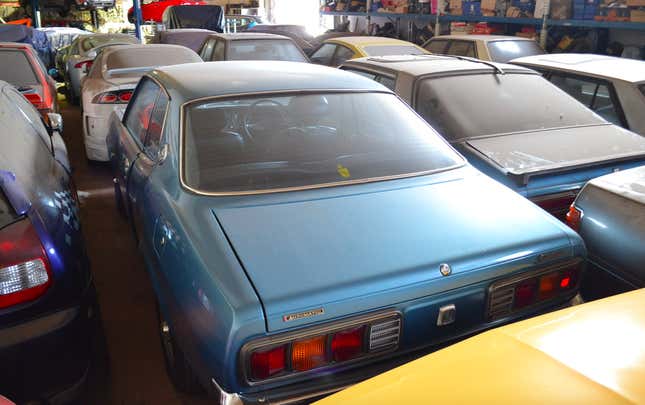 Behind that yellow Celeste is another Celeste: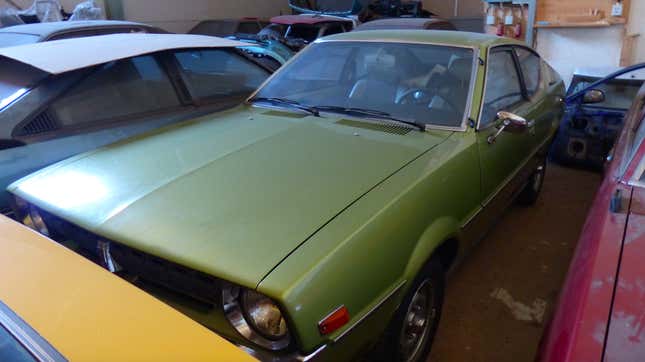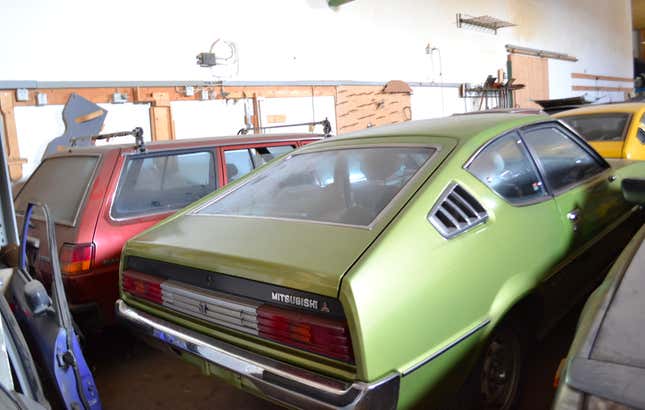 To the left of that gorgeous beast sits a third-generation Mitsubishi Galant Kombi: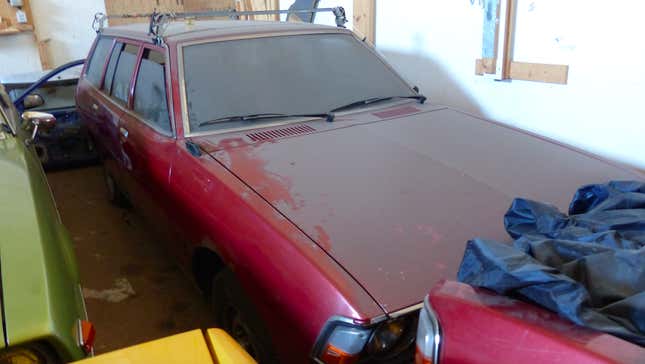 And to the right is a Cordia GSL: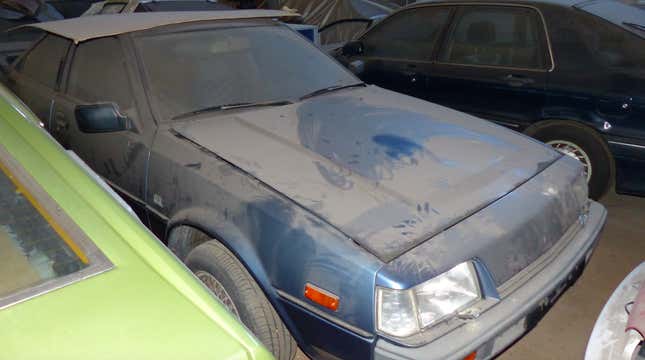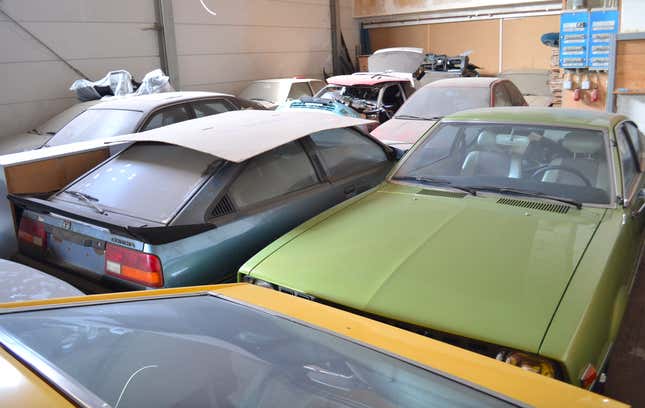 Over to the side, there's another Celeste: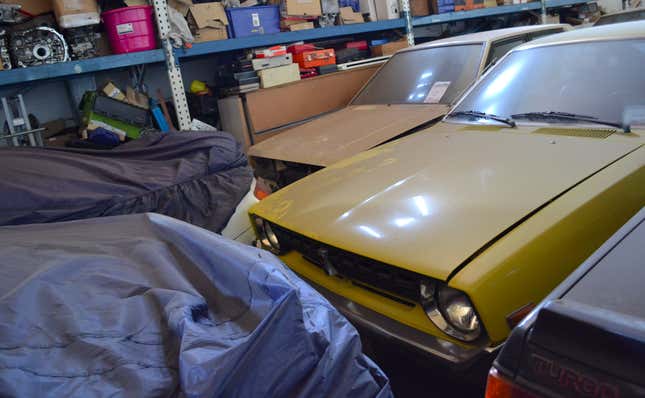 The rear: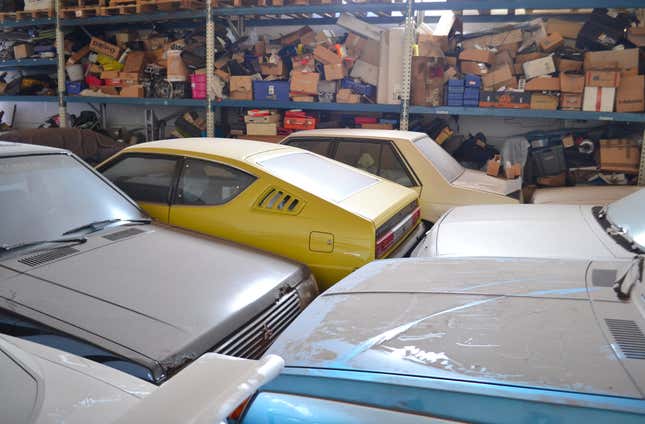 And there's a beaten up Colt GTI, also a fairly rare car: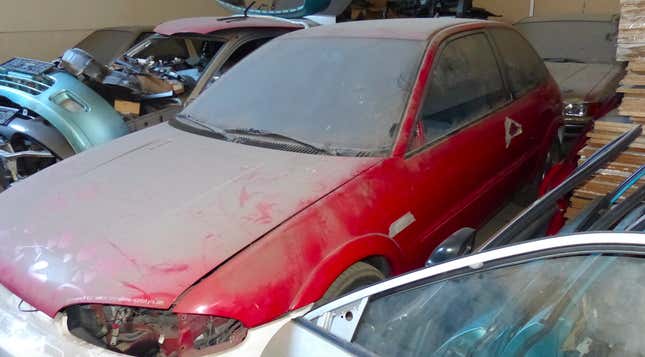 And a Mitsubishi 3000GT biturbo (look at that gorgeous Mitsubishi J53 Jeep in the background):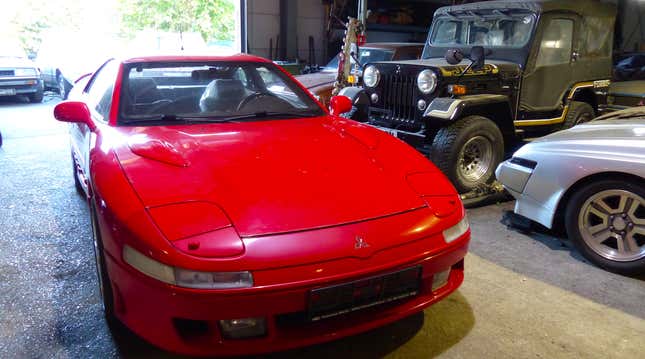 Behind that J53 is this old Starion: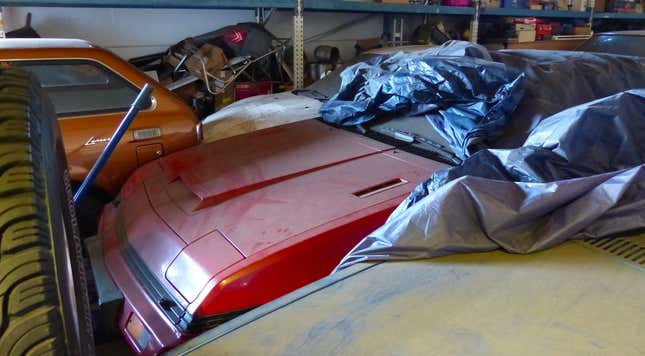 There were Starions everywhere: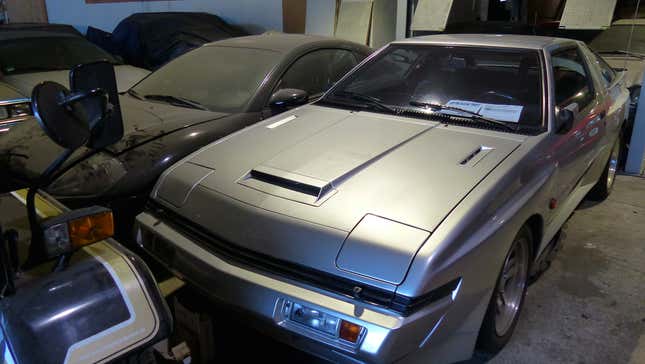 And A70 Lancer Sedans hidden under hoists: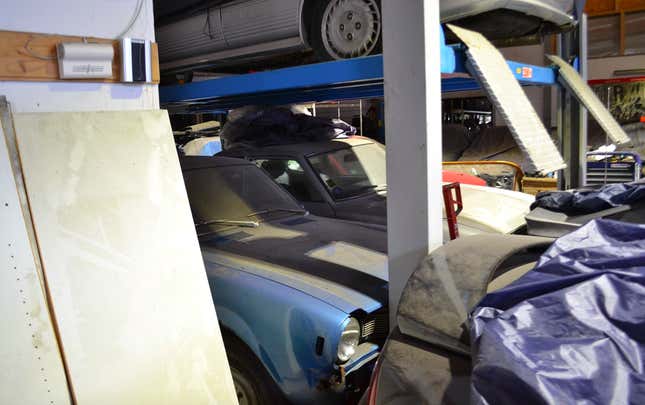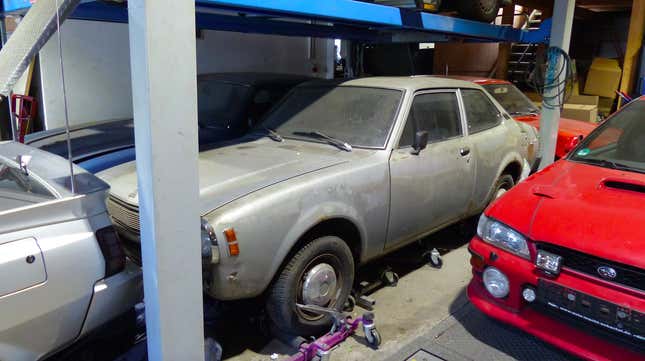 More random pictures of that front room: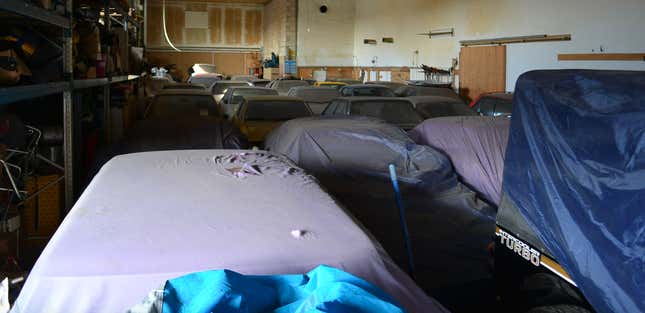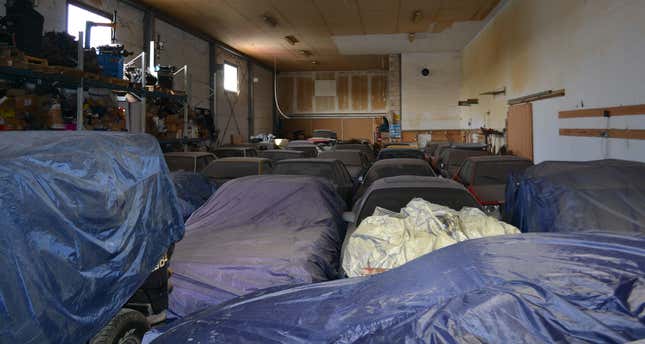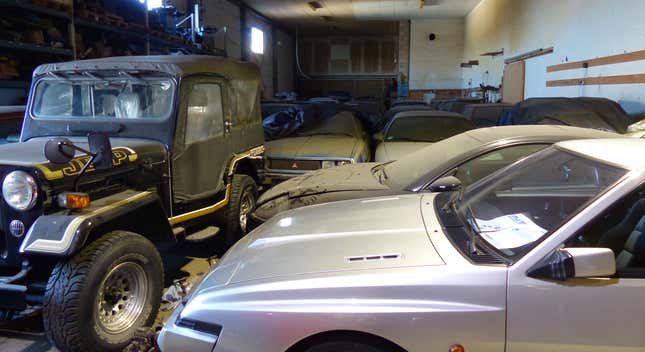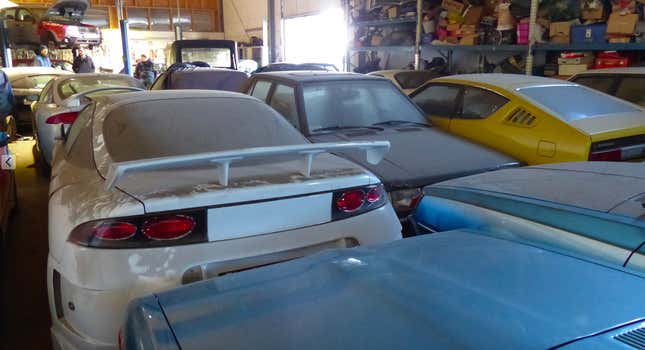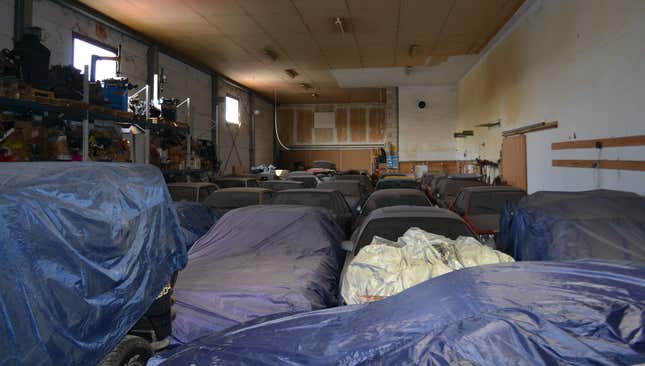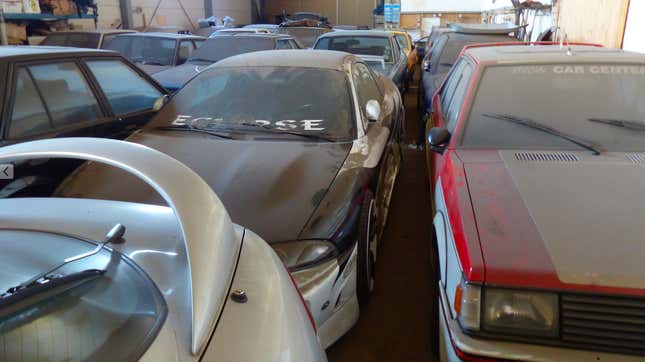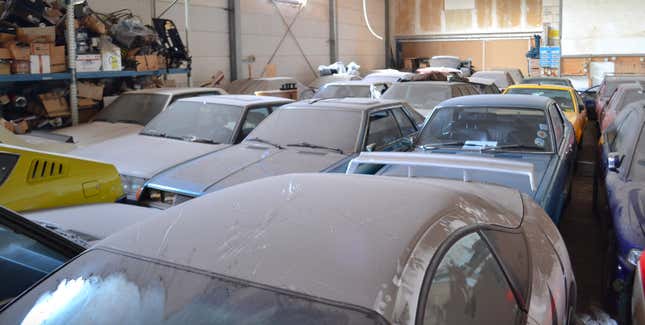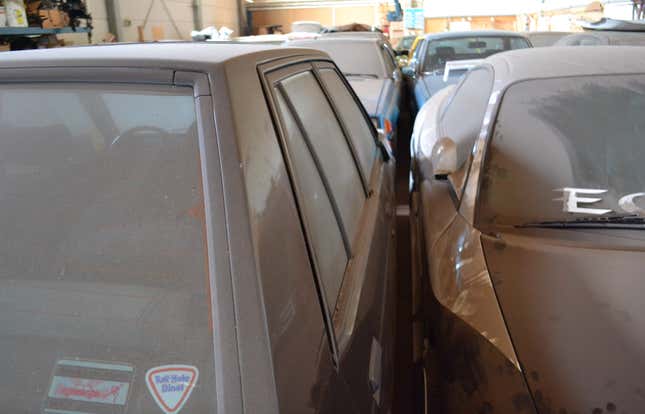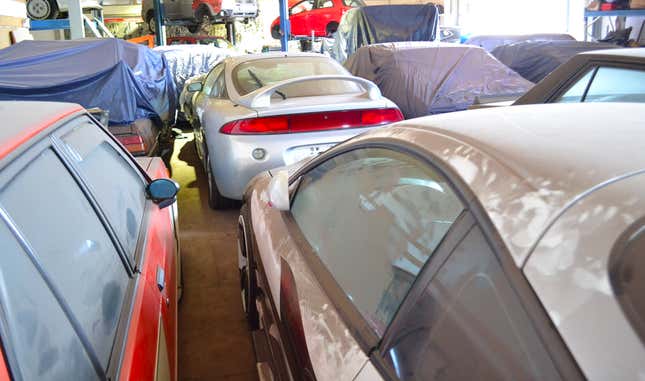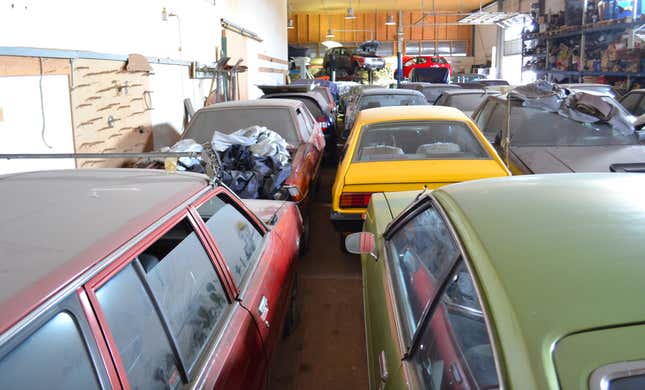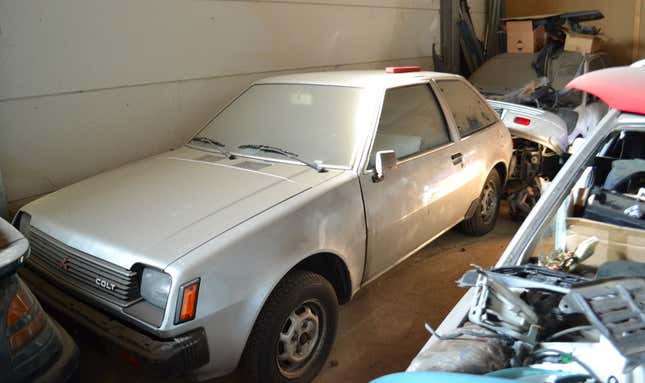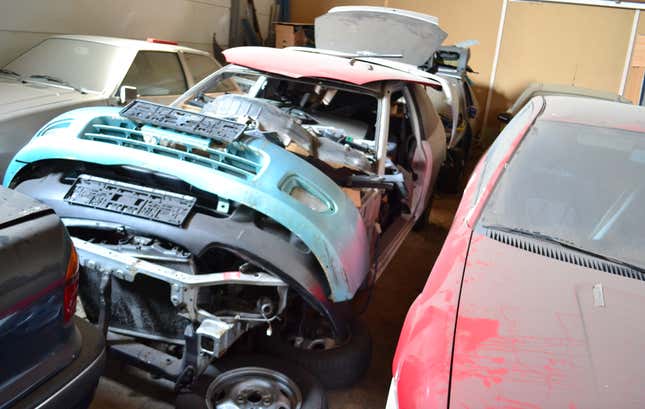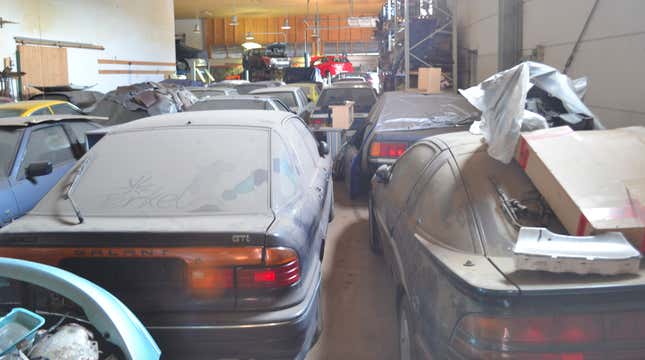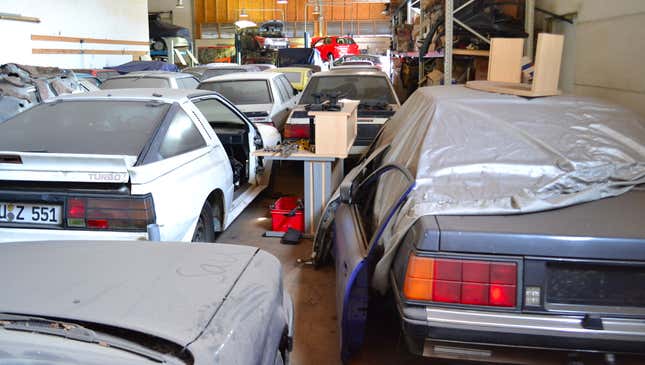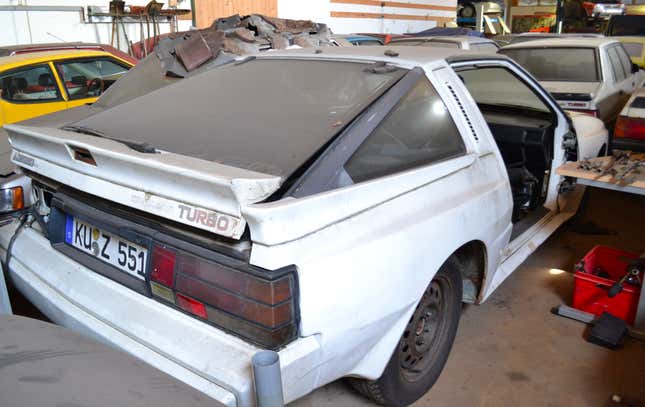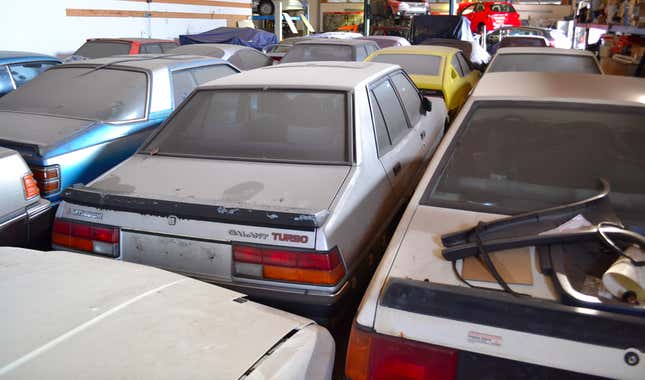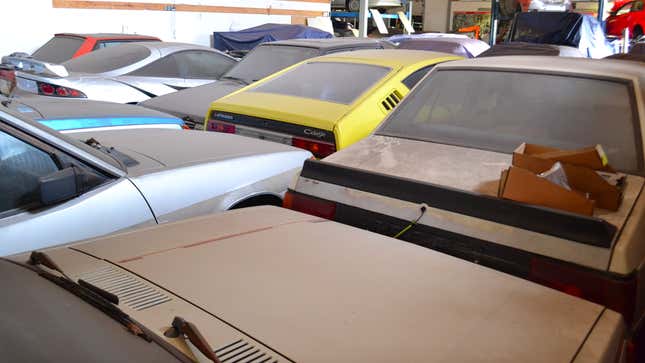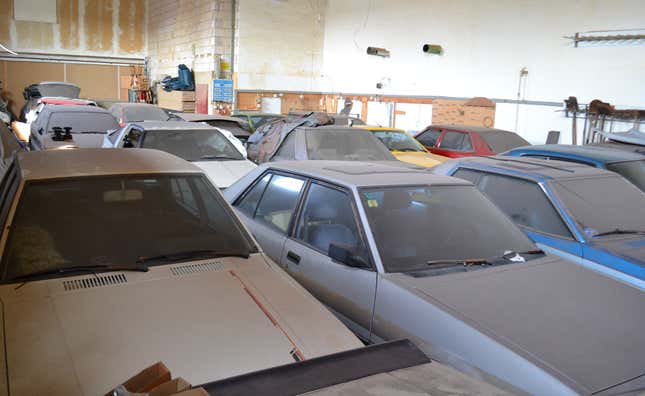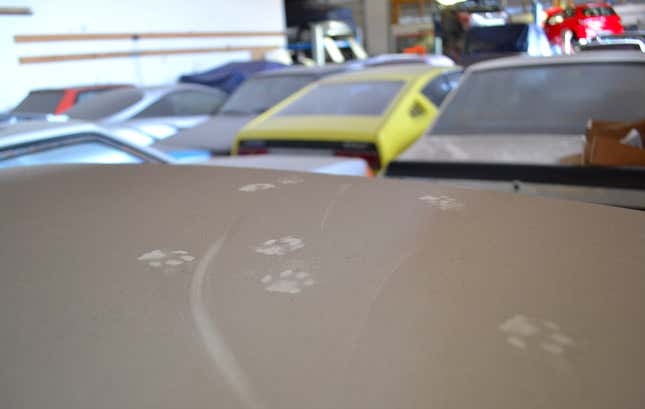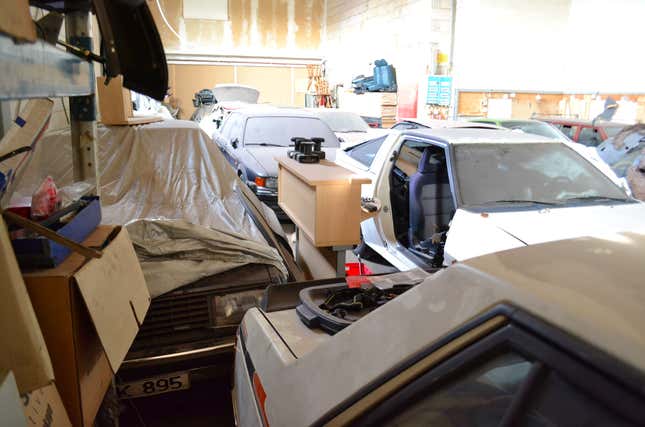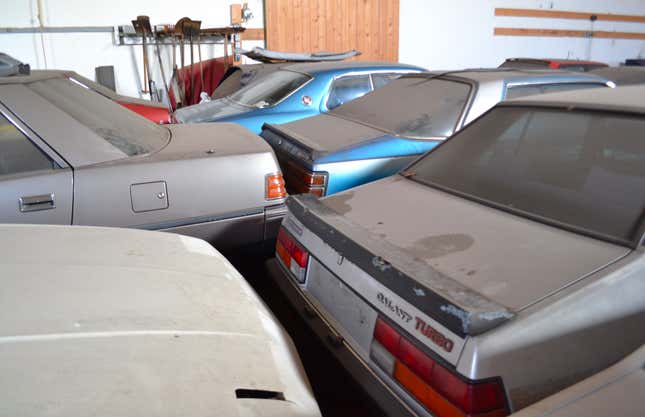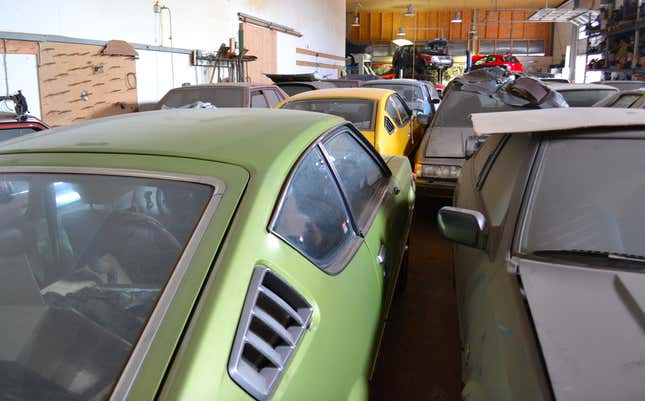 Side Room
Walking past that sea of cars on the left and straight through the garage, there's another room on the left through a big wooden sliding door: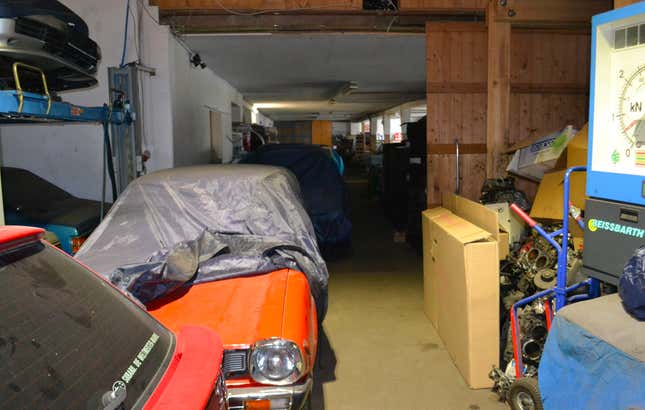 It's filled with gorgeous Starions. Look at this one with its factory wide body kit: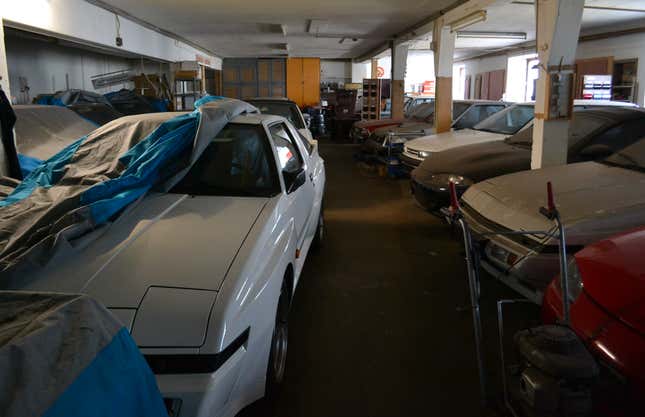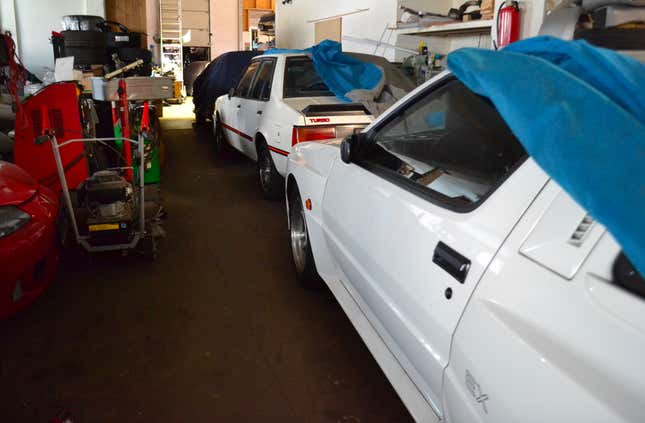 The other convertible Sapporo: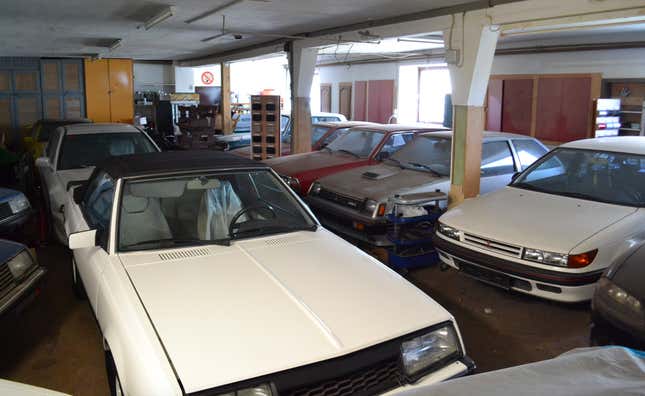 A gray Colt turbo (the first Colt sold in Germany, I'm told), a white Colt GTI, some Eclipses and a Starion: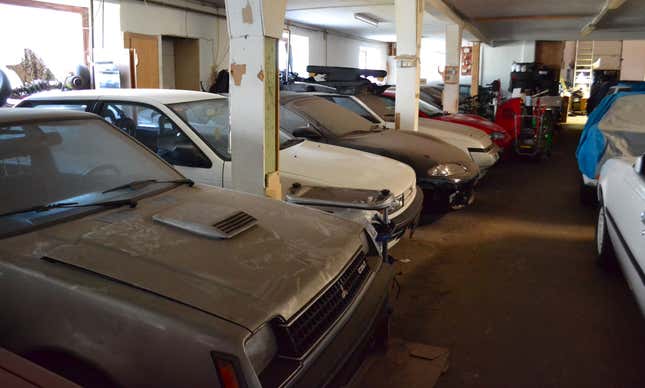 But the star of the entire collection is this beautiful old Colt 1000, which Tilo and Anja got from Australia, and of which I'm told there are only 10 left in the whole world!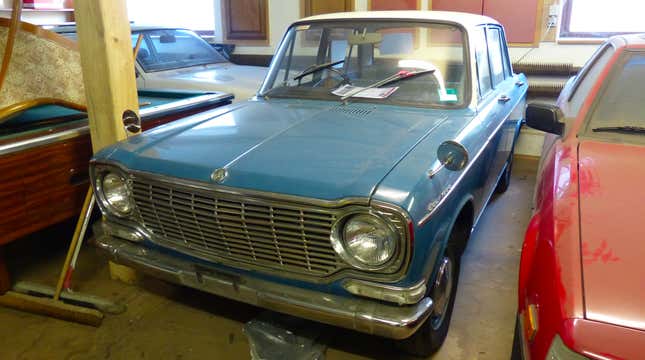 And behind that sits this white A70 Lancer: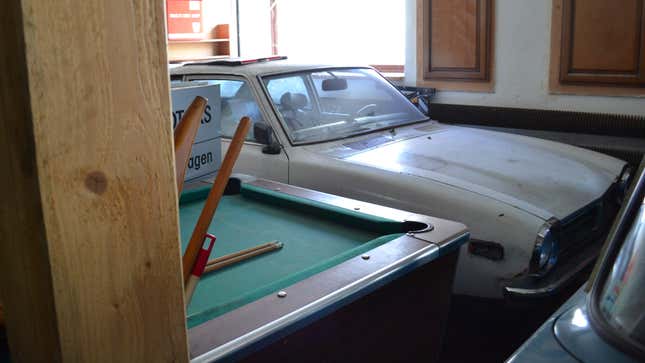 Then there's this 1995 Mitsubishi Eclipse Targa: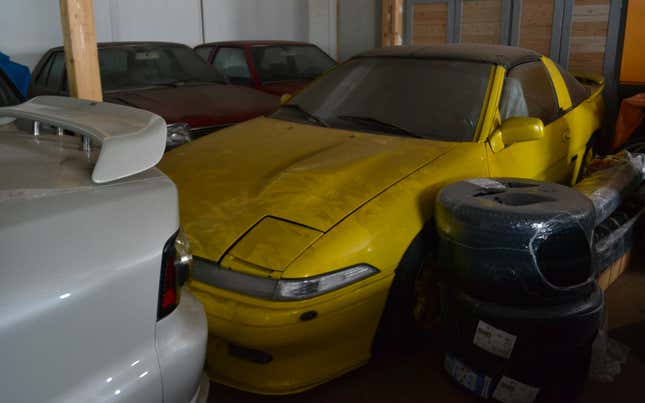 And in front of it, there's the first car in the collection, an old Galant.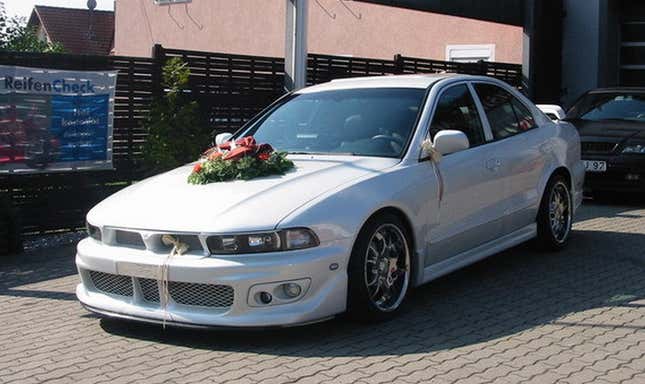 It was in this car that Tilo got into a really bad accident. One of his friends bet him he could never fix the car up, as the entire front and driver's side had been torn open like a sardine can.
But since Tilo isn't one to turn down a bet, he spent a year working on the car almost every other day, and got it to the shape you see above. It's a bit of an oddball car, now. The spoiler and exhaust come from a BMW, the wheels are from a VW Golf, and Tilo built his own adjustable coilover suspension system.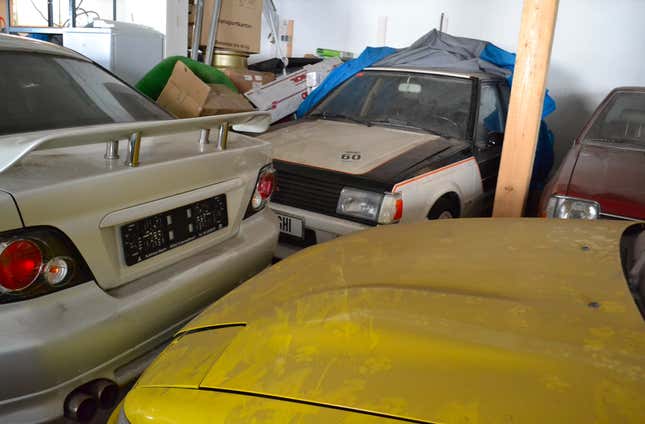 More pictures of the side room: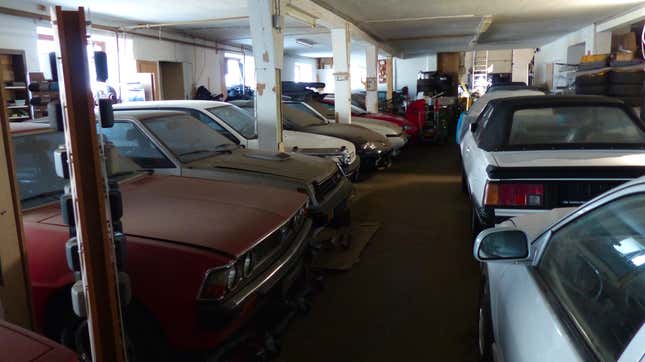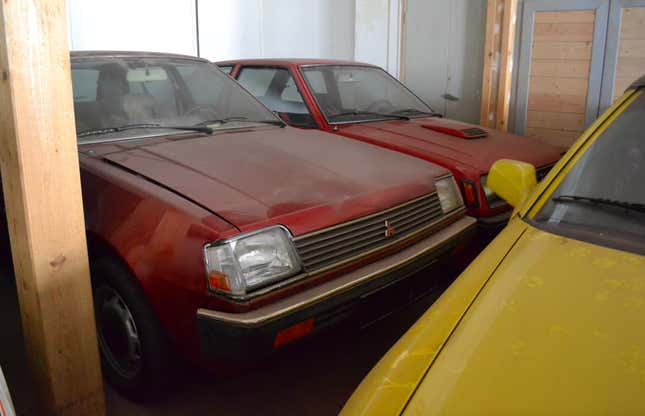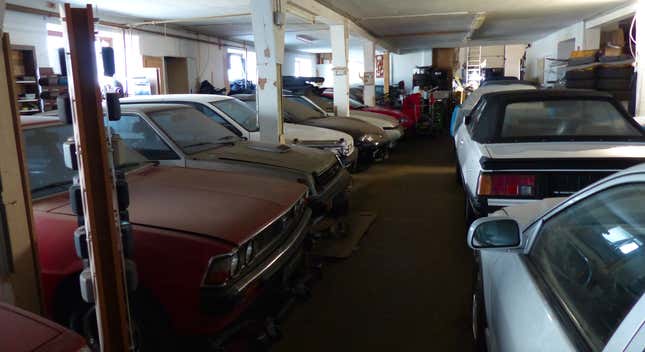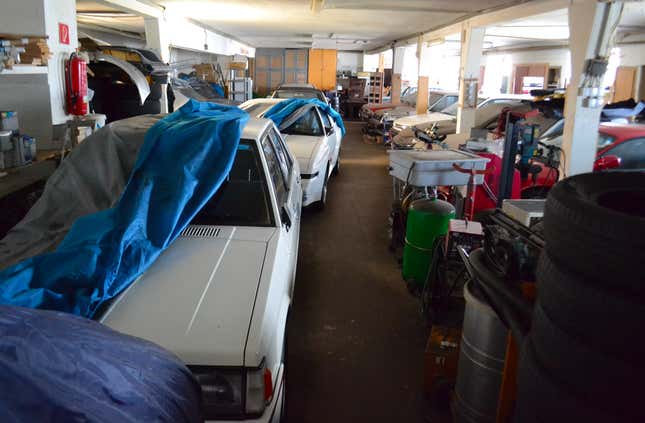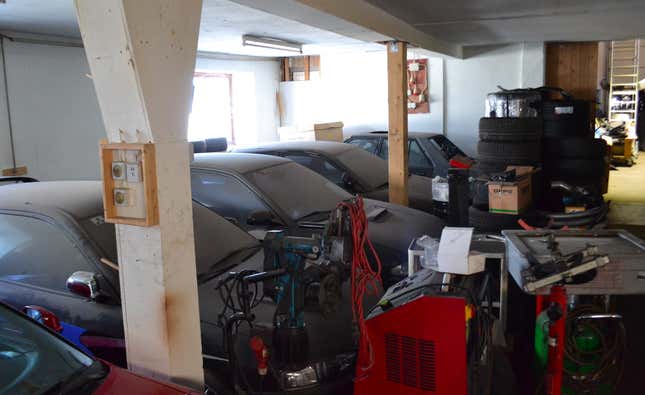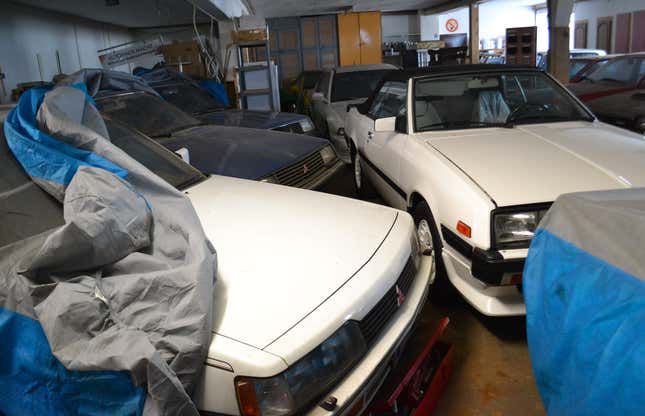 Back Room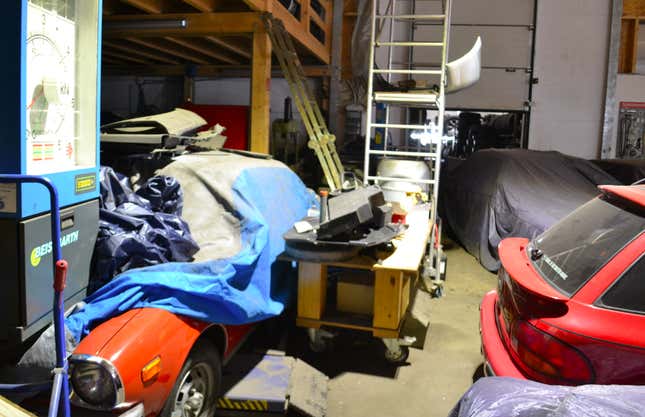 But that's not all. Directly opposite the side room, on the other side of the front garage, is an overhead door. And through that garage door are lots and lots of tires and wheels: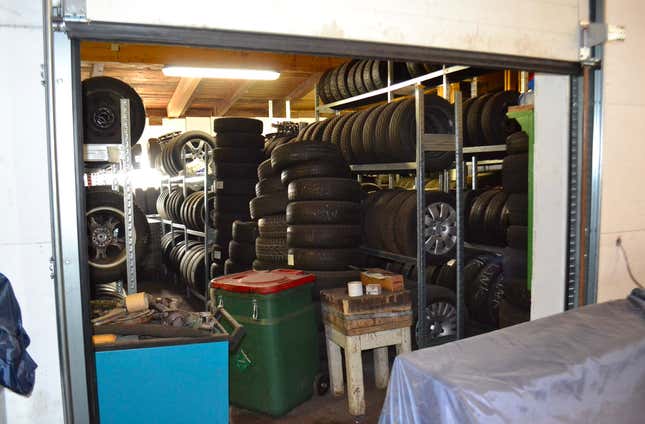 You have to be careful not to trip over engine blocks: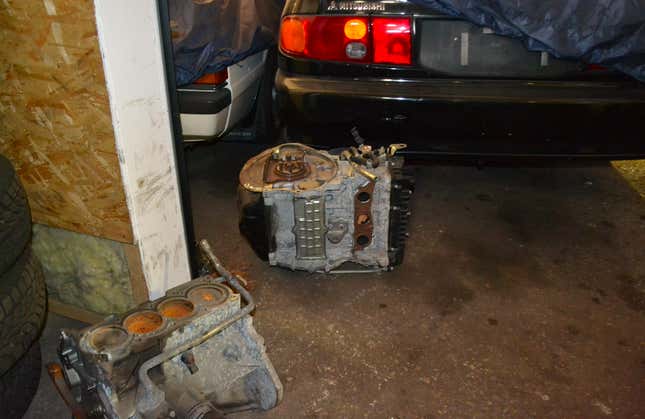 Once you're in, you turn to the right, and you start seeing the backs of cars in a tiny little hallway: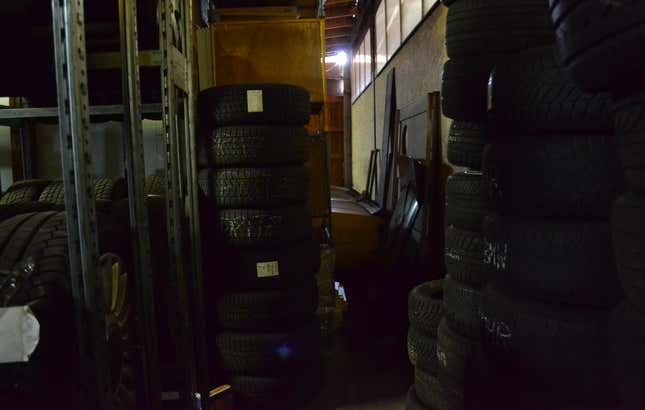 Then you walk through and see even more Mitsubishis: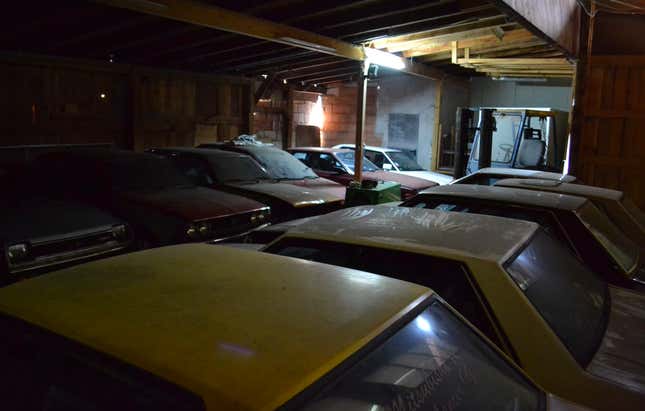 Colts and Galants and Lancers: Tilo has it all: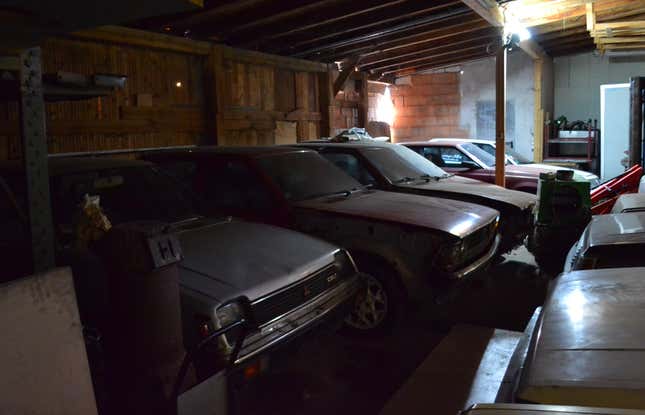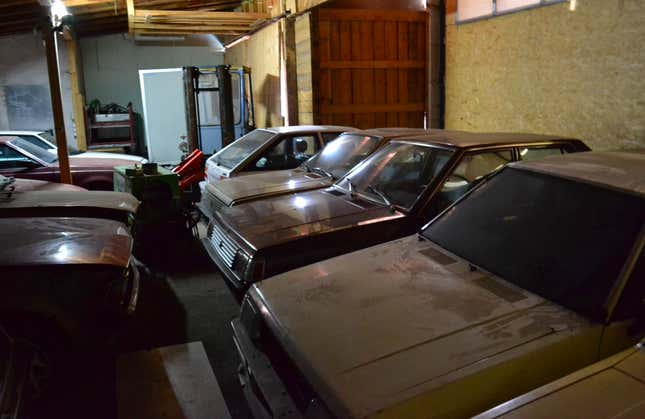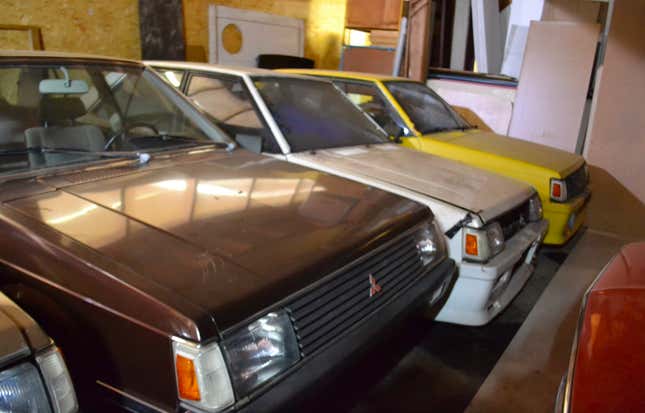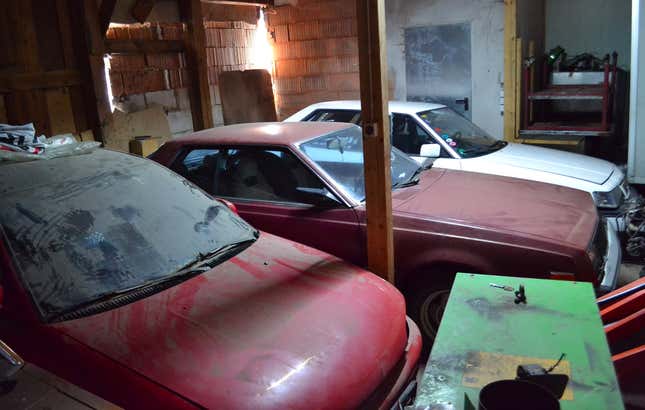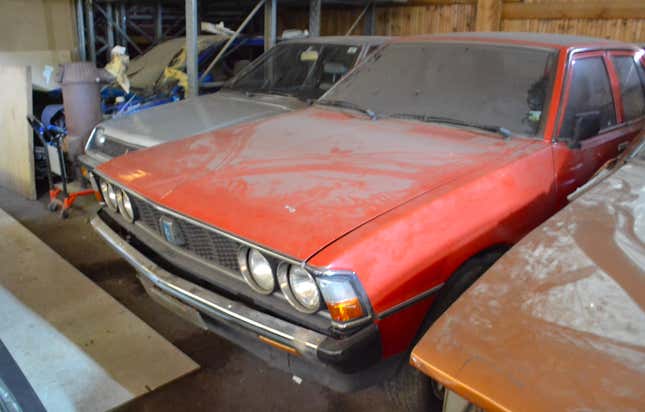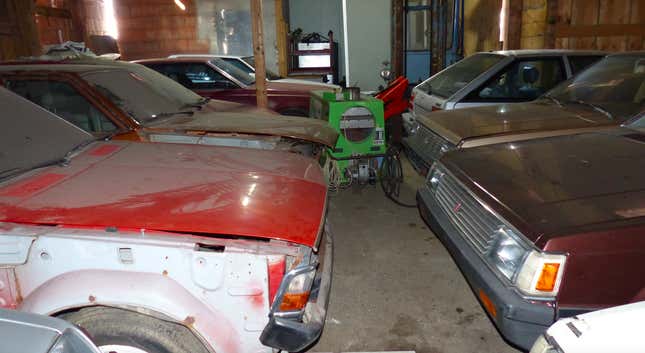 Behind The Garage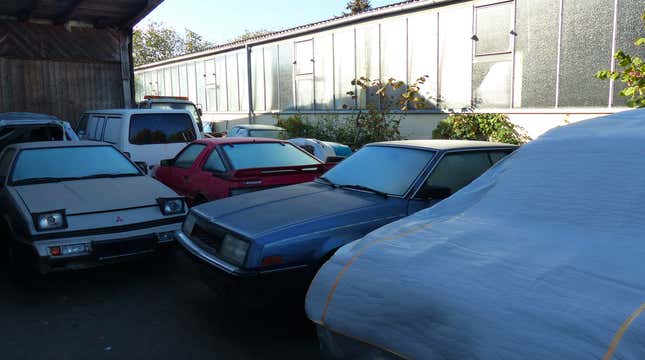 But there's more. Just outside of the garage sit a bunch of cars.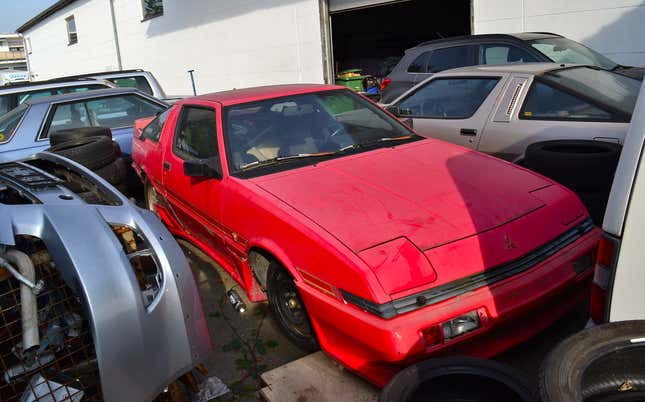 But between Tilo's workshop and the neighboring building, there's another ocean of Japanese automobiles: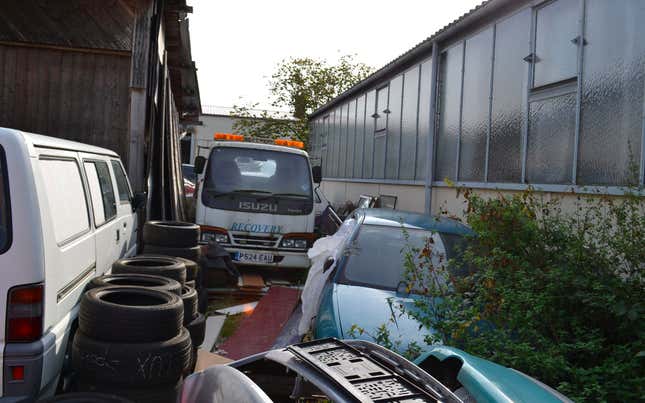 First, you have to squeeze past the flatbed: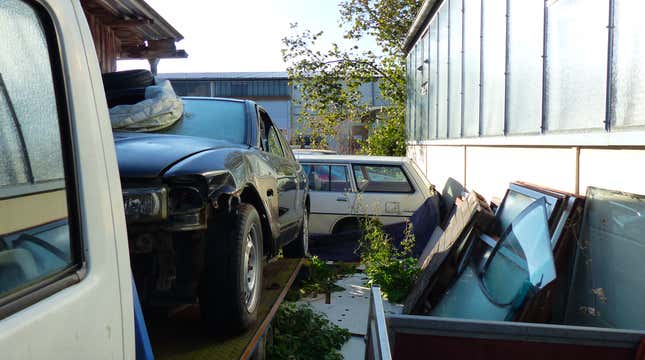 And when you do, you see this: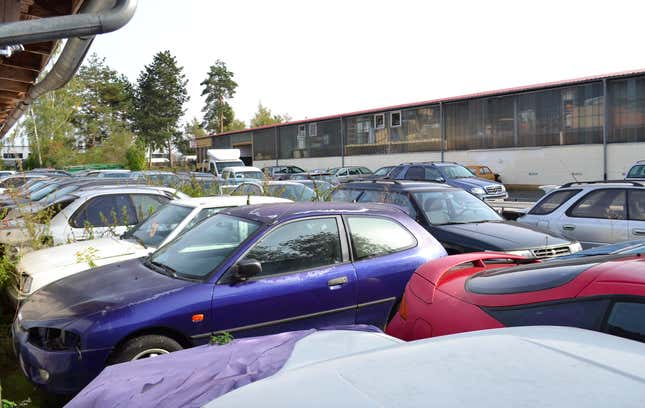 It's a yard filled with Tredias, Colts, Eclipses, Lancers, Galants and all sorts of Subarus as well. Have a look: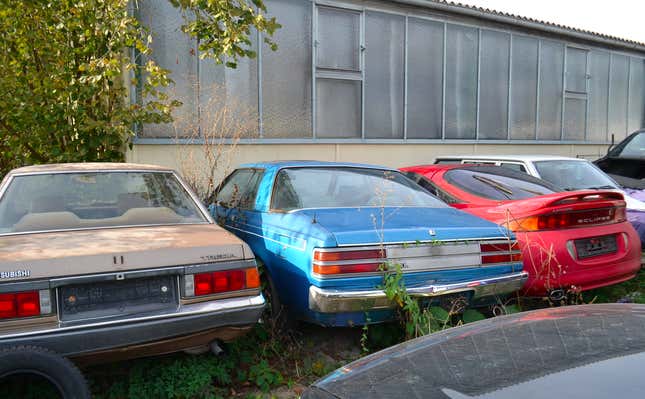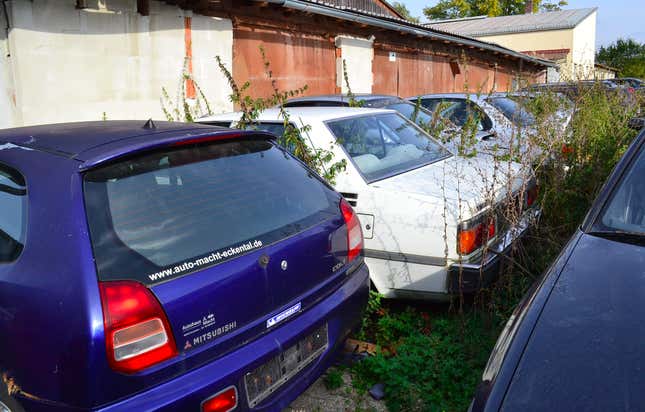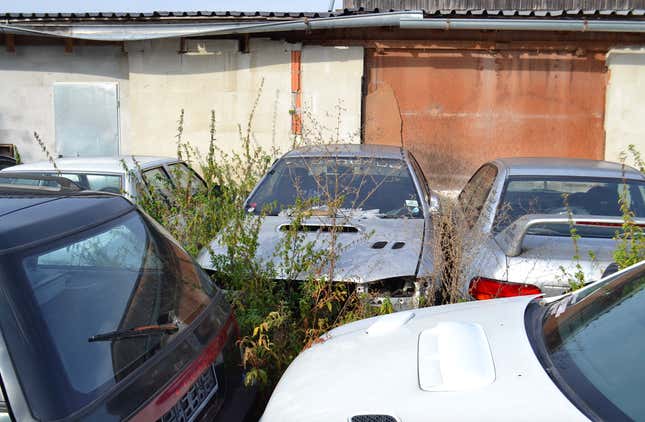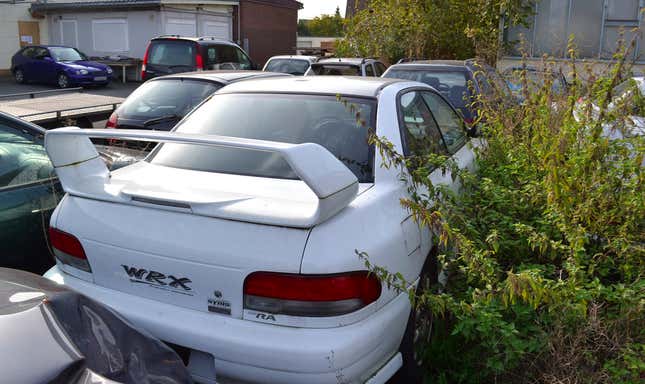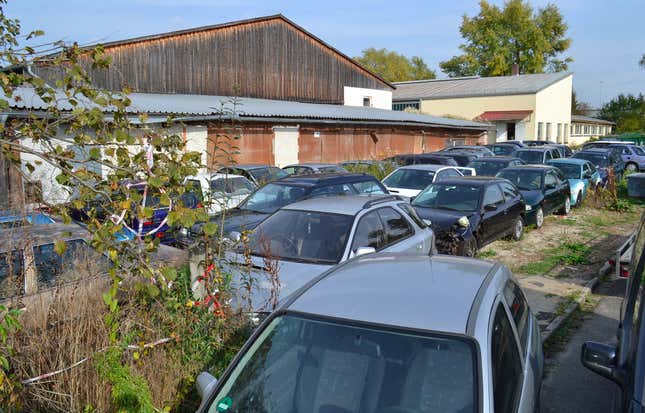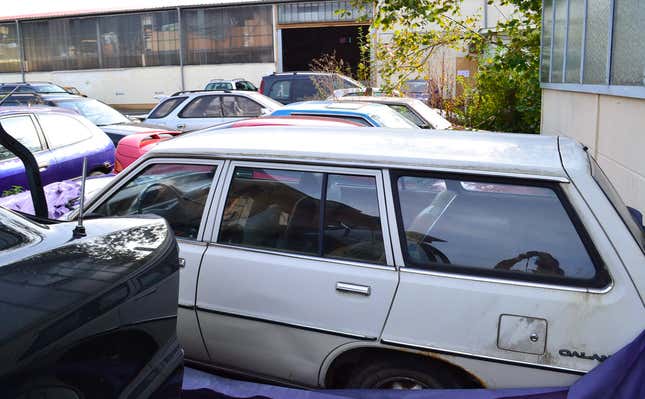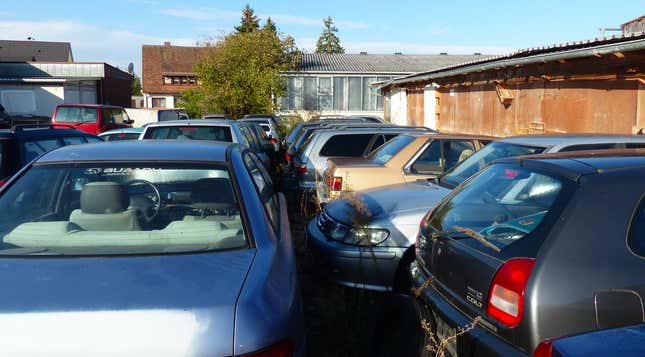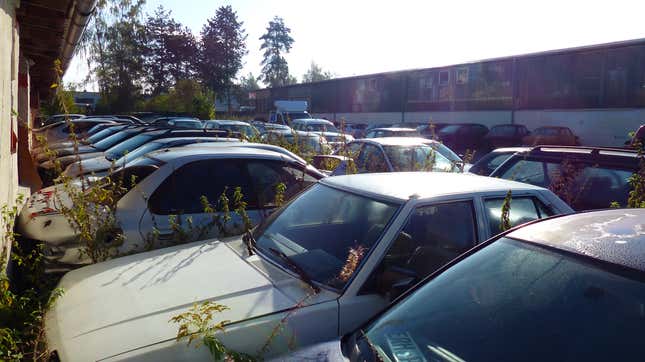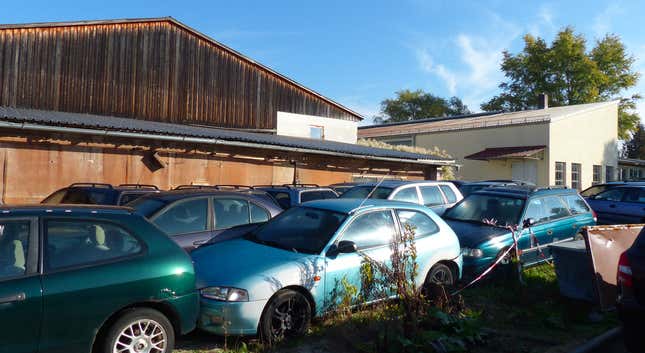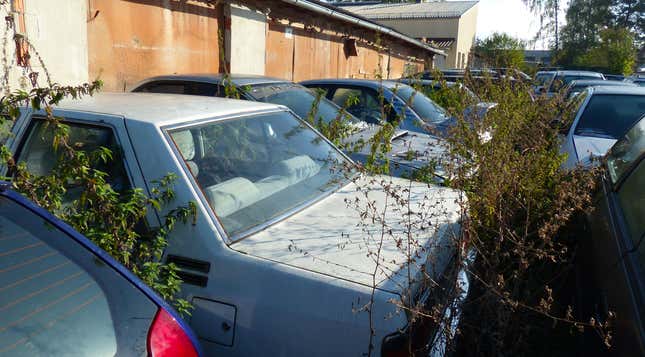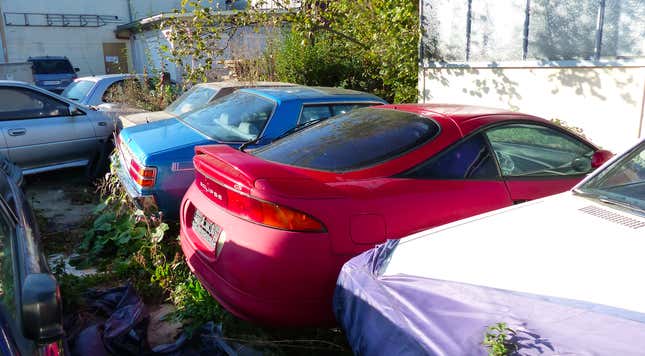 I think it's safe to say that Tilo and Anja, despite perhaps having an incurable Mitsubishi disease, are my heroes.