Yesterday was a sad day for U.S. naval aviation. Air Test and Evaluation Squadron Thirty (VX-30), nicknamed the "Bloodhounds," sent their last S-3B, Bloodhound 702, to NASA. This marks the end of the Viking's U.S. Navy service.
VX-30, located at Naval Air Weapons Station Point Mugu near Oxnard, California, took on three S-3Bs not long after the type was controversially pulled from front-line service in 2009. VX-30 has used the jets primarily for range patrol and clearing duties, supporting missile tests and operations over the vast Pacific Missile Test Range.

G/O Media may get a commission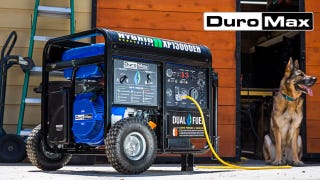 Black Friday Sale
DuroMax Generator Sale
The last Navy crew to fly the S-3B Viking included (left to right): LT Mowle, VX-30 LCDR Tschanz, VX-30, CAPT Rousseau, and CDR Hanaki, VX-30's Commanding Officer.
The S-3's 10-hour endurance, fantastic cockpit visibility, FLIR, capable radar and relatively high-speed, at least compared to prop aircraft, and its stability at low altitudes made it a great fit for such a mission. VX-30's KC-130Ts have been adapted to takeover the Viking's role, including the sunobuoy tests via the fitment of a special sonobuoy launch tube system last November.

An S-3 pilot Signs the jet before it gets sent to the boneyard.
Sonobuoy test support engineer Ansel Toutsch with the Navy's Anti-submarine Warfare Systems program office stated the following regarding the plug-and-play program:
We brainstormed and came up with the idea of putting two SH-60B launchers on a pallet to roll on and off from a C-130. The C-130 was a perfect choice because the squadron that had been performing the tests using their soon-to-be retired S-3s also flew C-130s. Plus, we hope this may spawn ideas for other uses with other platforms.
At for the squadron's other two S-3Bs, Bloodhound 700 and 701, they were recently flown to the Pentagon's boneyard at Davis Monthan AFB. Still, the news is not all bad for the Bloodhounds, or the S-3 Viking for that matter.The unit still flies the P-3C Orion and KC-130T, and it has been recently reported that the squadron will be getting a replacement for their aging NP-3D "Biilloard" radar telemetry aircraft in the form of two highly-modified Gulfstream jets.
This new system will be based on Israel's advanced Conformal Airborne Early Warning (CAEW) version of the Gulfstream 550, known locally as the Eitam. The type has also been delivered to Singapore. These new aircraft will require little modification and will feature 360 degree radar coverage using large actively electronically scanned (AESA) radar arrays. The first is supposedly slated to be delivered in 2017.

The S-3, on the other hand, will sadly no longer be flying with the U.S. military, although there have been great attempts by Lockheed, the jet's manufacturer, to put it back into service as a Carrier On-Board Deliver (COD) platform. This role will be going to the HV-22 Osprey instead. Other concepts have also been floated, including turning some of the surplus Vikings into firefighting air tankers.
The S-3's story is not ending though. The Republic of Korea's Navy wants the jet to fulfill and intermediate range anti-submarine and sea control mission. This will likely result not just in S-3s being put back into service, but they will be fitted with new avionics and sensors that should make them more capable than ever.
Who knows, maybe South Korea's use of the S-3 will bring the Navy to reevaluate the type's status. The mothballed S-3 fleet has tons of life left on it, and new sensors could make the aircraft so much more capable than it ever was.
I took this shot in the Bloodhound's hangar of #701 wearing a WWII-era inspired paint scheme applied as part of the Centennial of Naval Aviation.
This is especially relevant considering the blooming submarine threat across the world's oceans, which puts America's lumbering aircraft carriers in jeopardy—not to mention having a high-endurance combat jet with an internal weapons bay, and the ability to load all sorts of sensor packages onto with relative ease, sure seems like a relevant weapon in the War on Terror and our current fight against ISIS. Maybe even more so than a fuel thirsty F/A-18.
Contact the author at Tyler@jalopnik.com.

Photo credits: AEW Gulfstream via Owen65/Flickr Creative Commons, bottom S-3 wing folding shot and cockpit shot from US Navy via wikicommons, C-130 sonobuoy shot via US Navy, all other photos via VX-30 Facebook page via Scott Dworkin and Naval Base Ventura County PAO.
Make sure to check out more of Scott's fantastic work at his website Mach 91 Photography.