The U.S. military has been talking about "stealth motorcycles" for years. As of this month, two tech outfits have what seem to be viable prototypes that will both be funded for another revision.

Trotted out at the Special Operations Forces Industry Conference in Tampa, Florida, the Logos Technologies "Silent Hawk" and LSA Autonomy "Nightmare" are both basically multifuel-electric hybrid two-wheel-drive dirt bikes capable of running as quietly as 55 decibels—about the volume level of an indoor conversation.
DefenseOne tells us these bikes are the answer to a challenge the Defense Advanced Research Projects Agency put to the defense industry about a year ago.
Top speed on both is said to be around 80 MPH, but the bikes are still range-limited in quiet-running electric mode. The SilentHawk is listed at "two hours" electric runtime and the Nightmare can reportedly make it 60 miles.
G/O Media may get a commission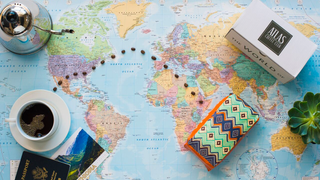 First Bag Free
Atlas Coffee Club - Free Coffee
Explore global coffee
With each bag, Atlas includes details on the coffee's tasting notes and a postcard about the region and its coffee history. And when you subscribe, you have options to tailor frequency, grind size, and roast preference of your beans, so you'll always be brewing the perfect cup.
"With a skilled rider you can get basically anywhere on the planet," SilentHawk lead engineer Alex Dzwill told The Washington Post. But since you're not getting all that deep in two hours or 60 miles, both bikes have ancillary liquid-fuel powered engines to feed the motor once the liquid cooled lithium-ion batteries are depleted.
At least those charging-engines are versatile; apparently capable of burning the military's ubiquitous JP-8, Jet A-1, gasoline, propane, diesel or kerosene if necessary. Even lipids like olive oil would work "theoretically," according to what Dzwill told reporters at the conference.
Neither Logos or LSA have published specifics on how power and efficiency are affected by the various fuels. But a report in Foxtrot Alpha from last year, when the Nightmare was a proposal as opposed to a prototype, said the Logos bike was basically a RedShift MX electric motocross bike fitted with a generator. Army AL&T explains that the generator is a multifuel Wankel rotary engine set up to recharge the electric system. Yes, that's the same architecture as the engine used by Mazda in the RX-7, RX-8 and a few other road cars.
You can read the whole SilentHawk brochure and NightMare brochure to see more specs as the vehicle stands before being revised again.
As to differences between the bikes:
"The Nightmare weighs in at about 400 pounds, compared to 350-pound Silent Hawk," DefenseOne reports. "Both bikes feature a front-wheel motor and rear motor but the Nightmare boasts a larger horsepower, 17 in front and 135 in back. The Nightmare averages around 13 kilowatts in generated power, versus 7.5 kilowatts for the Silent Hawk. Both have the ability to run external devices, too."

That report went on to explain that the DARPA has "funded both to phase two development under a small business innovative research award, essentially two non-competing grants to develop the technology."
And that explains why both Logos and LSA have been somewhat cagey regarding the specifics of their vehicles—much has yet to be decided. Final price and the potential for a civilian version are also unanswered questions at this point.
I've reached out to each company to try and find out exactly what they have planned in terms of specific innovations and a timeline for this second round of funding, and will update if we hear back.
In the meantime, we'll just have to speculate on the feasibility of an electric motorcycle in combat. For general lightweight quick-transportation of ground troops, I think more traditional ATVs would be the more practical option, at least as far as today's technology is concerned. But I can imagine the quiet bike could be invaluable when stealth is needed for a limited number of troops over a significant distance.