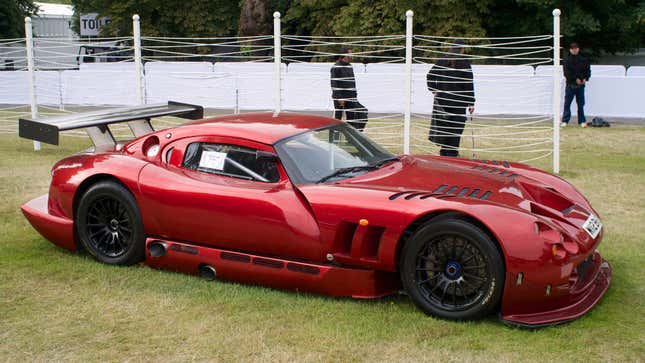 Most car enthusiasts outside the UK at least know the name TVR, and here in the US, if you're lucky, you might have even seen one at one point. Back home in the UK, TVR was pretty much a household name and a byword for terrifying fiberglass build quality, a total lack of driver aids and a sometimes lackadaisical approach to engineering that could make some models handle beautifully and others downright evil.
The 2023 Ford F-150 Raptor R Is Here
It was a wild, mercurial company, and though it changed hands many times over the years, many TVR fans will agree that the high watermark was the Cerbera Speed 12 of the late 1990s. It was a car so bananas, so out of hand that the company ultimately decided to bail on making more than one road-legal version. That single road-legal car is coming up for sale, and the folks from Drivetribe got to go check it out before it crosses the auction block.
The tl;dw of the whole thing is that the Speed 12 was ostensibly a road homologation of a GT1 race car meant to go up against the likes of the Porsche 911 GT1, the Mercedes-Benz CLK GTR and the McLaren F1 GTR.
It invested a surprising amount of time and money into the car, and the end result is a tube frame car with a fiberglass composite body with carbon fiber bits, and which was powered by a 7.7-liter naturally aspirated V12 engine which in racing trim put out a restricted 675 hp.
The road car was capable of a bit more, but the testing for the engine allegedly ruined the 1,000-hp capable engine dyno's input shaft, so legend has it that the engineers tested one bank of cylinders at a time. In the end, the car was sold with around 880 hp and a bunch of ECU tuning tweaks and refinements to make it at least kind of usable on public roads. This awesome engine is paired with a six-speed manual trans.
There is nothing about this car's likely ownership experience that isn't terrifying, with tons of bespoke components from a defunct company (new TVR doesn't count, and when are we going to see the Griffith?), but holy hell, would I buy it in a heartbeat if I had the half-to-three-quarters of a million pounds sterling likely necessary to buy it.