How do you make a Ferrari F40 owner shut up? Park one of these cars next to them and tell them yours is rarer.
---
10.) Chrysler SRT-6 Roadster
Total Produced: 1,500
For whatever reason, Chrysler couldn't move many of it's hotted up Crossfire roadster despite it's Supercharged AMG V6 under the hood. Probably because no one wanted a Crossfire in any capacity, let alone an expensive convertible version.
G/O Media may get a commission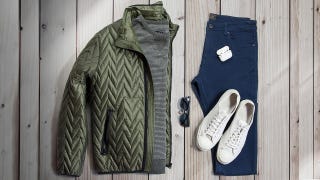 60% off
Jachs NY Fall Sale 60% Off
Suggested By: ill_Mac, Photo Credit: Chrysler
---
9.) Pontiac Solstice GXP Coupe
Total Produced: ~800
Pontiac only made a handful Solstice Coupes in 2009 only, and not many were ordered in turbocharged GXP trim. If you find a good GXP Coupe especially with a manual (which is rarer still!) hold on to it, because you might have a future classic on your hands.
Suggested By: McSeanerson, Photo Credit: Pontiac
---
8.) Chevrolet S-10 EV
Total Produced: 492
Well here's something you probably didn't know existed – an electric powered S-10. Yep, Chevy made a little truck powered by the motor from the notorious EV-1 and they actually sold, not leased, 60 of them.
Like the EV-1, the leased S-10 EVs were eventually scrapped, but the ones that were sold could still be out there today.
Suggested By: theart, Photo Credit: Mike Weston
---
7.) Saab 9-4X
Total Produced: 457
Built on the same platform as the Cadillac SRX in Mexico, GM pulled the plug on Saab 9-4X production after just 457 were made. Strange, but also sort of lovely in an odd way.
Suggested By: Jason Torchinsky, Photo Credit: Saab
---
6.) Dodge Durango/Chrysler Aspen Hybrid
Total Produced: ~400
Chrysler began production of these twin Hybrid SUVs on August 22, 2008. On October 23 of that year, they announced that they were closing the plant where they were built after only 400 were made.
There's no clear information on how many of each were produced, but some suggest that only 150 or so Aspen Hybrids were made, making it a unicorn if there ever was one.
Suggested By: west-coaster, Photo Credit: Chrysler
---
5.) Mercedes-Benz R63 AMG
Total Produced: ~330
Mercedes-Benz found out the hard way that the world simply wasn't ready for the amazingness of a minivan with a 507 hp 6.2 liter V8. What a shame.
Suggested By: FreddsterExprs, the W108 guy, Photo Credit: Mercedes-Benz
---
4.) Oldsmobile Cutlass Calais 442 W-41
Total Produced: ~200
Believe it or not, this Olds was actually a homologation special for SCCA and had a 190 hp naturally aspirated four cylinder and a 5-speed manual which gave it surprisingly good performance.
It's sort of a predecessor to the shockingly good Cobalt SS.
Suggested By: themanwithsauce, Photo Credit: christianpell via YouTube
---
3.) Buick LeSabre Grand National
Total Produced: 112-117 (there is some dispute)
Here we have another oddball homologation special from one of GM's old people brands, the LeSabre Grand National. Buick made a small handful of these in December of 1986 to homologate a new, more streamlined body design for NASCAR.
Unfortunately, it didn't live up to the performance Regal Grand National since the LeSabre wasn't turbocharged, but it's still very cool.
Suggested By: My X-type is too a real Jaguar, Photo Credit: Alden Jewell
---
2.) Volkswagen Passat W8 Wagon (w/Manual)
Total Produced: ~100
This car is pretty much the Jalopnik holy triumvirate, being an eight-cylinder, manual, wagon but good luck finding one, since around 100 were made. If you do end up finding one, good luck maintaining it!
Suggested By: sn210, Photo Credit: Toffguy
---
1.) Saab 9-5 Sportcombi
Total Produced: 27 (Preproduction)
If you can find one and get it road legal, you'll easily have one of the rarest modern cars on the road. The last 9-5 wagon never made it to production before Saab was sadly killed, but some of the preproduction cars have been auctioned off and been made road legal.
The ultimate modern unicorn.
Suggested By: Kaizer Soze, Photo Credit: Michel Annik with permission from 9-5sc2012.com via Jalopnik
Welcome back to Answers of the Day - our daily Jalopnik feature where we take the best ten responses from the previous day's Question of the Day and shine it up to show off. It's by you and for you, the Jalopnik readers. Enjoy!
Top Photo Credit: Mercedes-Benz