Looking for good taste? You won't find it on this list.
---
10.) Stutz Blackhawk
The Blackhawk from the '70s is the closest any production car came to looking like The Homer. It was the easiest way to say to the world "I have more money than taste."
Suggested By: BonusMaximus, Photo Credit: Alden Jewell
---
9.) 1948 Cadillac Series 62 By Saoutchik
French desginer Jacques Saoutchik bodied two Cadillac Series 62s back in 1948 and they are spectacularly over the top. Could you imagine rolling around in one of these in the late '40s?
Suggested By: TaveshedFjols, Photo Credit: Gregory Moine
---
8.) Jeep Wrangler Dragon Edition
G/O Media may get a commission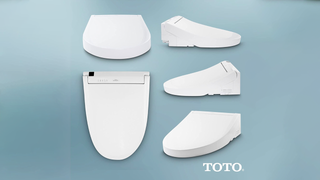 44% off
Toto Washlet Electronic Bidet Toilet Seat
Yes, the Jeep actually sold a Dragon Edition Wrangler. It's a black and gold Wrangler with a bunch of dragon decals stuck on it.
Suggested By: cazzyodo, Photo Credit: Jeep
---
7.) Mansory Carbonado
The German tuning firm Mansory has made a gaggle of tasteless modified exotic so I'll just focus on one–the Carbonado GT. It's a 1600 horsepower Lamborghini Aventador with a lot more carbon fiber added on. The name is a portmanteau of 'carbon fiber' and 'tornado.'
Suggested By: macanamera, Photo Credit: Mansory
---
6.) Hummer H2 SUT
The H2 SUT was an even more expensive and impractical version of an already vulgar SUV. Hated by many, for good reason.
Suggested By: ThrillerWA09, Photo Credit: David Guo
---
5.) Weird DeLorean Made By Will.i.am
Remember that time that famous guy tried to tell everyone his car was an original creation from his ridiculously named company when it was actually just an ugly DeLorean? Yeah, those were good times.
Suggested By: SennaMP4, Photo Credit: Jalopnik
---
4.) 1954 Rolls-Royce Toilet Car By Vignale
One doesn't generally associate Rolls-Royce or Vignale with vulgar cars, but their one collaboration is a masterpiece of bad taste. The client requested a gold toilet seat under the left side rear cushion that would empty right out on to the road under the car.
When asked about it, he told them it was for chilling champagne. Right.
See more pictures of this sea monster of a car at Bonhams.
Suggested By: RedPir8Roberts, Photo Credit: Bonhams
---
3.) Mercedes-Benz G63 AMG 6x6
This is vulgarity done right. Take the most ridiculous Mercedes and add more wheels. Simple, but brilliant.
Suggested By: Viperfan1, Photo Credit: Mercedes-Benz
---
2.) Dartz
They've since switched to imitation stuff, but they used to deck their seven-figure trucks in whale penis leather. That's all you need to know
Suggested By: DennyCraneDennyCraneDennyCrane, Photo Credit: Dartz
---
1.) Lamborghini Veneno
Lamborghini earned their place in the automotive world making wild, vulgar cars. The $4 million Aventador-based Veneno is the most vulgar of them all, and we can't help but love it.
Suggested By: 427CID, Photo Credit: Lamborghini
Welcome back to Answers of the Day - our daily Jalopnik feature where we take the best ten responses from the previous day's Question of the Day and shine it up to show off. It's by you and for you, the Jalopnik readers. Enjoy!
Top Photo Credit: Mansory