Land of the free, home of the brave, and birthplace to some of the most legendary racing organizations the world has ever seen. These are the 10 greatest American racing teams.

---
10.) North American Racing Team
The North American Racing Team, or NART for short, was used by Ferrari to aid their growing presence in the American market from the late '50s onward. In addition to gaining racing experience at notable endurance races like the 24 Hours of Le Mans and the 12 Hours of Sebring, NART also saw wins in their Ferrari 250 GTOs at Daytona and were even able to clinch the Formula One championship in 1964.
The team ran their prancing horse race cars around the world up until it folded in 1982.
G/O Media may get a commission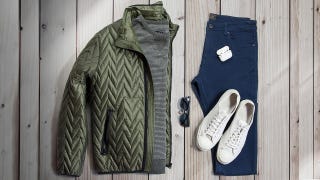 60% off
Jachs NY Fall Sale 60% Off
Suggested By: willkinton247, Photo Credit: Stahlkocher via Wikipedia
---
9.) Wood Brothers Racing
In NASCAR today, there are very few teams racing that have evolved with and molded the sport like the Wood Brothers Racing team has. Reader mrbwa1 explains why that's true.
There are a lot of great answers, but honestly, one of the absolutely best American Racing teams is one that's still going... Wood Brothers Racing.

The Wood Brothers have been racing stock cars since the early 50s. They started out as mechanics who would wrench on cars and have others drive. Many great drivers over the years have driven the #21 in NASCAR.

So what's so special about a small one car NASCAR team you ask?

-It has always been a family owned and run team

-They invented the modern pit stop. Not perfected, INVENTED.

-Their stops were so fast that they were asked by Ford to be the pit crew for Jim Clark for the 1965 Indy 500 when rules changes mandated a minimum of 2 pit stops. Clark won that race. (Ironically all their prep of the wheels lugs was needed needed as tires weren't changed in that race).

- They built the first NASCAR style 3-pump aluminum jack

-The pioneered the use or air guns and perfected the guns and sockets to get the lug nuts off and out of the socket automatically

-During the 60s, they had enough $ to build a car for Dan Gurney to drive on NASCAR road courses. Gurney won every race he drove in for the Wood Brothers, including Riverside in 64,65,66 & 68

-People who have driven for the Wood Brothers: Dan Gurney, AJ Foyt, David Pearson, Curtis Turner, Fireball Jones, Parnelli Jones, Junior Johnson, Cale Yarborough, Donnie Allison, Neil Bonnett, Buddy Baker, Kyle Petty, Dale Jarrett, Michael Waltrip, Ricky Rudd, Ken Schrader, Bill Elliot. Heck, Bobby Rahal ran a race for them once! (there's a sure bar bet winner for ya: He finished 40th at Riverside in 1984).

- Their focus on pit stop and technological improvements paved the way for the modern Penske, Chldress, etc teams who have displace family-owned teams from racing.

Sure, the Ford LeMans effort might have been sexier, but heck, even they needed to pit at Le Mans. And John Holman hired the wood Brothers to do the Le Mans pit stops for their GT40.
Suggested By: mrbwa1, Photo Credit: Ford Performance
---
8.) Dan Gurney/All American Racers
After Carroll Shelby and Dan Gurney launched the team in 1964, the All American Racers had quickly become notable racers throughout F1, United States Auto Club racing, Champ Car, IMSA GT and even Trans-Am. They even built the 2012 Deltawing! Oh, and Gurney was the only American ever to win an F1 race in an American car, at the superfast Spa in 1967. Mad props.
Suggested By: drock905, Photo Credit: Carey Akin via Wikipedia
---
7.) John Force Racing
If you're going to mention NHRA drag racing stats and key players, you can't go without bringing up the John Force Racing team. After being around for over 30 years and raking in 18 championship wins, they have become a huge contender in NHRA Funny Car racing. Impressive to say the least.
And his TV interviews? Those are completely out of this world.
Suggested By: GR1M RACER, Photo Credit: Ford Racing via Flickr
---
6.) Hendrick Motorsports
For more than 30 years Hendrick Motorsports has been successfully fielding cars in different NASCAR grids. And when you look at the driver lineup, there's no question as to why or how this team has been one of the most successful in all of stock car racing. Jeff Gordon, Dale Earnhardt Jr., Jimmie Johnson, Kasey Kahne. Come on!
Suggested By: red014, Photo Credit: Ted Van Pelt via Wikipedia
---
5.) Duesenberg
Not only did the Duesenberg team innovate many strategies still recognizable in racing efforts today, but they did it successfully. And that was nearly 100 years ago! By being the first American-made car piloted by an American to win an international grand prix, they set the stage for American teams for the years to come. Reader nobsartist can explain further.
The first American made car driven by an American to win a Grand Prix. The first team to have a pit strategy and pit to driver communication. Duesenberg, the "greatest" of all German engineered cars, from Iowa. Check out Jimmy Murphy beating the competition by 15 minutes in the 1921 French Grand Prix. Duesenberg was also the first to use four wheel hydraulic brakes. By the way, Jimmy drove the same car to victory in the 1922 Indianapolis 500. That car is the ONLY car to win both a Grand Prix and a 500 and is considered to be the most valuable car in the world. And Jimmy Murphy still holds the record for the highest winning percentage of all Grand Prix drivers. Take that, Fangio.
Suggested By: nobsartist, Photo Credit: Pacific NW via Wikpedia
---
4.) Pratt & Miller/Corvette Racing
Since the days of Y2k, the Pratt & Miller Corvette Racing team have been successfully stealing small pieces of their fan's hearts by making full use of their blaring exhaust notes and their unmistakable 'Velocity Yellow' liveried Corvette race cars. Dominantly fielding one of the most incredible cars on the grid throughout the World Endurance Championship. Keep it coming guys.
Suggested By: Santiago is going rallying, Photo Credit: Getty Images
---
3.) Chaparral Cars
Though the Chaparral team may not have racked up the wins and podiums like some of the other teams on this list, they made history in other ways. In the short amount of years that the Chaparral race team constructed their own race cars, they created some of the most innovative aerodynamic technology that the world of motorsport had ever seen. Reader Fuzzy86 can explain just how innovative these guys were.
Jim Hall is the man who put a wing on a race car two years before Formula 1, made a "sucker car" EIGHT years before Gordon Murray, designed the first car that was banned from Can-Am, which basically had no rules, and introduced ground effect to Indy.
Suggested By: reverberocket, Photo Credit: Spurzem via Wikipedia
---
2.) Shelby-American
To beat Ferrari at Le Mans, Shelby-American had to pull all the strings. But after winning at both the 24 Hours of Daytona and the 12 Hours of Sebring in 1966 prior to the 24 Hours of Le Mans, the team had the confidence that they needed to get the job done in France. This led to a 1-2 finish at Le Mans, with their third car DNFing after an accident.
And it was even tighter when they came back the following year.
Suggested By: Proud to drive a beater, Photo Credit: Ford
---
1.) Team Penske
There are few teams like Penske that have had their hands in so many racing organizations at the same time. Whether you see them winning in Indycar, NASCAR Sprint Cup, Can-Am, American Le Mans, V8 Supercars, Formula 1, endurance racing at Sebring and Daytona or even their super-sketchy Camaro back in 1967, you can watch them continue to be one of the most influential teams in all of motorsport. Want to guess where their main facility is?
Mooresville, North Carolina. Damn straight.
Suggested By: Kelly Wittenauer, Photo Credit: Drdisque via Wikipedia
Welcome back to Answers of the Day - our daily Jalopnik feature where we take the best ten responses from the previous day's Question of the Day and shine it up to show off. It's by you and for you, the Jalopnik readers. Enjoy!
Top Photo Credit: Getty Images